Let me cut to the chase here. The entire ballgame has changed for the agency mREIT sector. The companies within the sector such as Annaly Capital (NYSE:NLY) and American Capital (NASDAQ:AGNC), will be hard pressed to continue to pay the dividends that shareholders have been enjoying. The dividends have been reduced at an acceptable pace for now, but with the Fed continuing to buy an additional $40 billion MBS, without an end in sight, the business models of all of the agency mREITs have come under assault.
Here are some key reasons that agency mREITs are in trouble:
Reduced interest rate spreads which impact the entire profitability of the sector.
Rising prepayments of existing mortgages which further compress future earnings of the agency mREIT sector.
Limited options for the agency mREITs to redeploy cash back into the market. Annaly and American have issued massive share repurchases. Annaly is also attempting to redesign their entire business by making an offer to buy CreXus Investments (NYSE:CXS), and might even go after Chimera (NYSE:CIM) as well.
With this scenario in mind, business development companies-BDCs, are a natural replacement for the agency mREITs for many reasons. One being that Fed actions have hindered the mREIT business and another being that it has kept lending rates so low that banks do not want to lend, and finally they offer a very compelling dividend yield!
Let's take a look how the Fed and The BDCs have been acting. First, the basics of our focus stock, KKR Financial Holdings LLC (KFN).
KKR Financial Holdings LLC
The one company that seems to be gaining momentum is KFN. Let's take a look at the basics here:
KFN: Price: $9.96/share, Dividend Yield 8.50%, ESS Rating: Very Bullish
The company reported YOY revenue growth of 145%.
The company reported YOY earnings growth of 181%.
The profit margins are over 70%.
There is ZERO premium to book value.
Nearly 60% of all outstanding shares are held by institutions.
The current payout ratio is at 43%. KFN can support the current dividends with room to grow.
Share price has relatively low volatility and has remained stable; a 52 week range of about $8.00/share to $10.00/share.
The basic fundamentals are compelling, but there are other reasons I feel KFN can be a portfolio centerpiece for income seeking investors.
Management is perhaps the finest in the business in determining what companies are actually worth. Kohlberg Kravitz Roberts and Co. (NYSE:KKR) has long been recognized as a leader in the private equity investment business. KFN shares their name and could be considered as a "backdoor" entrance into KKR itself.
More analysts have upgraded KFN in the last 10 days than ever before; Ativo Research, Columbine Capital, Ford Equity Research, Thompson Reuters/Verus, to name just a few that are either "buys" or "strong buys".
First Call Consensus has been upgraded to "buy" as of their 11/10/2012 report.
As the economy recovers, and it will, KFN is poised to benefit with increased profits, and is mandated by the IRS to pay at least 90% of all net profits in the form of dividends to shareholders. So as the economy improves, we stand to make more income.
Capital appreciation is not first and foremost here, but with increased profitability comes higher values both in the share price and the actual value of the company.
As investors leave the mREIT sector, they could gravitate towards this sector, sending share prices higher.
Fed Actions Affect Bank Lending Which Give More Opportunities For BDCs
With the re-election of the current administration, I would not discount the potential for the Fed to have a QE4, which could include another ramp up in the MBS buying spree. The goal is quite simple when we sweep away any confusing jargon; keep all rates low, and lower the long term rates so that everyone and anyone who is able to refinance existing mortgages would be loony if they did not at least apply. Just as important is the effort by the Government to stimulate the largest business sector of our entire economy; Housing.
New mortgages with completely ridiculous interest rates have been with us for a few years now. The housing market has shown signs of turning around, but not enough to get millions of construction workers back to work on a steady basis.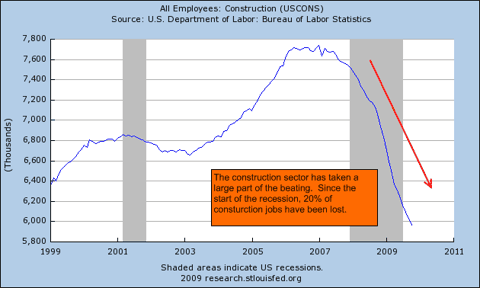 The chart is not pretty and continues to deteriorate. I believe that the US economy will continue to struggle as long as the largest employment component of our nation is continuing to mire in weakness.
If you recall what Ben Bernanke said about the additional MBS buying spree, then you would recall him remarking that it will continue for as long as it takes for the employment picture to brighten, the housing sector to recover, and the economy to grow. As far as I am concerned, this will not happen until the construction employment numbers INCREASE and the housing market heals better than it has. (Check this out)
A Different Path Without The Fed
Enter the business development companies. The companies themselves are actually taking advantage of the Fed actions to lend money to businesses that find it next to impossible to obtain financing from banks.
One of the "side affects" of the Fed keeping interest rates low and forcing them lower, is that banks simply refuse to lend. The risk/reward is just not worth it.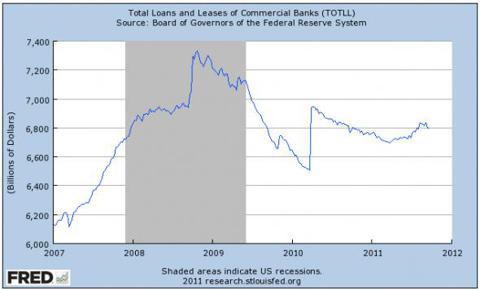 If you were a bank and could make lots of money by NOT lending, but by using the Fed itself for basically zero cost money, without risk, wouldn't you do it? Of course you would. The banks certainly have.
Banks are borrowing money for virtually nothing, and guess where that money is going: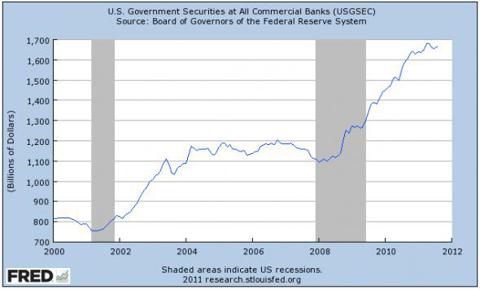 They are buying Treasury Bonds! Virtually risk free, with the Government's own funds, at record levels. The largest purchaser of Treasuries, aside from the Fed, is the banking sector. The bankers are laughing all the way to the bank!
In this chart you can see how the excess reserves of the banks that WE bailed out, has grown to ridiculously high levels. Unfortunately they have not put the money back into the economy for it to "work". I will accept the fact that we need a strong banking system, but this entire situation is ridiculous the way I see it.
The banks borrow money for "free", buy Treasuries risk free to make a decent yield, and keep the money in their own reserves to grow themselves, without lending.
I want to be a bank!
The service that the BDCs offer, is that they will take on greater risks because they can get higher returns from the very businesses that cannot get loans from their banks. Thank you Ben! Not only that, but in the right circumstances the BDCs can also get equity positions in some solid businesses already existing as well as in some of those new start up businesses that might just be the catalyst for the entire economy of the future.
There are plenty of risks obviously, which is why this investment should be a smaller portion of a well balanced portfolio. Since the BDCs will lend much easier than the banks right now, they could face losses from failed businesses that they have loaned to or invested in. That is why it is prudent for an investor to research the business sector to find the diamonds in the business.
The Bottom Line
The uncertainty in the mREIT sector has become a watershed moment for that entire industry. Dividends will be cut, shareholder value will decline and the future is murky as long as the Fed competes in that market.
Business development companies can fill the void for shareholders exiting the mREIT sector, by offering a compelling dividend yield with a potential for growth. KFN fits the bill as far as I am concerned.
For further information about business development companies please read this: It Might Be Time To Explore Business Development Companies
[Author's note (November 22nd, 2012): While I mistakenly referred to KFN as a BDC, it clearly does not fall into that category. It by no means diminishes my opinion of the stock however. While the company does engage in a similar business as most BDCs, they are not subject to the IRS guidelines of having to distribute a minimum of 90% of earnings as dividends. They do issue a K-1 which should be considered if the stock is held in tax deferred accounts such as an IRA. Consult your tax advisor for more specifics.]
Disclosure: I am long KFN. I wrote this article myself, and it expresses my own opinions. I am not receiving compensation for it (other than from Seeking Alpha). I have no business relationship with any company whose stock is mentioned in this article.