Today the International Energy Agency released its 2012 World Energy Outlook. In the report the IEA for the first time really embraced the enormous impact that unconventional tight oil and shale plays are having on North American production.
The IEA believes that the United States will actually become the largest global oil producer in 2020 and will no longer need imported oil from the Middle East.
Following this report from the IEA the media has been full of headlines informing the world that the United States is about to become the world's largest oil producer and free from relying on imported oil from the Middle East.
My take on the report is a little different. Don't get me wrong, I'm more bullish than anyone on unconventional oil production and I put my money where my mouth is. My portfolio is full of unconventional tight oil producers like Penn West Energy (PWE). But what I think the media is missing is that in no way is the IEA suggesting that oil prices are headed lower. In fact the IEA thinks oil prices are going to go considerably higher:
Growth in oil consumption in emerging economies, particularly for transport in China,India and the Middle East, more than outweighs reduced demand in the OECD, pushing oil use steadily higher in the New Policies Scenario. Oil demand reaches 99.7 mb/d in 2035, up from 87.4 mb/d in 2011, and the average IEA crude oil import price rises to $125/barrel (in year-2011 dollars) in 2035 (over $215/barrel in nominal terms).
The good news is that adjusted for inflation oil prices are going to be $125 per barrel in 2035, which isn't too much higher than they are today. In real terms however oil prices are going to $215 per barrel.
The problem of course is that there are two sides to the supply and demand equation. And the demand side is going to really test our ability to raise production over the next few decades.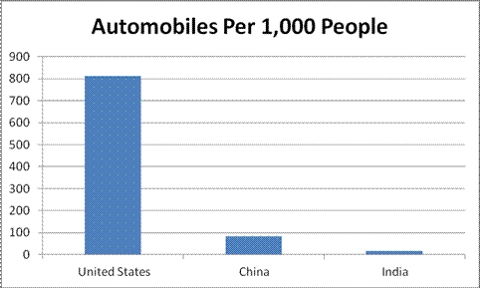 Oil consumption per capita in the emerging world where billions of people live is going to move up significantly. Small percentage changes in the level of consumption when applied to billions of people will result in big increases in the amount of oil consumed daily.
Because of the increasing oil demand from China, India and the Middle East the IEA doesn't see any relief in oil prices despite the unconventional oil boom that is going on in the United States.
I think readers need to dig into this report a little further because I think it is possible the IEA is actually being too optimistic on the supply side.
What I'm talking about isn't the IEA estimates for North American growth. It is the IEA estimates for oil production from Iraq. In its scenario that results in $215 per barrel oil in 2035 the IEA is assuming the following about Iraqi oil production:
Much is riding on Iraq's success
Iraq makes the largest contribution by far to global oil supply growth. Iraq's ambition to expand output after decades of conflict and instability is not limited by the size of its resources or by the costs of producing them, but will require co-ordinated progress all along the energy supply chain, clarity on how Iraq plans to derive long-term value from its hydrocarbon wealth and successful consolidation of a domestic consensus on oil policy. In our projections, oil output in Iraq exceeds 6 mb/d in 2020 and rises to more than 8 mb/d in 2035.
The IEA in assuming that oil prices are $215 per barrel in 2035 is assuming that oil production in Iraq will double by 2020 and then increase another 2 million barrels per day by 2035.
Did I miss a memo? Is Iraq fixed?
Call me a pessimist, but I think there might be a real chance that Iraq can't deliver this kind of production growth.
Exxon Mobil (NYSE:XOM) is currently in the process of pulling out of Iraq if it can get a decent price for its interest in the West Quarna project, which is a pretty telling commentary on the difficulty of doing business in Iraq. Exxon is not a company to run away from a challenge.
If Iraq is the central source of future production growth needed to meet future demand, then I think I'm still firmly in the bullish camp when it comes to the price of oil.
Perhaps the best way to play the boom in North American oil production is through Penn West Energy, which has the most leverage to light oil plays in Western Canada.
With a quarterly dividend of $0.27 and a stock price around $10.50 Penn West is yielding nearly 10% and should be able to grow reserves for a long time to come as its unconventional oil plays are developed.
Penn West has the dominant position in no less than 4 of Canada's 5 largest light oil plays:
Cardium (2,000 drilling locations)
Carbonates (1,000 drilling locations)
Viking (1,250 drilling locations)
Spearfish (750 drilling locations)
In recent months we have seen Exxon and various large Asian companies make large acquisitions in order to lock up years of unconventional drilling.
I'm sure Penn West is on a short list of targets that Exxon and the other big boys have on their wish lists. A takeover would surely result in a handsome premium from the current share price, and the dividend provides some nice income while we wait.
Disclosure: I am long PWE. I wrote this article myself, and it expresses my own opinions. I am not receiving compensation for it (other than from Seeking Alpha). I have no business relationship with any company whose stock is mentioned in this article.