Emerson Electric Co. (NYSE:EMR) provides investors with a broad portfolio of industrial businesses and has been providing consistent returns to investors. EMR engages in designing and supplying product technology and delivering engineering services and solutions in a range of industrial, commercial and consumer markets. Despite the tough competitive environment, EMR had and will continue to generate strong cash flow with its diversified and efficient operation. With its current 3.26% projected annual dividend yield, investors should take a look at this cash flow opportunity, where the return could be potentially further enhanced through options strategy.
Earnings and Analysts' Calls
On November 6, EMR reported a better-than-expected earnings as the company benefited from sales growth and expansion of margins. On a normalized basis, EMR earned $1.11 per share for the fourth quarter, up 7 percent from the same period last year, and beat market expectations of $1.05 per share, as reported by Balachander from iStockAnalyst. Despite the dropping of net earnings to $761 million, which was hit by goodwill impairment charge of $592 million, the net sales rose 2 percent to $6.7 billion and gross margin improved 140 basis points to 41.0 percent. Management also raised its quarterly cash dividend by a cent to $0.41 per share of common stock, payable on December 10, to stockholders of record as of November 16, 2012. For fiscal 2013, EMR expects normalized earnings to grow in the mid-to-high single digits and the street is looking for full-year 2013 earnings of $3.63 per share on annual revenue of $25.21 billion, as reported by RTTNews.com. A full earnings call transcript from Seeking Alpha can be read here.
Following the earnings release, a few analysts had updated their ratings on EMR, as listed below:
Citigroup reiterated the buy rating with $55.00 target price, as quoted from the firm's analyst, "Emerson expects some bright spots, including continued strength in Process and a pickup in construction markets. In our view, part of the +2% positive stock reaction came from the announcement of the planned divestiture of the troubled Embedded Power business. The setup remains attractive as Emerson shows progress in its turnaround, and valuation still looks compelling below the low-end of its historical relative P/E range. We are reducing our F2013 EPS estimate by $0.08 but maintain our $55 target price."
Credit Suisse had boosted its price target from $53.00 to $55.00 for EMR and the firm's analyst had commented, "There appears to be substantial investor skepticism around the attainability of the FY13 guide, but we think that it is fairly achievable, particularly at the op margin level (+10-20bps). The imminent risk of a large deal appears low, and we may be at a trough on earnings revision momentum."
JPMorgan Chase reiterated its neutral ratings with a $51.00 price target.
Macquarie also reiterated a neutral rating with a $48.00 price target.
Fundamentals Overview Vs. Technical Analysis
With the data compiled from MorningStar, EMR's key stats are compared with the averages in the industrials sector with diversified industries, where the competitors include Siemens AG (SI), ABB Ltd (NYSE:ABB), and Honeywell International, Inc (NYSE:HON). EMR is efficiently operated with the operating margin of 15.9%, ttm, and net margin of 10.1%, ttm, as compared with the industry averages of 15.4% and 8.6%. The ROE of 22.9 and debt-to-equity of 0.4 are showing much stronger numbers as compared with the averages of 15.0 and 0.8. However, EMR is lagging the industry with its revenue growth of -0.8 and EPS growth of 1.4 (3-year average), as compared with the averages of -0.2 and 9.7. EMR is currently fair valued with its P/E of 15.2, compared with the average of 15.9. Despite its growth concerns, EMR remains a solid cash flow investment with its strong balance sheet and efficient management.
EMR closed at $50.34 with 0.38% gain on Monday's trading, where the volume of 2.47M is 34.3% less than the 30-day average of 3.76M. EMR had been trading in the range of $43.58-$53.78 in past 52 weeks. As shown from the chart below, EMR is currently trading above its 50-day MV of $49.27 and 200-day MV of $48.76 while the MACD (12, 26, 9) indicator had started to show a bullish sign on November 1, 2012. RSI (14), the momentum indicator, at 56.83 is showing an increased buying moment as it moves up above its 50 middle line. The next resistance will be at $51.22, the R2 pivot point and the major support will be at its 50-day MV of $49.27.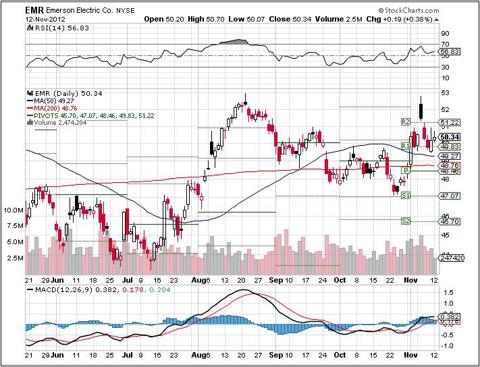 Source: StockCharts.com
Options Plays
EMR will be a solid cash flow investment and is currently trading at a fair value. For existing stock shareholders, a covered short call position will be reviewed below.
With 100 shares of EMR, short 1x Jan. 19, 2013 Call at the strike price of $52.50 for the credit of $0.84.
By limiting our upside gain at $52.50, this covered short call option will provide $0.84 for the downside protection or cash flow income and will be break-even if EMR closes at $53.34 on January 19, 2013.
For long-term investors who would like to gain upside potential while having a plan to acquire the EMR stock at a further discounted price, a credit put spread will be reviewed below:
Short 1x Mar. 16, 2013 Put at the strike price of $45.00 for the credit of $1.28
Buy 1x Mar. 16, 2013 Put at the strike price of $40.00 for the cost of $0.50
The maximum profit potential is $0.78 and the maximum risk/margin requirement is $4.22 ($5 loss - $0.78 credit received), which will generate 18.48 percent return for the margin used if EMR closes above $45 on March 16, 2013. If EMR falls below $45 upon options expiration, the acquisition cost for EMR stock will be $44.22, which gives 12.16% edge over the current $50.34 closing price on Monday.
Note: All the prices are quoted from the closing of November 12, 2012 and all calculations are before fees and expenses. Investors and traders are recommended to do their own due diligence and research before making any trading/investing decisions.
Disclosure: I have no positions in any stocks mentioned, and no plans to initiate any positions within the next 72 hours. I wrote this article myself, and it expresses my own opinions. I am not receiving compensation for it (other than from Seeking Alpha). I have no business relationship with any company whose stock is mentioned in this article.