Vaccine Production Is Big Business
Till now, the ruling constellation in the field of vaccine manufacturing has numbered 4. 4 stars that accounted for 86% of the $19.8bn in 2011 annual revenues. GlaxoSmithKline (NYSE:GSK) fetched $5.6bn, Sanofi (NYSE:SNY) $5.55bn, Merck (NYSE:MRK) $3.89bn and Novartis (NYSE:NVS) $1.99bn. And in that most dark subdivision of vaccine manufacturing known as "pandemic influenza" these giants have been left unfettered to amass sizable public treasuries footed by the federal governments of the world.
Each of these vaccine makers was content to use the same egg-based technology to make end product that had been in play for decades. There simply was no incentive to change. This process takes roughly 5 to 6 months to complete and involves the use of chicken egg embryos as hosts to grow the target virus strain, which is then harvested and refined into a vaccine.
In 2009 however, the swine flu epidemic of Mexico changed everything. People were dying. And healthy people, whole continents away, were demanding protective inoculation. The economic effects spilled over into Texas, where exports of beef and pork were hampered by import bans in China and elsewhere. Consequently, the United States government realized they needed vaccines produced in a timelier manner. And so they decided to wake these slumbering giants from their profitable sleep by engaging in $2bn worth of collaborative efforts through BARDA, CDC, FDA and NIAID.
History Making and Game Changing Technology
The first fruits of these exertions in government proxy have centered on the accomplishments of two companies. On December 12, 2011, the aforementioned Novartis opened up the first influenza vaccine manufacturing facility declared to be "pandemic ready" by the US government. This structure in Holly Springs, North Carolina, uses a new "Animal Cell Culture" technology that takes roughly half the time of egg-based systems. And while this is impressive by the lax standards of past performance, it pales in comparison to what a little known company in Rockville, Maryland is doing.
Please take a look at the graphic below.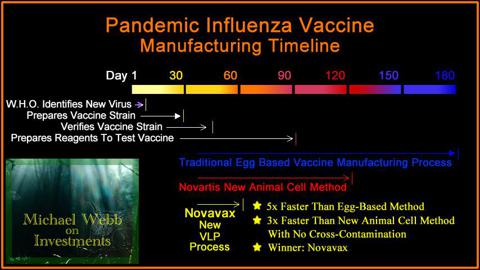 What this picture demonstrates is the length of time involved in each of these methods of production. It doesn't, however, include the later stages of verification, testing, exporting and importing and then distributing the end product. We'll get to these issues a bit later.
As you can see, it all begins with the World Health Organization, which identifies and prepares the virus stain for vaccine production. This process takes about 40 days, after which manufacturers are set at task to create vaccine. Those using egg-based technology including Sanofi take about 140 - 180 days to produce vaccine. Novartis, utilizing the new animal cell method takes about 90 days or roughly half that time. And then, there is Novavax (NASDAQ:NVAX).
From start to finish, Novavax takes only 30 days to produce pandemic flu vaccine.
Novavax is a clinical-stage pharmaceutical company creating recombinant protein nanoparticle vaccines to address a broad range of infectious diseases. In the area of pandemic influenza, Novavax employs a proprietary technology known as Virus Like Particles or VLP. VLPs are recombinant particles with matrix proteins that provide a structure onto which the surface proteins hemagglutinin and neuraminidase are incorporated. VLP constructs resemble the virus they are designated to protect against however, because they do not contain any RNA, they are not infectious and thus are generally highly immunogenic.
To understand how immunogenic, listen to President Stanley Erck once again as he speaks about his H5N1 candidate. "The unadjuvanted vaccine at 45 micro-grams per dose, induced immune responses that met both FDA criteria after 2 doses - which is an unprecedented result. The data suggests that our vaccine may be protective even when the vaccine strain did not perfectly match the pandemic virus strain, which is an important consideration in the emergent response to a pandemic."
To understand why this happens, Bruce Carlson writes this via Kalorama Information on January, 16, 2012. "The company's VLPs contain 3 surface antigens (HA, NA and M1) to induce broader, more effective antibodies against disease rather that just the HA antibodies present in most vaccines. In early stage clinical studies of an influenza vaccine, results were favorable with strong immune response and good treatment toleration across thousands of patients in all doses."
Effective vaccines are highly desirable, but the single most important element as far as the US government is concerned in addressing an influenza pandemic is speed. Speed that circumvents the psychological effects of an outbreak before they have had a chance to multiply. And the single most important thing you need to know about Novavax VLP technology is this: it's the fastest in the world. A full run of millions of doses can be made available before the WHO has finished preparing reagents to test the vaccine but more importantly still, before the virus has had a chance to mutate. And even if this should happen, Novavax vaccine tends to still be effective in dealing with a slightly varied strain.
Need a new batch? No problem! Novavax can retool its virus free facilities in days, not months. Try that with egg-based sites that must be completely disinfected from top to bottom. Another advantage of VLP over Animal Cell technology is the absence of cross-contamination. There simply are no animal or egg cells to deal with.
Smaller, Better, Faster
Another major issue involving vaccine production is the cost and size of manufacturing facilities. Please take a look at the graphic below. It is important to keep in mind that this is only a hypothetical depiction. Novavax at present has only two production facilities in Maryland.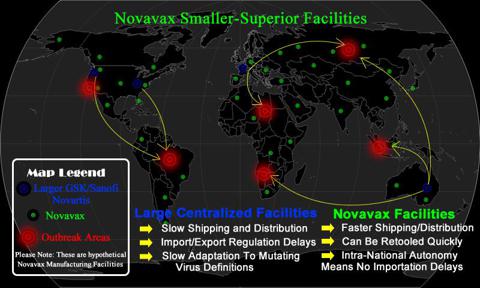 After a vaccine is produced it must be tested, shipped according to regulation and received. It must pass re-inspection and overcome regulatory hurdles within the jurisdictions to which it is shipped. It must then be tested again on the people within the country which received the shipment before it can be distributed to everyone in need.
Because Novavax facilities are smaller, cost a third less to build and can be made ready for a new cycle of production relatively easily, it would seem logical that nations of the world would want a Novavax facility within their borders as a means of controlling their own destiny. And this realization is part of Novavax' larger plan.
VLP Competition For Novavax?
Medicago of Canada has its own intellectual property rights relative to VLP technology. Where Novavax uses insect cells as a medium, Medicago uses a derivative of the tobacco plant to produce H5N1 vaccine. Like Novartis, they built a manufacturing facility in North Carolina in 2011 costing $42mm, half of which was funded by DARPA.
The biggest problem I have with Medicago, whose stock is sold on the Canadian Exchange, is their lack of concrete direction. When Mike Wanner, vice president of US operations, was asked about other targets for Medicago's VLP technology, he remained vague saying only that: "We have a platform technology capable of a very broad range of product development."
Contrast this with the specificity of Novavax management that has as its primary target Respiratory Syncytial Virus in phase 2 trials that will give it world-wide exclusivity to the first vaccine to address this ailment. This affliction costs $2.5bn annually in US hospitalizations for 3.2 million elderly patients and 2 million infants. FDA approval of this vaccine would place Novavax on a pathway to enormous profitability.
Seeking Alpha author and contributor, M. E. Garza wrote this in his May 4th, 2012 article about Novavax and RSV: "It is a remarkable and curious fact that the Novavax RSV candidate causes the human body to secrete a substance that is almost identical to a drug already approved for treatment of RSV. The drug is Medimmune's Synagis, given by injection to high risk infants. The phase 1 trials indicated that a person exposed to RSV secreted a substance almost identical to Palivizumab, the active ingredient of Synagis. Palivizumab is a monoclonal antibody, which makes Synagis a very expensive drug, which is why it is administered only to high risk infants, even though RSV infection is almost universal. This is highly suggestive that Novavax' RSV candidate will be found safe and effective."
The approved RSV vaccine would likely be given routinely to premature infants or those with vulnerabilities previously diagnosed and to elderly persons with compromised immune systems or existing debilitating conditions. If proven unquestionably safe and efficacious, it could routinely be given to all infants and persons over age 50.
Topline data for the phase 2 trials of RSV vaccine will be available in the first quarter of 2013 and should be a major catalyst for stock appreciation. Presently, Novavax stock has slid to near its level of support at $1.71 a share from a high of $2.44 in early October.
I am going to leave you now with the main reason why I am bullish on Novavax. Please take a look at the graphic below.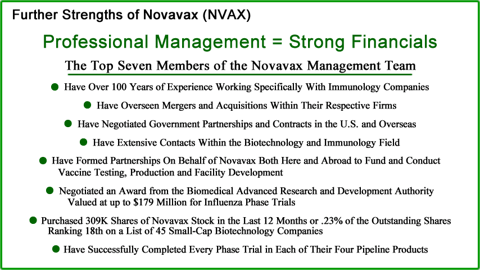 For a clinical stage pharmaceutical company, Novavax is extremely well managed. Due to the strengths of their relationships and their ability to anticipate their needs down the road, Novavax currently has $54mm in cash on hand and steady income from the BARDA contract in the form of cost reimbursements related to influenza research and product development. Consequently, this will enable them to continue their clinical trials through 2014 without necessitating the execution of any financial instruments which would dilute share value as is common practice with other, less focused speculative ventures.
Additionally, on October 24, 2012, Novavax appeared in my article entitled; "The Winner Among 45 Micro-Cap Biotech Companies Competing In Self-Belief" landing in the 18th position with 309,000 insider purchases, comprising 0.23% of the outstanding shares, with no insider sells over the same 12 month period. This is an outstanding indication of how the executives at Novavax feel about their company's prospects.
In conclusion, Novavax will likely enter the pandemic influenza market with every strategic advantage and be in a position to take a lion's share of that market within a decade's time. Likewise, they will be a major player in the seasonal flu market and perhaps the first and only vaccine maker for Respiratory Syncytial Virus.
With a unique platform, safe and effective passage of Phase 1 trials in all pipeline products, dedicated and effective management, Novavax has established itself as more than an embryonic dynamo that will change the face of health science. It is now a matured business and a model for other aspiring pharmaceutical enterprises.
Disclosure: I am long NVAX. I wrote this article myself, and it expresses my own opinions. I am not receiving compensation for it (other than from Seeking Alpha). I have no business relationship with any company whose stock is mentioned in this article.
Additional disclosure: All investment activity should be carefully researched before being executed. No guarantees or representations of performance are contained herein. Please consult a financial adviser before purchasing stock.