Are big miners still a value investment in today's world of increasing costs and falling commodity prices? That's the question on the minds of many value investors as companies like Vale (NYSE:VALE) report losses and scale back many of their operations.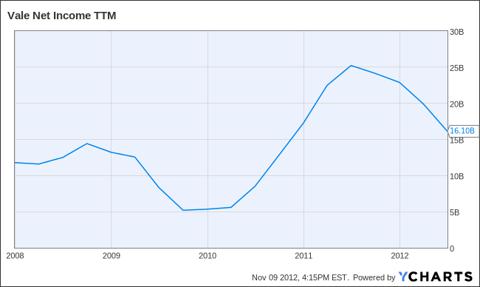 The chart tells us that Vale's income took a sharp nose dive in the last year, so it is no surprise that the company has started cutting back on operations, including its highly-hyped Moatize coal project in Mozambique. News articles indicate that Vale will cut coal production at Moatize by one half. Moatize was part of Vale's expansion into Africa, which was supposed to increase the company's revenue, yet it doesn't seem to have worked, even though Vale went to such lengths as to build a railroad to haul the coal.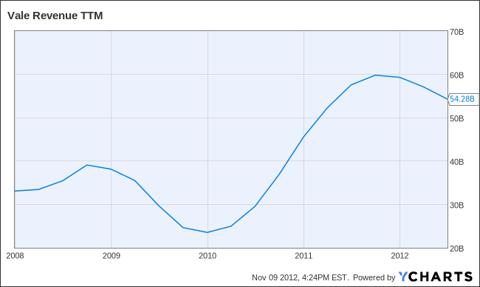 Instead of going up, Vale's revenue is down slightly in the past year. The ambitious expansion efforts haven't been able to protect the company from a decreased demand for commodities. Vale is obviously hurt by not having gold revenue to make up for the losses, but not even gold miners are immune from the current decline in mining revenue.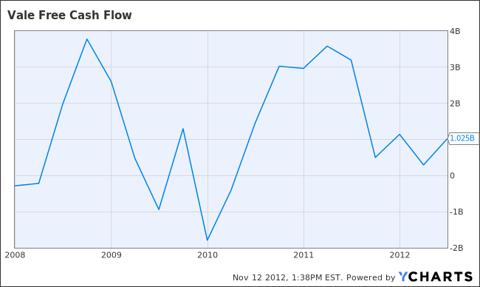 Yet all is not bad news at Vale the company's free cash flow is actually up slightly after taking a big dive earlier this year. As of June 30, 2012, Vale actually seemed to have more cash on hand. Although it still had a lower free cash flow than BHP Billiton (NYSE:BHP), which had a free cash flow of $5.99 billion on June 30.
Newmont Mining (NYSE:NEM) and Barrick Gold (NYSE:ABX) both showed a slight fall in revenue in the past year despite high gold prices. Freeport-McMoRan (NYSE:FCX), the American company that most resembles Vale, had a similar drop in revenue in the last year.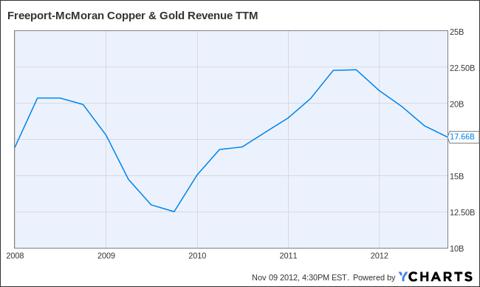 The chart indicates that big miners have been losing value in the last year. The only big miners that have been able to buck the trend are smaller gold producers such as Goldcorp (NYSE:GG) and Agnico-Eagle Mines (NYSE:AEM). These companies haven't been affected by revenue losses because of the high price of gold, which covers losses created by increased costs.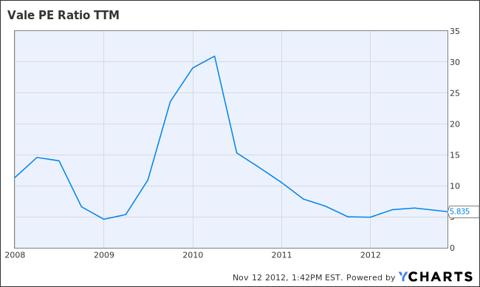 Unfortunately, Vale's increases in revenue and cash flow are not reflected in its PE ratio, which has been on a downhill slide for the past two years. Vale's PE ratio is less than half that of Freeport-McMoRan, which had a PEO ratio of 12.57% on November 12, 2012. Vale's PEO ratio was also dismal when compared with Barrick Gold, which had a ratio of 10.68% on November 12, and Southern Copper (NYSE:SCCO), which had a PEO ratio of 15.05%. These statistics indicate that Vale's profits are lower than the industry standard despite its ability to generate a lot of cash.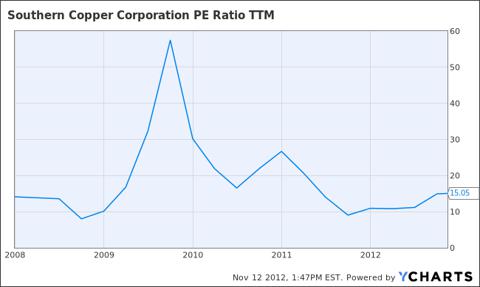 Naturally, value investors will wonder if it is time to start dumping big miners such as Vale, Freeport-McMoRan, Rio Tinto (NYSE:RIO), and BHP Billiton . If you're looking for a stock that will retain value for the next few years, the answer is yes. Revenue figures and PE ratios indicate that with the exception of gold, commodity prices just don't seem to be high enough to cover increased production costs.
The situation isn't likely to get better any time soon because of the situation in China. Rio Tinto's chief economist told Reuters that he doesn't think there will be any sort of stimulus in China next year, but the economist Vivek Tulpule thinks Chinese growth will be higher next year, around 7-8 percent. Vale's experts think that China's growth will be lower than Rio Tinto's projections. Its economists think the Chinese economy will grow at a rate of 6 to 7 percent for the next few years.
What this means is that Chinese growth isn't going to fuel the kind of mining company revenue we saw in the last few years. Companies like Vale can no longer rely on the Chinese buying anything that they mine.
Yet companies like Vale might be a good buy and hold play because of all the money they've invested in mining infrastructure. These companies will be in a position to profit when the commodities market recovers.
The demand for Vale's main commodity, iron ore, will probably increase over the next two decades. Rio Tinto has predicted that Chinese steel production will keep increasing until the year 2025. That may lead to a higher demand for both coal and iron oil.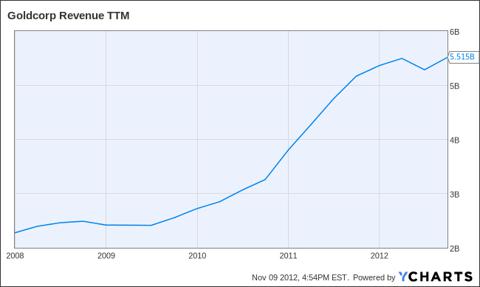 Vale, like Rio Tinto and BHP Billition, is a long-term value play. If you can afford to hold these stocks long term, they have real value. If you want to make money over the next few years, check out mid-sized gold miners such as Goldcorp and Royal Gold (NASDAQ:RGLD). Those companies seem to be the only miners that are poised for value increases right now.
Mining just isn't what it used to be, and the days of constant big revenue gains for big miners are over. The only reason to buy major miners like Vale is for their long-term value, not any short-term gains in revenue. If you can afford to wait, Vale might be worth a look.
Disclosure: I have no positions in any stocks mentioned, and no plans to initiate any positions within the next 72 hours. I wrote this article myself, and it expresses my own opinions. I am not receiving compensation for it (other than from Seeking Alpha). I have no business relationship with any company whose stock is mentioned in this article.