High gold prices don't automatically guarantee high share prices or value for gold miners. At least that's the lesson the world's largest gold miner, Barrick Gold (NYSE:ABX), is teaching us.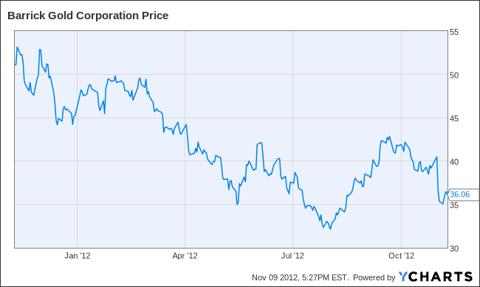 Barrick's share value has been falling all year, and it took another tumble in October. To make matters worse, news reports now indicate that Barrick's market capitalization has fallen below that of its smaller Canadian rival, Goldcorp (NYSE:GG). Reuters reported that Goldcorp's market cap was $35.32 (Canadian) on November 6th, while Barrick's market cap was $35.30 (Canadian). Barrick seems to have lost some of its value over the past year despite the high price of gold.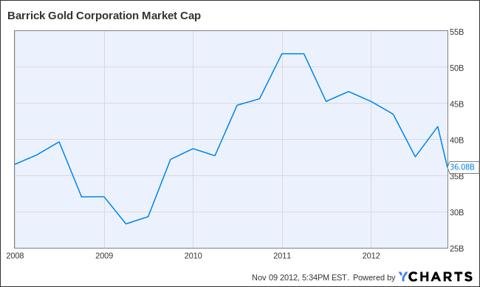 Barrick is now worth less than Goldcorp even though it mines more gold and owns more mines than the smaller company. Barrick has apparently been losing money all year and losing money at a rate faster than the increase of the price of gold. This loss of capitalization is reflected by Barrick's share price, which seems to be falling as quickly as the capitalization.
The interesting thing is that Barrick's revenue is pretty good in spite of all the bad news about the company. The latest chart that I could find, which was dated September 30, showed that Barrick's revenue went up in the last year. Yet revenue did take a slight drop in recent months.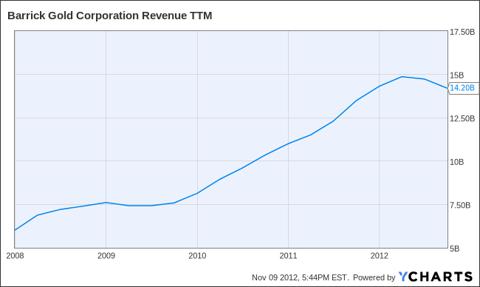 Barrick is a mixed bag; it may not be as bad as the numbers and the media indicate, but it is having some problems. Many value investors will wonder if Barrick is a value opportunity - a good company going through a momentary spot of trouble that might recover with a few changes.
That might be the case. Barrick's problems seem to be caused by the massive Pascua-Lama project high in the Andes Mountains on the border between Argentina and Chile. Costs at Pascua-Lama have been rising faster than the price of gold. The project might cost as much as $8.5 billion, making it the world's most expensive gold mine.
If Barrick can extricate itself from Pascua-Lama or get the project into production, it might recover its market capitalization. There are reportedly 17 million ounces of gold and 635 million ounces of silver at Pascua-Lama. That means the project might pay for itself if Barrick can start mining there. The problem is that production is not supposed to begin at Pascua-Lama until the second half of 2014.
In addition to Pascua-Lama, Barrick still has some tremendous resources, including 27 operating gold mines that are projected to produce between 7.3 and 7.5 million ounces of gold in 2012. Successful production at Pascua-Lima has the potential to significantly increase Barrick's cash flow, which has been going up despite the company's problems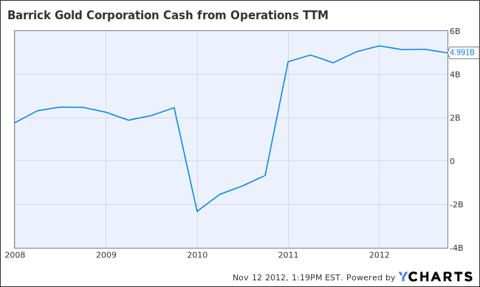 Barrick still is generating a lot of cash from its operations. It made more than five times as much cash from its operations than Goldcorp did. Goldcorp only made $727 million in cash from its operations in the last fiscal year. This indicates that Barrick Gold is undervalued and a potential bargain.
Barrick's share prices are low when compared with Newmont Mining (NYSE:NEM) and Goldcorp. On November 9, Newmont's share price was $47.99 even though it only had a market capitalization of $23.58 billion. That means Barrick is a bargain when compared with Newmont and Goldcorp.
Yet there is one potential drawback to Barrick that investors must consider. Barrick's Operating PE Ratio of 7.7% is still much lower than its competitors. Barrick's operating PE ratio is going up slightly but it is still less than half that of Goldcorp and Newmont Mining. Goldcorp had an operating PE ratio of 16.12% on June 30, and Newmont Mining had an operating PE ratio of 17.11%. That means Barrick is still earning less per share than its competitors so it is more of a speculative play than a value investment. The value at Barrick is in its potential not in its current numbers.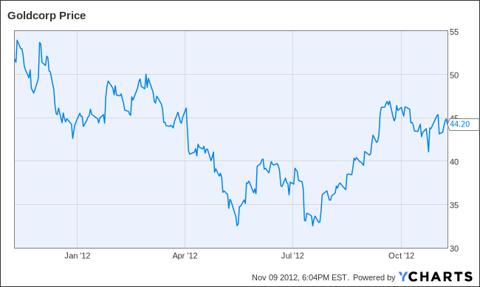 Yet when Goldcorp's numbers are thrown into the mix, it is Newmont that looks overpriced. Goldcorp, which also had a higher market capitalization than Newmont, was priced at $44.20 a share. Barrick is a bargain compared with the other two big North American gold producers, but is it a good buy? Compared with Goldcorp and Newmont it is.
Its share prices are comparable with Freeport-McMoRan (NYSE:FCX), which was trading at $38.34 a share on November 9. Freeport had a market cap of $36.39 billion, but unlike Barrick, Freeport is heavily exposed to the copper markets.
If your investment strategy is "buy and hold" and you think gold prices will remain high, then Barrick might be for you. Despite its falling market cap and dismal PE ratio, Barrick still has a lot of good assets - even Pascua-Lama has tremendous possibilities if it can ever get into production. Those assets have generated a lot of cash in the past, and they can do so again.
Once Barrick gets over the problems at Pascua-Lama, its share price and market cap might start rising again. They might even go back to the levels seen in 2011 when Barrick's market cap approached $50 billion.
Disclosure: I have no positions in any stocks mentioned, and no plans to initiate any positions within the next 72 hours. I wrote this article myself, and it expresses my own opinions. I am not receiving compensation for it (other than from Seeking Alpha). I have no business relationship with any company whose stock is mentioned in this article.