We published our evaluation of Bill Ackman's demands for General Growth Properties (NYSE:GGP) to sell itself back in September. We're glad that GGP rejected Ackman's demands to put itself up for sale because we believe that the company is making steady steps in order to improve its fund flows from operations. Although GGP's stock has given up most of its Ackman related gains, we believe that GGP's FFO improvements will help drive GGP's stock higher than any special buyout that Ackman would like to see. One that has validated this thesis of ours is that GGP spun-off its 30 Class B Dirt Malls into Rouse Properties (NYSE:RSE). Not only did this strategic initiative get rid of its 30 weakest performing mall properties, it also helped GGP shed $1.06B in mortgages, notes and loans payable.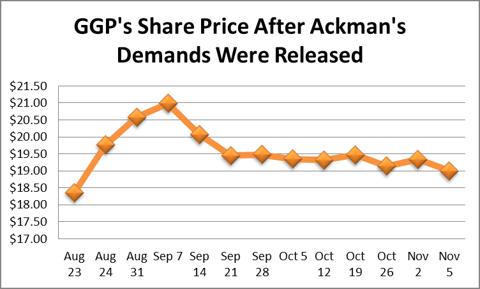 Source: Morningstar Direct
Even if GGP listened to Ackman's demands and agreed to sell itself, we're not as confident as Ackman that a sale could be pulled off, especially to Simon Property Group (NYSE:SPG). First and foremost, Simon and GGP are the two largest mall property real estate investment trusts and it would have to jump through a number of antitrust hurdles. In 2010, Simon had 245M square feet and GGP had 183M square feet. GGP has since reduced its square footage to 136M and Simon still has 242M square feet as of the most recent quarter. When Simon was in talks with GGP in 2010 with regards to acquiring GGP, Simon offered to sell 25-30 malls with up to 10M in sellable square feet and GGP's lawyers responded that Simon would have to sell more than that without specifying how much more. Simon had offered $10B to acquire GGP at $9/share but wanted to walk away from the deal if it was required to sell off malls that averaged annual sales of $450/square foot. Brookfield Asset Management (NYSE:BAM) had offered $15/share for a 40% stake in GGP ($6.5B), which included 120M warrants exercisable at $15/share.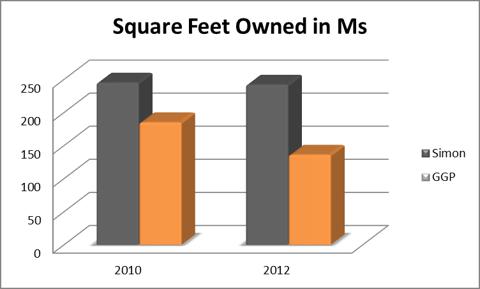 Source: Wall Street Journal and MRQ reports for Simon and GGP
We can understand where Ackman is getting his proposal in which Simon would offer 0.1765 Simon shares for each share of GGP. That was the offer that Simon had made in 2010 when it tried to scoop up GGP out of bankruptcy. We can understand why Ackman wants it now as it would result in an implied value for GGP of $26.83/share. That would be a 50% total return from the $18.35/share that GGP was trading at before Ackman went into his temper tantrum in August. According to Ackman, he allegedly met with David Simon of Simon Property Group in October 2011 and Simon was still interested in buying GGP at .1765 Simon shares for each GGP share when GGP was trading at $12.75 and Simon was at $115.23. Brookfield was not supportive of that deal because it expressed an interest in acquiring GGP and was willing to sell 68 of GGP's malls to Simon. Simon rejected that deal because it objected to the malls that Brookfield offered as well as the price for the malls. Brookfield explained that it would seek to acquire GGP on its own and it would consider selling GGP's best 14 malls to Simon or other buyers.
In July, Ackman met with Brookfield and Brookfield offered a series of transactions relating to GGP, Howard Hughes Corporation (NYSE:HHC) and Aliansce (a Brazilian shopping mall operator). Eight days before Ackman went public with his demands for GGP's sale, GGP announced that it acquired Ackman's 14.14% stake in Aliansce for $195.2M and that deal closed in October. We can understand why Ackman wanted a substantial premium for Pershing Square's shares as it would allow Brookfield to gain majority control over GGP. We think that Ackman was being a little overly dramatic when he was expressing concern that Brookfield would gain control through its dividend reinvestment program. Brookfield owns 42.2% of GGP through stock and warrants and GGP's dividend yield is only 2.3% as of November 5th. We think that it would take a long time for Brookfield to gain 50.01% control of GGP through that program, longer than any reasonable individual or organization would care to wait.
If GGP had accepted Simon's offer of .1765 Simon shares for each GGP share back in October 2011, the deal would have given GGP an implied value of $21/share. GGP's price had reached $18.35 in August 2012 before Ackman issued his demands for a sale so we can see that GGP's efforts to turn itself around are helping to add value to GGP's shareholders and confirms our earlier thesis about how GGP offers more sustainable value growth going forward as an independent company rather than selling out. Plus who is to say that Simon would be interested in making that deal again. Although Simon's P/B of 8.05 may be higher than GGP's P/B of 2.31, Simon's P/FFO of 20X is comparable to GGP's P/FFO of 18.5. We don't see David Simon willing to offer 28X GGP's FFOs especially when he has already been rejected once or twice. Furthermore, Simon's sales per square foot are nearly 4% higher than GGP's and Simon's Net Income in Q3 2012 of $255M exceeded GGP's Q3 2012 Adjusted FFO of $231M.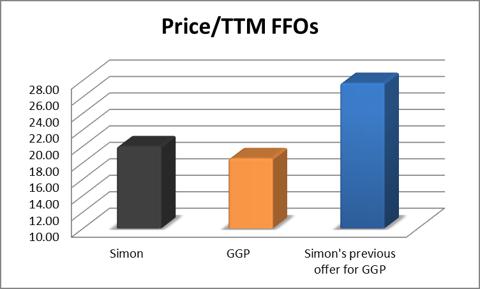 Source: MRQ reports for Simon and GGP and Pershing Square's Letter to GGP's Board
When we saw the news about Ackman's demands, we made it a point to carefully evaluate everything we saw. We could see that GGP was making incremental progress with regards to reducing cash operating expenses and its operating income enjoyed a boost from reduced depreciation and amortization expenses. We also liked that the recently acquired Sears stores were providing incremental revenue growth. We were not pressured into reentering our position even though GGP's share price reached a peak of $21.25 on September 7th; we did not "buy in a panic" because we were jealous of the 16% increase achieved from the lows of August 23rd to the highs on September 7th. We calmly, coolly and dispassionately saw that this corporate action was in the early stages at best. We saw that if Ackman's proposed transaction had taken place, it would have resulted in a nearly 60% increase in GGP's share relative to its August 23rd share price. However there was a long way to go before that transaction would take place and it had to go through the gauntlet of Brookfield's ego, GGP management's ego and if Simon Property was still interested in doing the deal.
In conclusion, we contemplated reentering into a speculative long position in GGP and took a pass. We are glad that Brookfield and GGP has declined Bill Ackman's demands that GGP put itself up for sale. We believe that it isn't the right time for GGP to sell itself to Simon Property Group and we believe that there is potential for further shakeout in GGP's price, especially considering that GGP's FFO/share have only increased by 10% YTD while its stock has generated a 28% total return. Although GGP is making progress in improving its operations, GGP is most certainly not at the same level of Simon Property Group with regards to performance. GGP most certainly should not be trading at a higher PE ratio or even a comparable ratio to SPG and we think Bill Ackman is wrong to think otherwise. We like that in YTD 2012 GGP's operating cash flows grew more than 50% versus what was achieved in YTD 2011. We also like the fact that GGP has been able to reduce its interest expenses by over 20% in Q2 2012 versus Q2 2011 and will have completed the refinancing of $7B of its mortgages this year. These deals will reduce the average rate on GGP's borrowings from 5.3% to 4.3% on these refinanced mortgages and will enable it to ensure that its operating income begins to exceed its net interest expense.
Disclosure: I am long HHC. I wrote this article myself, and it expresses my own opinions. I am not receiving compensation for it (other than from Seeking Alpha). I have no business relationship with any company whose stock is mentioned in this article.
Additional disclosure: This article was written by an analyst at Saibus Research. Saibus Research has not received compensation directly or indirectly for expressing the recommendation in this article. We have no business relationship with any company whose stock is mentioned in this article. Under no circumstances must this report be considered an offer to buy, sell, subscribe for or trade securities or other instruments.