Seadrill (NYSE:SDRL) announced on November 5 that it has entered into a non-binding memorandum of understanding with SapuraKencana to combine their respective tender rig businesses. This deal will make SapuraKencana the world's largest tender rig operator (Seadrill currently holds this honor). The deal will also result in Seadrill increasing its ownership stake in SapuraKencana. Here are the full terms of the deal, per Seadrill's announcement:
SapuraKencana will purchase all of Seadrill's tender rigs, including the tender rigs under construction, except for West Vencedor, T-15, and T-16.
SapuraKencana will have the right to be the manager for West Vencedor, T-15, and T-16.
SapuraKencana will give Seadrill total consideration of $2.9 billion and assume all debt of the tender rig organization including all remaining capital expenditures needed to complete the newbuilds that are under construction.
At least $350 million of this $2.9 billion will be paid in SapuraKencana shares. The remainder will be paid to Seadrill in the form of cash and a seller's note.
Seadrill will receive two seats on SapuraKencana's Board of Directors. Seadrill's chairman, John Fredriksen, is expected to be one of the individuals that will hold these seats.
SapuraKencana will form a joint venture with Seadrill's 40%-owned subsidiary Archer Ltd. for the purpose of growing Archer's wireline services in the Far East.
For quite some time now, Seadrill has been very optimistic and excited about the prospects of its tender rig business. I have even discussed this in a few articles posted to this site, most notably this one. Because of the potential of this organization, this sale comes as a major surprise. Seadrill is essentially selling one of its best assets here and one of its unique assets. Seadrill is the only major offshore drilling contractor to have a tender rig fleet.
This deal was discussed fairly extensively in the comments to my last article on Seadrill entitled, "Seadrill's Takeover of Asia Offshore Drilling Is Very Good For Shareholders." Many readers are searching for a reason behind this deal. A reason for why Seadrill is selling off one of its best assets. SapuraKencana's motivation here is quite obvious and was well-covered in a recent report. The acquisition of these tender rigs will be accretive to SapuraKencana's earnings. It will have the opposite effect on Seadrill's business, at least in the short-term and excluding special items (since Seadrill will likely report some enormous one-time items on its income statement due to this sale).
Seadrill's entire tender rig fleet generated $183 million in contract revenue during the second quarter of 2012 and $352 million in contract revenue during the first half of the year. Seadrill has not yet reported its third quarter results but the third quarter revenues from this operation are likely in this range. Thus, the company is foregoing approximately $700 million to $750 million worth of annual contract revenue with this deal. Thus, SapuraKencana is paying from 3.8 to 4.5 times revenue for this segment of Seadrill's rig fleet. However, as investors, we are more concerned with the effect that this deal will have on profit. Seadrill reported that the entire tender rig operation had an operating income of $78 million during the quarter and $149 million during the first six months of the year. The tender rig organization thus produces approximately $300 million in annual income. Seadrill has approximately 468 million shares of common stock outstanding. Therefore, this $300 million in profit works out to approximately $0.64 per share of foregone annual net income due to this transaction. Since Seadrill pays out the vast majority of its operating cash flow in the form of dividends, this deal could threaten the high dividend in the short-term unless Seadrill uses some of the money that it receives from SapuraKencana to pay it.
This deal looks much better for Seadrill shareholders once we look out past the next few quarters. Seadrill has fourteen rigs under construction, excluding the tender rig newbuilds which will all be going to either Seadrill Partners (NYSE:SDLP) or SapuraKencana. The rigs under construction consist of nine floater rigs and five jack-ups. The nine floater rigs alone will easily be able to generate more revenue and profit than the entire tender rig organization that is being sold. A helpful chart provided by Seadrill as a part of its presentation (PDF) at the Pareto Oil and Offshore Conference clearly illustrates this point.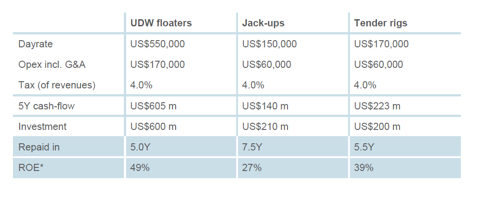 Source: Seadrill, Ltd.
As illustrated by this chart, one ultra-deepwater floater rig generates 2.71 times as much cash flow over a five year period as one tender rig. Thus, these nine newbuild floaters could essentially replace 24 tender rigs without Seadrill suffering any drop in cash flow. That is more than the nineteen (including newbuilds) rigs that Seadrill is selling in this deal. This analysis assumes that the ultra-deepwater floaters will achieve dayrates of $550,000. However, Seadrill's recent contract awards have been well above that level. This makes the ultra-deepwater floater rigs look even better than a cash flow perspective. While Seadrill's recent semi-tender contracts have also been above the $170,000 dayrate listed in the table above, that does not change the overall conclusion about the superior investment potential of the ultra-deepwater rigs. The company's recent tender rig contracts have averaged from $200,000 to $210,000 or roughly $30,000 to $40,000 higher than in the table above. The company's recent ultra-deepwater contracts, meanwhile, have been in the $570,000 to $650,000 range. This is a much larger incremental increase over the value in the chart above than for tender rigs. Thus, if we assume that operating expenses remain proportionally the same then ultra-deepwater rigs still have the cash flow and return on equity advantage over tender rigs.
Therefore, it does appear that the company's cash flows will be reduced as a result of this sale but the newbuilds that are coming online will make up for it by the second or third quarter of 2014. This deal does little to alter Seadrill's status as an aggressive grower. According to John Fredriksen, chairman of Seadrill,
"The net proceeds from the transaction will be redeployed as equity to aggressively grow our deepwater fleet and also open up for significant new investments in the jack-up sector, a sector which has shown strong signs of improvement."
Seadrill may opt to use some of this money from the sale of the tender rig organization to cover some of the enormous costs that will be incurred when the company takes delivery of all of these newbuilds in 2013 and 2014. Seadrill had already planned for these costs well before the decision to sell the tender rig organization was made. This could mean that the company will simply follow through on its original plans (mostly the use of debt) to cover these costs. Mr. Fredriksen's statement indicates that the company could use this windfall to order even more newbuilds which could drive even further growth. Most likely, Seadrill will use this money to do some combination of the above options.
Disclosure: I am long SDRL. I wrote this article myself, and it expresses my own opinions. I am not receiving compensation for it (other than from Seeking Alpha). I have no business relationship with any company whose stock is mentioned in this article.