Is Apple about to reap a huge windfall at Android's expense? This seems quite possible, and the windfall would be passed on to investors.
Apple (NASDAQ:AAPL) and HTC have announced a cross licensing agreement according to a New York Times article. At issue here were several lawsuits against each other over various patents. In particular, Apple was suing HTC for copying aspects of the iOS mobile operating system.
The big news, however, is the estimate by analysts such as Shaw Wu of Sterne Agee that HTC will be paying Apple up to $8 per phone for the next 10 years.
Essentially, the fight was over Google's (NASDAQ:GOOG) Android operating system for the HTC handsets. So the results could have far-reaching affects.
Patent lawyer/blogger Florian Mueller of Foss Patents writes:
Each and every one of those deals reduces to absurdity Google's claim of Android being 'free.' There's no such thing as a free lunch.
So how costly will this lunch be?
CIO-Today reports:
The HTC-Apple patent licensing settlement may have broader implications for the rest of the industry. Samsung and Google-owned Motorola are still in the throes of litigation with Apple. So, does the HTC deal drive Android competitors closer to a settlement? Analyst Shaw Wu believes so -- and he believes the HTC deal could serve as a blueprint. (emphasis added)
Many analysts see smartphone sales topping 1 billion units by 2015 or 2016. NPD Display Search says:
These forecasts are much higher than those of other industry analysts, who generally expect smartphone unit sales to hit about 1 billion a year by 2015.
And provides the following chart:
Click to enlarge image.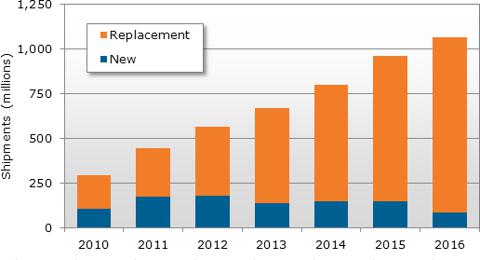 Source: NPD DisplaySearch Smartphones: Displays, Designs and Functionality.

Research firm IDC projects 1.16 billion sales by 2016. Meanwhile, IDC projects that Android will have about 53% market share in 2016. If we round this to 50%, then the math is trivial.
Conclusion
Should Apple reach similar agreements with all Android providers to cross license at $8 per Android unit, and Android maintains 50% share of 1 billion units, then the math is as follows:
1 B X 50% X $8 = $4 Billion per year
This is over $4 per year EPS added on to Apple sales. It should be noted that this is virtually all profit, as there are few operating costs involved in collection. Even at Apple's current depressed P/E of 12.5 (roughly), this alone would add over $50 to the stock price.
That will buy a free lunch or two.
Related article: "Apple Victory - What Does It Mean?"
Disclosure: I am long AAPL. I wrote this article myself, and it expresses my own opinions. I am not receiving compensation for it (other than from Seeking Alpha). I have no business relationship with any company whose stock is mentioned in this article.