The health care sector benefits from President Barack Obama's second term win, as rival Mitt Romney wanted to repeal Obamacare if elected, but the Affordable Health Care Act will take a toll on the medical devices exchange traded fund sub-sector, due to taxes.
According to a Battelle Technology Partnerships Practice study, Obamacare includes a "stealth" tax on medical device makers, writes the ETF Professor for Benzinga. Battelle projected that the health care act would lead to tens of thousands of cut jobs and billions of dollar lost GDP for the U.S.
Medical devices ETFs, like the iShares Dow Jones US Medical Devices Index Fund (IHI) and SPDR S&P Health Care Equipment ETF (NYSEARCA:XHE), would mirror the blow on the sub-sector, which include prominent names like Medtronic (NYSE:MDT), Intuitive Surgical (NASDAQ:ISRG) and St. Jude Medical (NYSE:STJ).
According to the Washington Times, a number of medical equipment providers have already considered per-emptive layoffs in anticipation of the Medical Device Tax. For example, Medtronic has cut 500 jobs over the summer and will reduce a further 500 jobs by the end of 2013. St. Jude Medical also plans 300 layoffs.
Broad health care ETFs that include the major blue-chip pharmaceutical companies, like Johnson & Johnson (NYSE:JNJ), Pfizer (NYSE:PFE) and Merck (NYSE:MRK), also hold a portion in medical devices.
For instance, the Dow Jones U.S. Healthcare Sector Index Fund (NYSEARCA:IYH) allocates 33.6% to health care equipment & services and the Health Care Select Sector SPDR Fund (NYSEARCA:XLV) has 14.9% in health care equipment & supplies.
iShares Dow Jones US Medical Devices Index Fund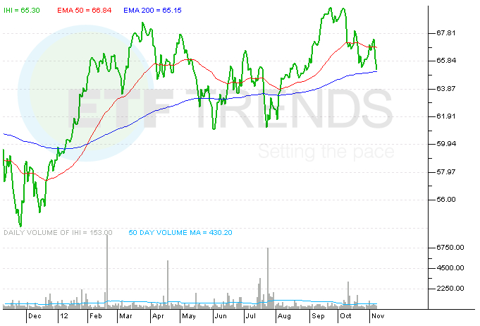 Max Chen contributed to this article.
Disclosure: I have no positions in any stocks mentioned, and no plans to initiate any positions within the next 72 hours. I wrote this article myself, and it expresses my own opinions. I am not receiving compensation for it. I have no business relationship with any company whose stock is mentioned in this article.