In September, we devoted a couple of reports to Legg Mason (NYSE:LM) and Western Asset Mortgage Capital Corporation (NYSE:WMC). Legg Mason is the parent company of Western Asset Management and we had expressed our delight that Legg Mason was tired of its recent record of underperforming results and that it finally fired its CEO Mark Fetting. Our report on Western Asset Mortgage Capital Corporation analyzed and evaluated Western Asset Management's entry into the Mortgage Real Estate Investment Trust game on May 15th. We were impressed that the company had increased its adjusted per share dividend in Q3 while many of its peers were cutting dividends. We were also impressed by the fact that the company had small CPR rates relative to its competition. It was no surprise that Western Asset Mortgage achieved a lower CPR prepayment rate than mREIT heavyweight Annaly Capital Management (NYSE:NLY). To us, that's a dog bites man headline. What caught our eye was that Western Asset Mortgage's CPR prepayment rate was lower than American Capital Agency (NASDAQ:AGNC) and American Capital Mortgage , which are managed by mREIT superstar Gary Kain. In Q3 2012, Western Asset Mortgage once again achieved a lower CPR than AGNC and MTGE, as well as our favorite flabby underperforming mREIT Annaly Capital Management.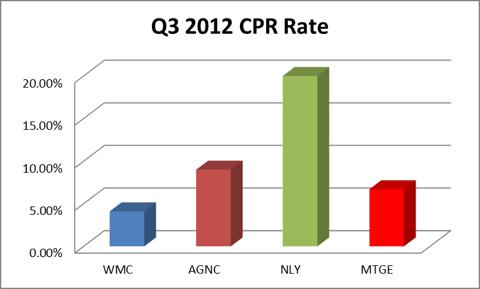 Sources: MRQ Reports for WMC, AGNC, NLY and MTGE
Western Asset Mortgage recently released its Q3 2012 financials and this was the company's first full quarter of performance. In Q2 2012, it began operations on May 15th and was operating for 47 days during the Q2 2012 period. The company generated $2.72/share in net income and paid a $.85/share dividend for the period. Core Earnings for WMC was $.89/share and like other mREITs, WMC's total net income was driven by unrealized gains on its mREIT portfolio. During the quarter, WMC announced over $301M in equity capital from its secondary offering and entered into additional repurchase agreements under master repurchase agreements in the amount of $2.5B. The company utilized the additional borrowing under the master repurchase agreements at the beginning of Q4 2012 and ended Q3 2012 with an 8.5X leverage ratio, up from 8.3X in Q2 2012. One thing we are keeping our eye on with regards to WMC is its leverage ratio. For better or worse, it is higher than Annaly, AGNC and MTGE.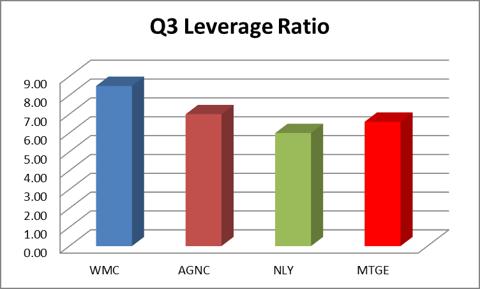 Sources: MRQ Reports for WMC, AGNC, NLY and MTGE
We previously established that WMC's manager is the fixed income asset management powerhouse Western Asset Management. We are aware that WAM's actively managed fixed income products generated sour performance during the crisis and this has served to hurt Legg Mason's image in the eyes of investors, especially large institutional clients who may need or want fixed income products. Three notable WAM Mutual Funds that stood out as underperformers to us included its Global Strategic Income Fund, its Corporate Bond Fund and its High Yield Fund. Those funds were in the bottom 20th percentile with regards to relative performance in each fund's respective category according to Morningstar in 2008. We believe that WMC has the potential to be the next great superstar in the mREIT space and to give Annaly and Gary Kain a run for their money. WMC has $5.16B as of the most recent quarter versus Annaly's $141.6B and AGNC's $102.2B. Western Asset Management manages $446B as of Q2 2012 ($460B as of Q2 2012), including $65.8B in mortgage assets. With regards to WMC's mortgage assets, $40.5 billion was invested in Agency RMBS, $13.2 billion in non-agency RMBS, $2.6 billion in CMBS, and $9.5 billion in ABS.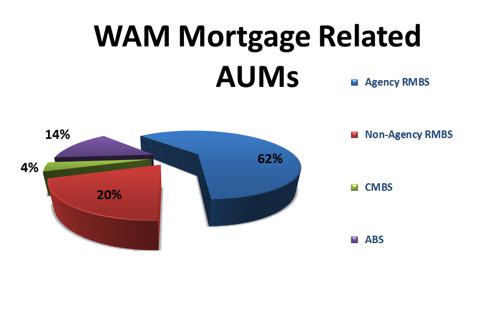 Source: Western Asset Mortgage Capital
With the exception of MTGE, Western Asset Mortgage and its peers are currently 100% invested in agency-guaranteed MBS paper. Though MTGE is a hybrid mREIT that utilizes non-agency paper, we keep in mind that it only has 8% of its portfolio in non-agency securities. Although WMC's reported Q3 2012 book value of $21.76/share was lighter than the $22.68/share estimated book value as of its September 28th secondary, Western Asset Mortgage's book value growth rate of 7.88% in Q3 2012 exceeded the 2.28% that Annaly posted in the same time period. WMC's portfolio is invested 85% in call protected 30 year fixed rate agency guaranteed MBS, 11% in call protected 30 year fixed rate agency guaranteed MBS and 4% in CMOs and Interest Only securities.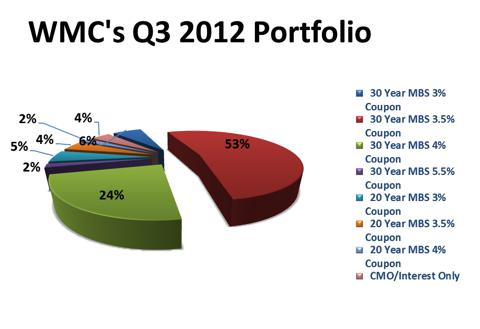 Source: Western Asset Mortgage Capital's Q3 Report
WMC's weighted-average annualized net interest spread in Q3 2012 was 2%, which compares favorably to the 1.42% at AGNC, the 1.8% at MTGE and the 1.24% at Annaly. WMC was able to achieve this through a lower cost of funding during the period. WMC's average cost of funding during Q3 2012 was 79bp, which was lower than the 96bp at MTGE, the 113bp at AGNC and 155bp from Annaly.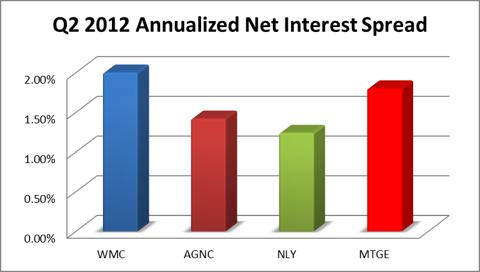 Sources: MRQ Reports for WMC, AGNC, NLY and MTGE
In conclusion, Western Asset Mortgage Capital has made an impressive debut in the mREIT industry. We believe that investors should take advantage of the mREIT massacre that has taken place since October and look to selective accumulate a position in WMC. We were especially interested in the company because we were impressed with its 16.75% annualized as of November 9th. While we are not expecting much in the way of future dividend increases, we like that the company's dividend yield is comparable to AGNC's yield and is slightly higher than the 14.27% at American Capital Mortgage and the 14.5% at Annaly. We believe that investors in the mREIT sector should consider WMC because they would be buying it at a lower price to book than Gary Kain's American Capital mREITs while earning better returns that Gary Kain's American Capital mREITs.
Disclosure: I am long WMC, MTGE. I wrote this article myself, and it expresses my own opinions. I am not receiving compensation for it (other than from Seeking Alpha). I have no business relationship with any company whose stock is mentioned in this article.
Additional disclosure: This article was written by an analyst at Saibus Research. Saibus Research has not received compensation directly or indirectly for expressing the recommendation in this article. We have no business relationship with any company whose stock is mentioned in this article. Under no circumstances must this report be considered an offer to buy, sell, subscribe for or trade securities or other instruments.