In May, I wrote an article entitled Research and Motion: Don't Buy until Apple and Google are Worried about BB10. At that time, the BB10 was expected to be released in October and stood as the only form of hope the ailing technology company had in its arsenal. Here we sit in mid-November and the BB10 is still nothing more than a future prospect set to debut after the upcoming holiday season. It is astounding that RIMM has not yet released another device in the wake of increasing competition within the sector and a BlackBerry user base that is beginning to doubt the need for its existence.
The inability of RIMM to develop this new platform in a timely manner should clue investors that the company is not in a position to compete in today's marketplace. The recent jump in the stock's price from $6.25 to $8.50 is merely speculation that the BB10 will be the innovation that puts RIMM back on the map. The issue resides in the fact that for RIMM to revolutionize the telephone once again it will need to do far more than was required in the past - beat Google (NASDAQ:GOOG), Apple (NASDAQ:AAPL), Nokia (NYSE:NOK), and Samsung at a game they have been sitting out for months and some could argue years. RIMM's inability to release the BB10 is evidence of severe internal issues that will result in failure.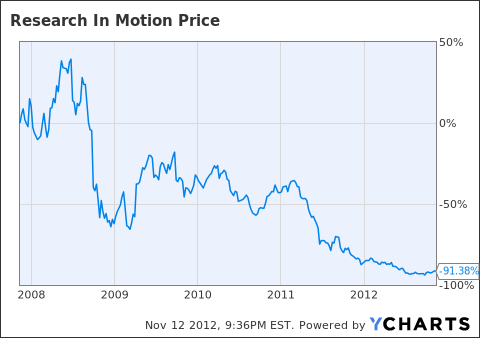 RIMM data by YCharts
Fundamentally
The current state of RIMM within the market was perfectly articulated to me during dinner last night. Two professionals sat down at the table to my right and placed four phones before them - two iPhones and two BlackBerry's. After sending the last business e-mail, both individuals set aside the BlackBerry and began using the phone of their choice - the iPhone. This trend cannot continue into perpetuity as the world is changing in enumerable ways. There is no reason to believe that those four phones will turn into an array of BB10s. This is a direct result of RIMM's inability to meet its customers at a point of enjoyment instead of a point of necessity. For RIMM, the issue resides in the fact that the necessity in the business world for its platform is fading as other devices and platforms take the lead. AAPL and the markers of Android operating devices from Samsung to NOK have debuted not only new devices, but multiple iterations of those devices in the time it has taken for RIMM to develop the BB10. This is unacceptable and puts RIMM far behind its competitors in nearly every fashion.
From an Investment Perspective
For investors the outlook remains nearly the same as it did six months ago. The company is losing money quarter after quarter (with last quarter's earnings declining 31.1%), is delivering negative returns on equity, and is stagnating from a stock perspective. Whether or not RIMM will jump on the release of its BB10 (assuming it ever does hit the markets) is unknown. What is known, though, is that RIMM has forfeited its position in the market and has become what appears to be a "researcher" of phones and not a center for innovation. The only scenario where investors will come out ahead at a price entry now is if the company either partners with a larger entity like GOOG to develop a platform or if the company is sold. These are not sound investment decisions because it is merely speculation that such will occur. Unless you envision a "black swan" occurring for RIMM (a major BB10 success, a sell-out, or a merger), it is best to avoid in the face of escaping further loss. With a dwindling 4.8% of the global smartphone market, RIMM is losing customers daily. With every day that passes, RIMM's chances of rebound diminish.
Simple Takeaway
The long-term prospect for RIMM is quite simple: to be replaced device at a time until the company fades into the past with the likes of Kodak.
(All financial metrics referenced above are obtained from Yahoo Finance, CNBC Analytics, S&P Capital IQ and Thomas Reuters.)
Disclosure: I have no positions in any stocks mentioned, and no plans to initiate any positions within the next 72 hours. I wrote this article myself, and it expresses my own opinions. I am not receiving compensation for it (other than from Seeking Alpha). I have no business relationship with any company whose stock is mentioned in this article.