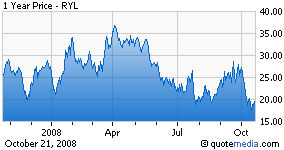 Ryland Group (NYSE:RYL) is expected to report Q3 earnings before market open Wednesday, October 22, with a conference call scheduled for Thursday at 12:00 pm ET.
Guidance
Analysts are looking for a loss of (88c) on revenue of $511.68M. The consensus range is ($1.75) to (14c) for EPS, and revenue of $481.41M to $561.03M, according to First Call.
Analyst Views
In an October 13 note to clients, Credit Suisse analyst Daniel Oppenheim said that new home construction is expected to continue its decline. The analyst, who downgraded shares to Neutral from Outperform, believes that over the next few quarters, sales of existing home inventory will face price competition from foreclosures.
As a result of the slowdown in the U.S. housing market, Zacks Equity notes that Ryland reported a loss of ($5.70) in Q2 due to a decline in margins and sales. Zacks believes Ryland's gross margins will remain under pressure due to accelerated option write-offs, heightened incentive use and weaker average selling prices. Ryland recently named COO Larry Nicholson as the company's president.