Merck & Co Inc. (NYSE:MRK) is a global health care company that makes pharmaceutical products to treat conditions in a number of therapeutic areas, including cardiovascular disease, asthma, infections, and osteoporosis. MRK also has a sizable vaccine business, with treatments to prevent hepatitis B and pediatric diseases as well as HPV and shingles. Following the acquisition of Schering-Plough in 2009, MRK had greatly improved its long-term outlook. Despite the revenue loss due to patent expirations, MRK has been catching up with new, promising drug developments. Given the recent pullback, long-term investors should take a look at this solid pharmaceutical company, which has a strong growth potential while riding the aging baby boomers trend. In the short term, MRK had been and will successfully survive the "patent cliff" to continue its long-term growth.
Recent Developments
MRK had been suffering from the patent loss of Singulair on Aug. 3, 2012, an oral asthma and allergy treatment, which was first cleared by the FDA in 1998. Singulair contributed to nearly 11% of MRK's total revenue in 2010 with worldwide sales of $5 billion. This is in addition to the loss of exclusivity for its blood pressure drugs Cozaar/Hyzaar, as reported by Melly Alazraki from DailyFinance. In December, MRK's Maxalt migraine will also expire, which accounts for $600 million in annual sales, and will be followed by Temodar brain cancer medicine with an annual sale of $900 million.
On the positive side, there are several new promising developments for MRK's new drugs, as listed below:
MRK's innovative and promising pipeline will allow it to get through the Singulair patent cliff, and this series of new MRK drugs should spark a profit rebound in 2014 -- thus making MRK a great long-term investment.
Fundamentals Overview Vs. Technical Analysis
With the data gathered from MorningStar, a quick review of MRK's key stats will be compared to its competitors in the major drug manufacturers industry, including Pfizer (NYSE:PFE) and Eli Lilly and Company (NYSE:LLY). Despite the trailing operating margin of 18.6% (ttm) and net margin of 14.2% (ttm), as compared to the industry averages of 22.7% and 16.0%, respectively, MRK had shown a much stronger revenue growth of 26.3 in the past three years, as compared to the industry average of 6.9. While MRK had been generating a lower than the average ROE of 12.2 (ttm) as compared to the average of 17.6 (ttm), investors should be comfortable with MRK's 0.3 debt-to-equity, as compared to the average of 2.4, and MRK's solid cash flow. Even with the higher P/E of 19.8, compared to the average of 17.0, MRK is fairly valued with its strong revenue growth and solid fundamentals. MRK has also been consistently distributing dividends, which currently stands at 3.85% annual yield.
MRK closed at $43.68 with 0.77% loss on Tuesday, with the volume of 9.60 million, which was 12.65% lower than the 30-day average volume of 10.99M. MRK had been trading in the range of $33.13-$48.00 in the past 52 weeks. From the technical perspective, MRK is currently trading below its 50-day MV of $45.16 and above its 200-day MV of $40.61, as seen from the chart below. The MACD (12, 26, 9) indicator had been showing a bearish sign since Oct. 23, 2012, and the MACD difference continued to diverge and only started to stabilize in past two to three trading days. From the momentum perspective, RSI (14) of 34.13 is approaching the oversold territory, where below 30 is considered as oversold. If MRK falls below $43.17, the S2 pivot point, the next major support will be at $40.61, its 200-day MV. In the very short term, MRK's selling pressure is likely to continue.
Click to enlarge image.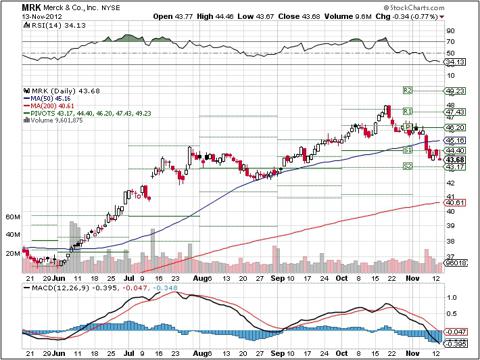 Source: StockCharts.com.
Options Play
While the short-term selling pressure may continue, we will review two sets of option plays: a longer-term bullish credit put spread and a shorter-term bearish put spread.
The objective for the longer-term bullish credit put spread is to capture the upside potential while planning to acquire MRK stock at a further discounted price. This credit spread will be reviewed below for long-term investors.
Short April 20, 2013, Put at the strike price of $40 for the credit of $1.12
Buy April 20, 2013, Put at the strike price of $36 for the cost of $0.35
The maximum profit is $0.77 and the maximum risk/margin required is $3.23 ($4 loss - $0.77 credit received). If MRK closes above $40 on April 20, 2013, the return for the margin used will be 23.84%. However, if MRK falls below $40 upon options expiration, the acquisition cost for MRK will be $39.23, which is 10.19% lower than the current price of $43.68.
For short-term traders who have a bearish view, a debit put spread will be reviewed below:
Buy Dec. 22, 2012, Put at the strike price of $42 for the cost of $0.43
Short Dec. 22, 2012, Put at the strike price of $40 for the credit of $0.20
The net debit for this options play is $0.23 and the maximum profit is $1.77 ($2 gain - $0.23 cost). This leads to a potential of 6.7 times gain for the cost of $0.23. This options play should only be reviewed for active options traders who understand the risks involved, including the time decay issues for the debit spread. Traders should close this debit put spread when the technical indicators start to show a bullish sign. The above two options plays can be set up at the same time to capture the shorter time downside profit while setting up for the long-term growth.
All prices above are quoted from the close of Nov. 13, 2012 and all calculations are before fees and expenses.
Disclosure: I have no positions in any stocks mentioned, and no plans to initiate any positions within the next 72 hours. I wrote this article myself, and it expresses my own opinions. I am not receiving compensation for it (other than from Seeking Alpha). I have no business relationship with any company whose stock is mentioned in this article.
Disclaimer: Investors and traders are recommended to do their own due diligence and research before making any trading/investing decisions.