We're about two weeks away from Green Mountain Coffee Roasters' (NASDAQ:GMCR) fourth-quarter and full-year results. The company will report on Tuesday, Nov. 27, after the bell. As many readers know, Green Mountain has been one of the biggest debate stocks over the past few years, and this is going to be a very interesting quarter. Green Mountain must answer a lot of questions, as the number of critics is definitely growing.
According to Nasdaq, the number of shares short for GMCR is growing rapidly. On June 15, about 23.25 million shares were short. That number was up to 35 million just before the company reported its third-quarter results. At the end of October, just under 50 million shares were short. This is for a company that only had about 155 million shares outstanding at the end of its latest quarter, meaning about a third of the outstanding shares were short.
With the number of shares short growing, the stock has settled in to a range of about $22 to $26 recently. Since the company's last earnings report, we've seen a low of about $15.25 and a high around $33, so we're right in the middle of that range now (as seen in the chart below). Which way does Green Mountain go from here? It all depends on the answer to some key questions that critics pose right now. These are the main issues that continue to spur debate over this name.
Click to enlarge image.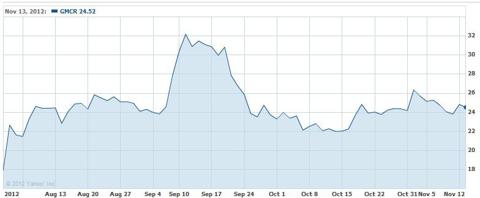 Source: Yahoo Finance.
Is the Growth Story Still in Place?
One of the biggest questions for Green Mountain is regarding revenue growth. In the 2011 fiscal year, the company posted 95% revenue growth, after years of 59% (2009) and 73% (2010). However, this fiscal year is projected to show revenue growth of just 44%, and next year just 17.5%. That's a very steep fall-off.
Of course, those projections for this fiscal year and next (which end in September, respectively) are only if the company meets expectations. That's something it has had trouble with lately. The following table shows the company's results so far this year.

After a huge Q1 beat, the company posted dismal results in Q2. Q3 results weren't too bad, but missed both analyst expectations and the company's guidance midpoint. For Q4, which we'll see in a few weeks, analysts are a bit below the company's $907.7 million midpoint. I had stated going into the Q3 results I would have been more positive on the name if revenue estimates from analysts stood at $850 to $860 million. If they had, the company would have beaten. I feel the same way about Q4. I'd be a bit more positive on the name if expectations were like $890 to $895 million instead of $902 million. I'm not calling for a miss here, but the lower the expectations, the better chance the company has of beating them.
Part of the company's future growth will depend on when and where the company decides to expand to. International expansion is certainly something expected at this point. I'm sure that Green Mountain will discuss this during the conference call, or at least I would expect some analyst questions regarding the matter. If the company doesn't expand internationally anytime soon, then the growth rate will continue to slow.
Green Mountain's guidance will be just as important as the fourth-quarter and full-year results. Here are the current expectations:
FY 2013 Q1 Revenues -- $1.29 billion (11.4% growth)
FY 2013 Q1 EPS -- $0.60 (compared to $0.60 in the prior-year period)
FY 2013 Revenues -- $4.38 billion (14.9% growth)
FY 2013 EPS -- $2.51 (compared to $2.24, where $2.24 is the current expectation for the fiscal year to be reported soon)
Green Mountain's FY 2013 revenue guidance was for 15% to 20% growth, so analysts are expecting revenues below the bottom end of the range. They basically are expecting guidance to be lowered at some point. The company also guided to an EPS range of $2.55 to $2.65, and that excludes $0.18 in amortization of intangibles, as well as any impact from the expected buyback.
How's the Buyback Coming Along?
After the Q3 miss, and subsequent guidance that was a bit disappointing, investors seemed to focus on one particular statement from the company's third-quarter announcement:
GMCR's Board of Directors has authorized the Company to repurchase up to $500.0 million of its common shares over the next two years, at such times and prices as determined appropriate by the Company's management in collaboration with the Board of Directors. The shares will be purchased with cash on hand, cash from operations, and funds available through our existing credit facility.

'Based on expectations for future growth and the Company's ability to generate meaningful free cash flow in 2013 and 2014, the Board of Directors has decided to strategically deploy its capital by authorizing the repurchase of common shares from time to time depending on market conditions,' said Michael J. Mardy, Interim Chairman of GMCR's Board of Directors.
I'm not a big fan of buying back stock in this company's case, especially if it is using its credit facility to do so. We saw recently with Deckers Outdoor (NASDAQ:DECK) that the strategy there isn't always the best. Deckers has used funds from its credit facility to buy back stock, and it has bought back at prices significantly higher than where the stock is currently trading at.
I've stated in past articles that Green Mountain's plan isn't a full buyback, and most company buybacks aren't. Shareholders usually face dilution each quarter from executive options and the like, and Green Mountain certainly has. Over the past year, the outstanding share count rose by about 2.5 million shares. If the trend continues, the company would have to spend about $122.6 million (at current prices), or 24.5% of the buyback just to stop the rise in the share count. That doesn't even start to get it back down.
You saw in the chart above the range since the company's latest earnings report. Green Mountain investors are hoping that if the company did start to buy back shares during this quarter, it did so at roughly where we are now, the $22 to $24 range, and it hasn't pulled a Deckers or Netflix (NASDAQ:NFLX), which would mean buying back shares in the $28 to $30 range or higher. Remember, a $500 million buyback at an average of $22.50 per share means 22.2 million shares, while an average price of $27.50 would only mean about 18.2 million shares. Given a possible 5 million shares from option dilution and such, the average price will be extremely important to this buyback.
How Are the Balance Sheet and Cash Flow?
Green Mountain has been criticized for the condition of its balance sheet, which is why some are very skeptical of the company's buyback plan. It's easy to understand why, with the company not having a ton of cash on its balance sheet. The company said that it expects improved cash flow over the next few years, but that's partially because it decided to cut capital expenditures going forward. So instead of investing in the business, it is buying back stock. It might be a good short-term idea, but not a great long-term strategy.
I put together the following table to show some key balance sheet numbers (the dollar values are in thousands). The percentage values show how that item represents current assets an total assets. For example, cash and equivalents are about 12% of the balance of current assets, and 4.16% of the balance of total assets.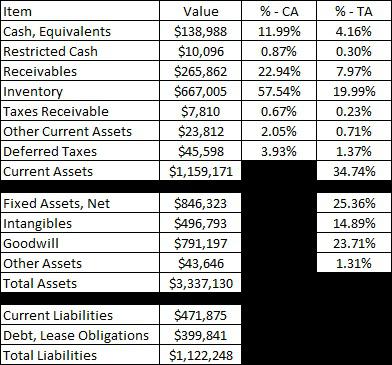 It is a decent sign that the company has more current assets than total liabilities. However, more than half of the company's current assets are tied up in inventory. Green Mountain has been criticized in the past for having too much inventory. While you can't sell what you don't have, the company has missed expectations the past few quarters. If it didn't have so much tied up in inventory, it would have a bit more cash on hand. I'd rather see the cash because the value of inventory could easily drop if sales miss (meaning excess inventory) or the company is forced to cut prices due to competition.
But also look at the long-term assets, which represent two-thirds of the company's total assets. Almost 39% of the company's assets are in goodwill or intangibles. That's a lot. With another 25% in fixed assets, you can see why a $500 million buyback over two years doesn't make sense. Either this company is going to produce a bunch of great quarters, or it is going to have to borrow a bit to accomplish the buyback. Adding debt (and interest costs) just doesn't make sense to me just to buy back stock here.
Where Is the Relationship With Starbucks Currently?
Green Mountain's relationship with Starbucks (NASDAQ:SBUX) is always a question. Is Starbucks a friend and ally, or is it a competitor? Recently, the question popped up again when it was announced that Starbucks' Verismo system was available. Originally, Green Mountain stated that Starbucks' product would be a complement, not a competitor, to its line of single-cup systems. The Verismo system is a high-pressure system, while Green Mountain's Keurig is a low-pressure one.
What appeared to trip up investors is that original thoughts were that the Verismo system would just be for espresso. However, in the Starbucks press release, it also states that the system will make "brewed coffee." Investors saw that as a warning sign that Starbucks is looking to take a piece of the single cup system pie. Despite the fact that Starbucks and Green Mountain have a partnership, there have always been critics who say that Starbucks could eliminate Green Mountain in no time if they wanted to.
Starbucks taking a shot at Green Mountain makes sense. Green Mountain is expected to due $3.8 billion in revenues during the current fiscal year, and almost $4.4 billion next year. Starbucks is large enough to make a serious run at Green Mountain, which would definitely boost its revenues. As a comparison, Starbucks is expected to do $14.9 billion in its current fiscal year (ending September 2013). If Starbucks could take away 5% of Green Mountain's revenues for fiscal 2013, it would add about 1.5% to Starbucks' top line over current expectations.
Conclusion: Time to Make a Stand
The time is now for Green Mountain. It is time to step up to the plate. There are a bunch of serious questions that need to be answered, which is why this article is presented as a short idea. That doesn't necessarily mean I am recommending a short on the name now. If you agree with these questions and think the company is in trouble, you might want to short the name. If you think the company can overcome these obstacles, you might expect a serious short squeeze given the large short base. In that case, you'd want to go long. For now, the bias seems to be toward the short side, as the company's recent track record has left a lot to be desired. That's why this name is down approximately 78% in the past 14 months.
Disclosure: I have no positions in any stocks mentioned, and no plans to initiate any positions within the next 72 hours. I wrote this article myself, and it expresses my own opinions. I am not receiving compensation for it (other than from Seeking Alpha). I have no business relationship with any company whose stock is mentioned in this article.
Disclaimer: Investors are always reminded that before making any investment, you should do your own proper due diligence on any name directly or indirectly mentioned in this article. Investors should also consider seeking advice from a broker or financial adviser before making any investment decisions. Any material in this article should be considered general information, and not relied on as a formal investment recommendation.