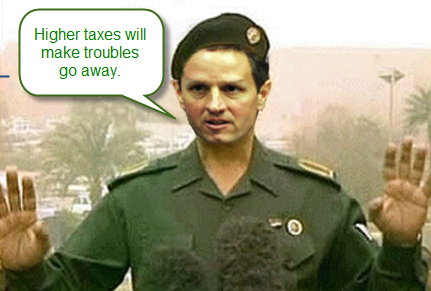 U.S. stocks rallied early on Cisco's (NASDAQ:CSCO) slightly better than expected report. The stock was initially up 8%, while half of those gains were lost by the end of the trading day. Reality returned, proving any early rally merely provides another exit. Some bulls like to point out that when Obama was elected in 2008 stocks dropped 5%, so the reelection should be nothing to worry about it. They neglected to mention stocks kept dropping for the next five months. After the news conference Wednesday, investors saw little in Obama's comments to assuage their fiscal cliff concerns, so selling intensified. This press conference followed on the heels of Geithner's comments Tuesday that everything will be fine once we raise taxes.
Markets reacted strongly to Israeli attacks on Gaza that killed a Hamas leader, amping up the region's violence. Further, Egypt has made threats to Israel, including recalling its ambassador, over the Gaza attacks. This naturally caused an immediate spike in crude oil (NYSEARCA:USO), which given energy's high weighting, also rallied commodities (NYSEARCA:DBC) overall. The dollar (NYSEARCA:UUP) was flat, while gold (NYSEARCA:GLD) rallied modestly. Also in currency markets, the yen (NYSEARCA:FXY), (NYSEARCA:YCS) fell as the BOJ and government entered massive stimulus. The Chinese yuan (NYSEARCA:CYB) also established new highs on no particular news. The yuan has been rallying modestly almost every day the past couple of months, and now is at an all-time high. Some of this may be due to repatriation on concerns regarding the economic stability within the U.S. and eurozone. Bonds (NYSEARCA:TLT) and (NYSEARCA:IEF) were basically flat, but the high yield sector (NYSEARCA:HYG) continues to trade more with stocks and fell.
Overseas, eurozone shares were weaker as Industrial Production in the region declined the most in three years, down 2.5%. The UK's Bank of England lowered future GDP growth due to the ongoing financial crisis -- and here I thought this was over. The yen weakened as Japan boosted its stimulus package. In China, the 18th Party Congress ended with few surprises. The China Construction Bank offered some "happy talk," stating it was confident it could contain problem loans.
Retail Sales were weaker (-.3% vs. -.1% expected, and prior 1.1%) and ex-autos/gas (-.3% vs. -.1% expected, and prior .6%) so take your choice. Below is a chart demonstrating how Consumer Confidence and Retail Sales are coming together.
(click images to enlarge)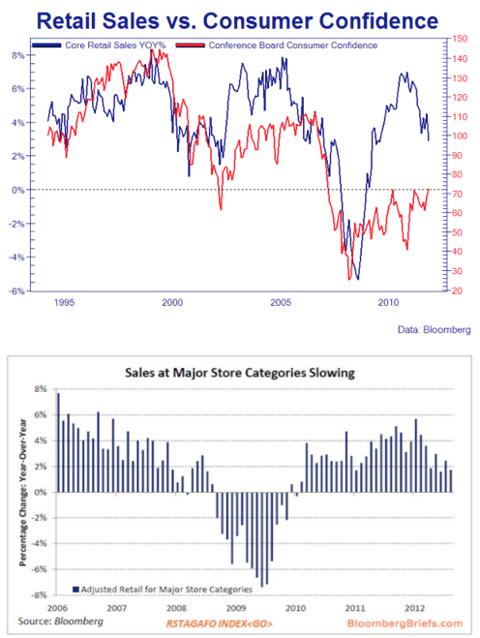 The PPI (-.2% vs. expected -.1% expected, and prior -.2%) and the silly "core" PPI (.-.2%% vs. .2% expected, and prior .0%) again, take your choice. Within the data, food prices (not that you eat) were higher by .4%. Business Inventories were higher (.7% vs. .6% expected, and prior .6%) so depending on your view, not much to read into this report. Lastly, Fed Minutes released this afternoon suggested an extension of QE to infinity.
Stock market sectors leading the way lower included, well, just about everything. Oh wait, Abercrombie & Fitch (NYSE:ANF) rallied, but this didn't help retailers (NYSEARCA:XRT) much overall.
Volume was only slightly above recent averages, while breadth per the WSJ looks like it posted an ugly 10/90 day away from the Nasdaq. On this note, let me say markets are now much oversold short term, as RSIs and NYMO demonstrate. So perhaps there's a rally in the cards soon enough. We're both short and long currently, but also have high cash balances.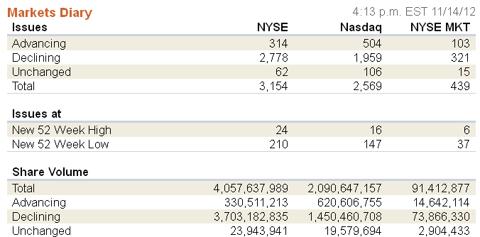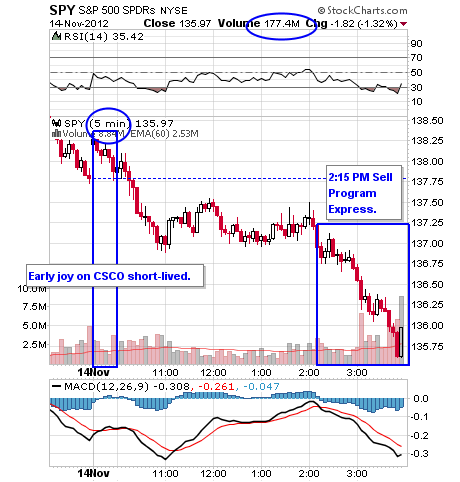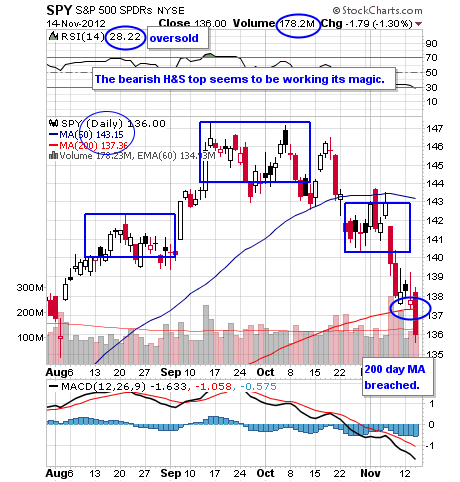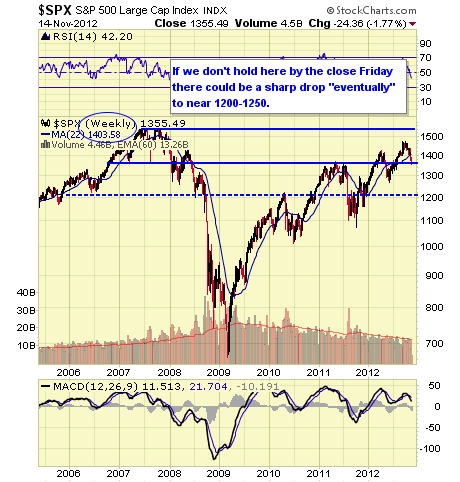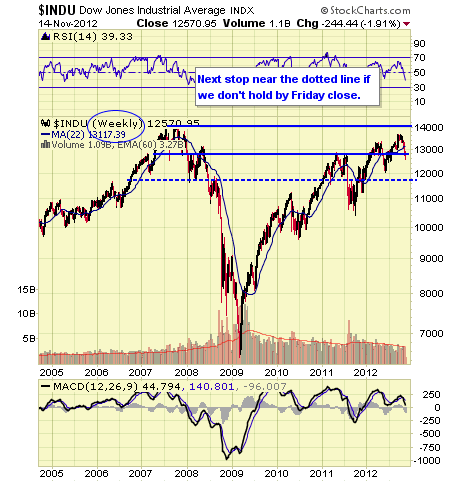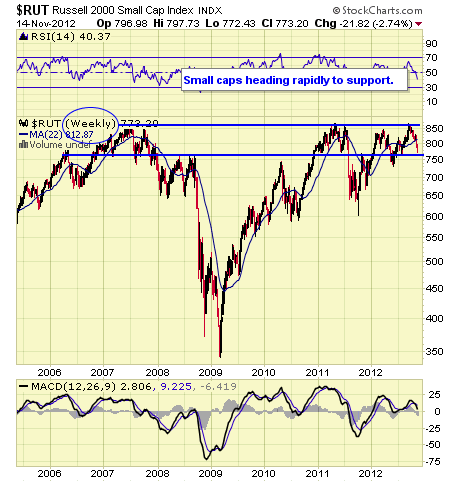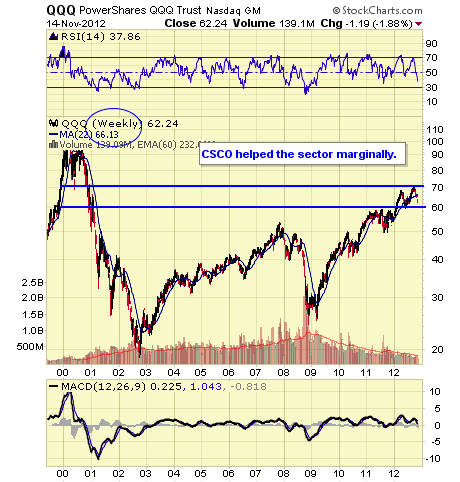 Continue to U.S. Sector, Stocks & Bond ETFs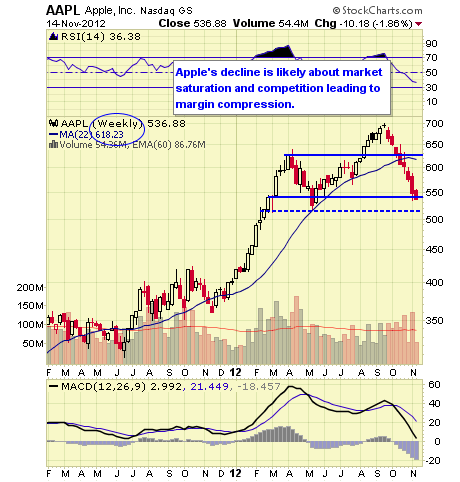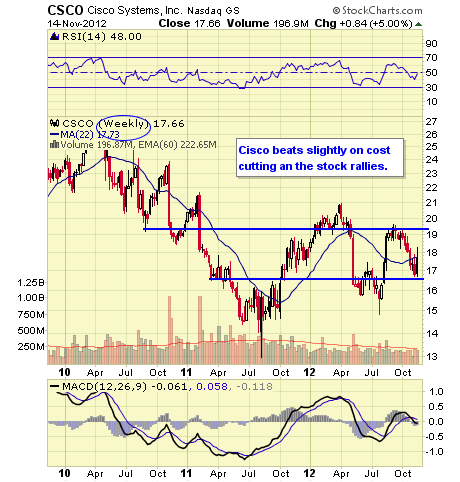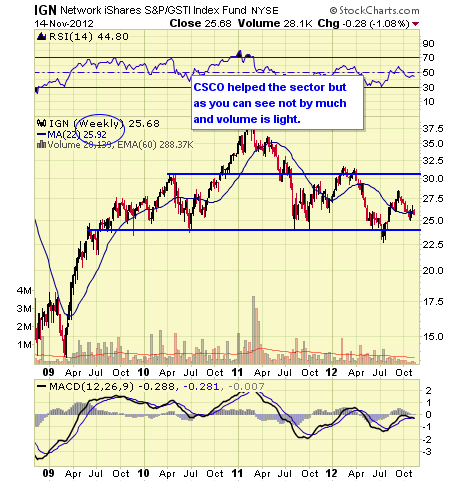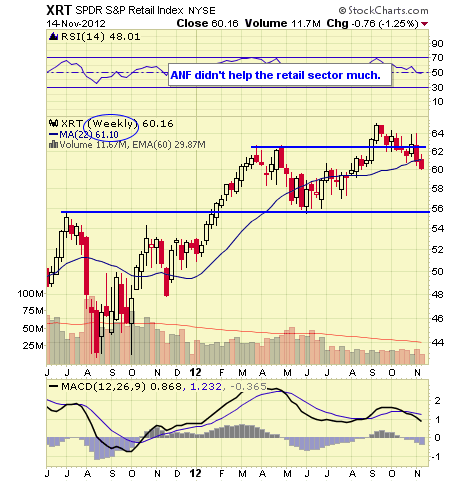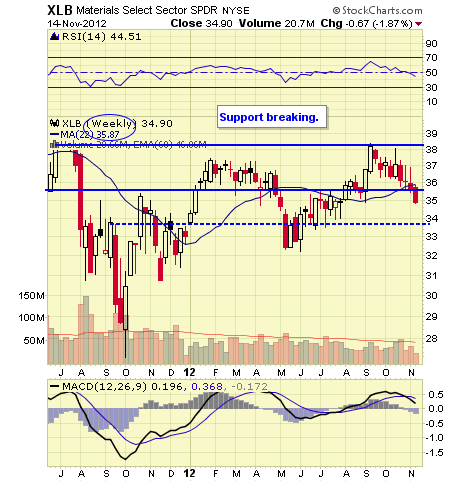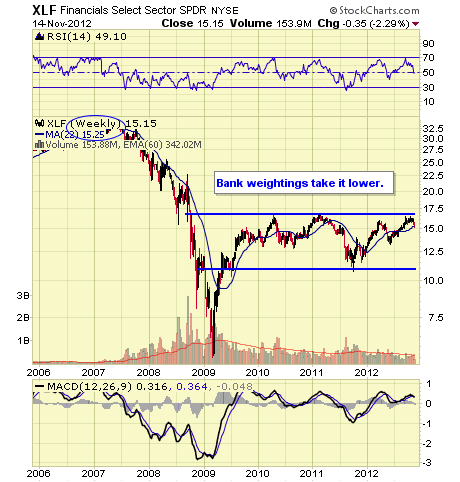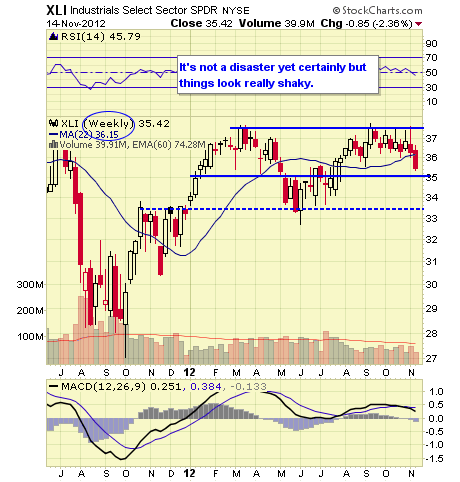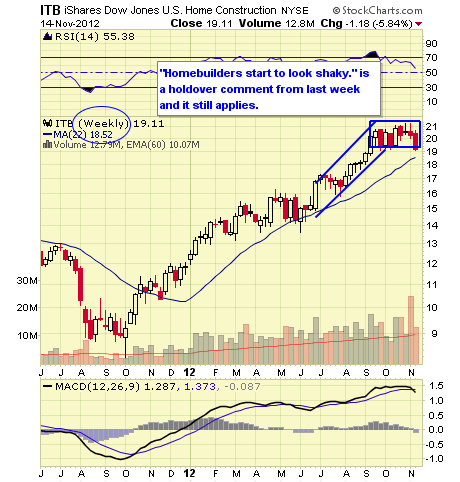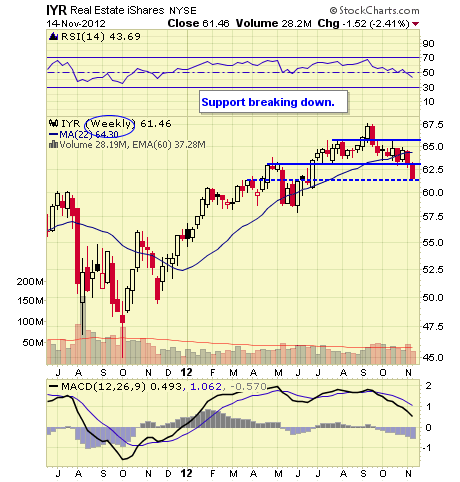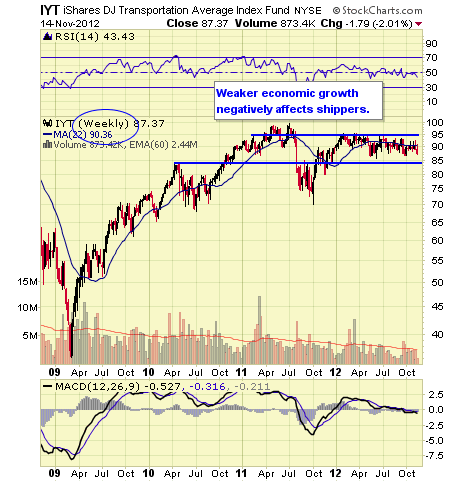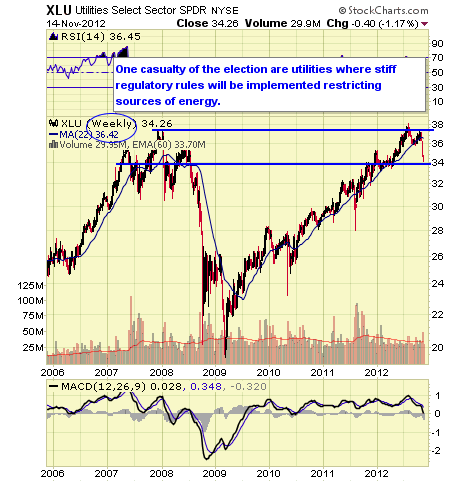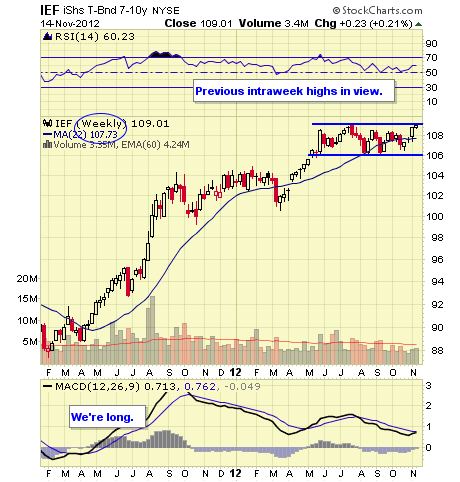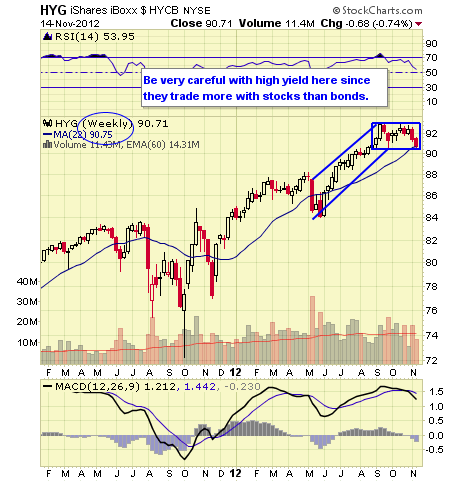 Continue to Currency & Commodity Market ETFs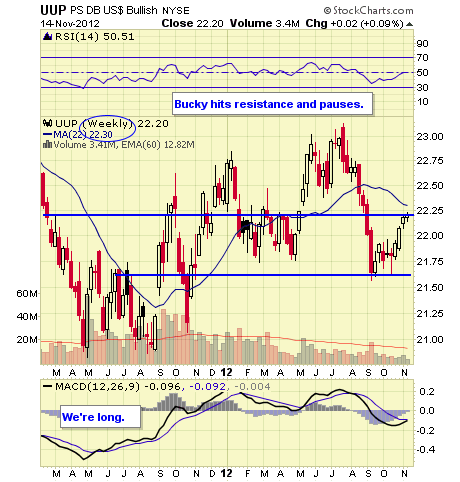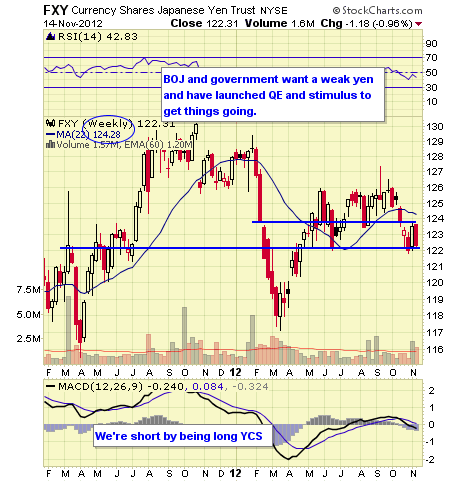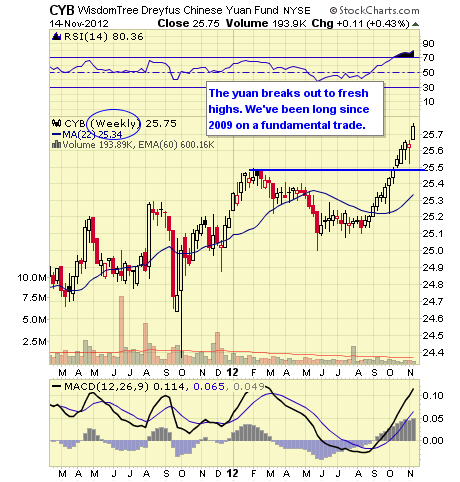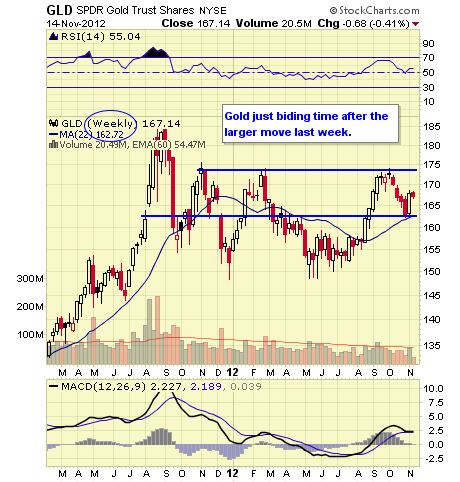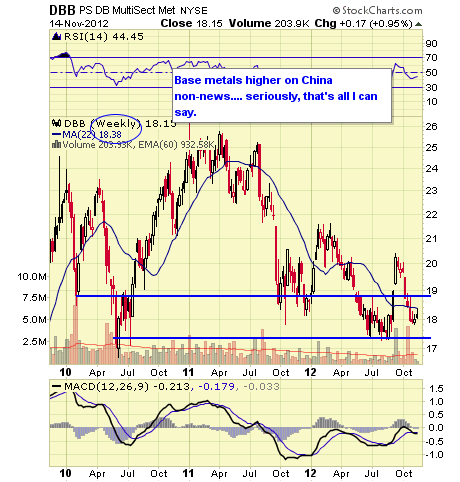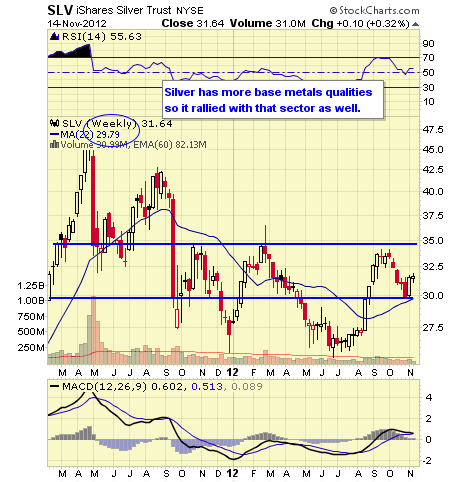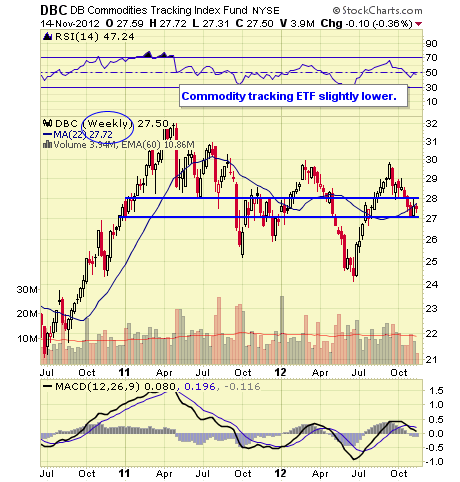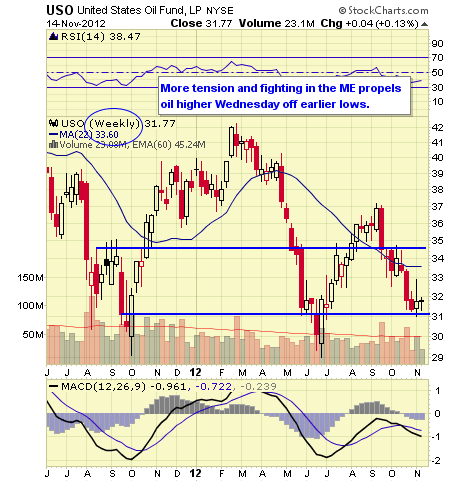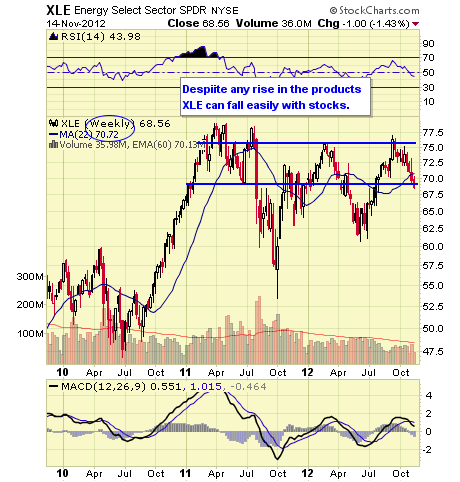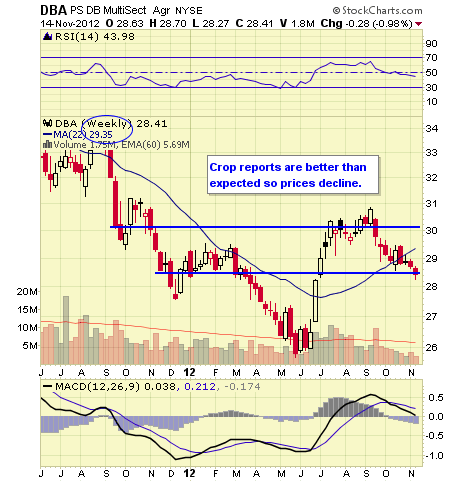 Continue to Overseas Sectors & ETFs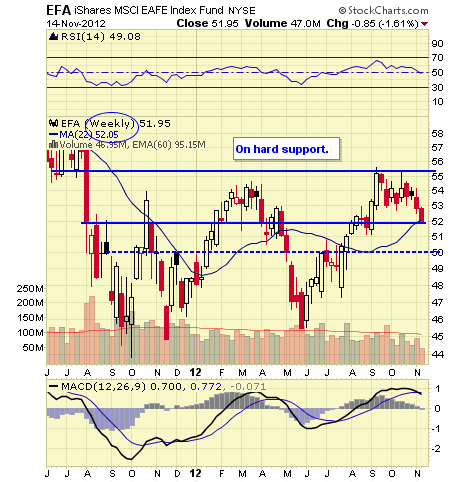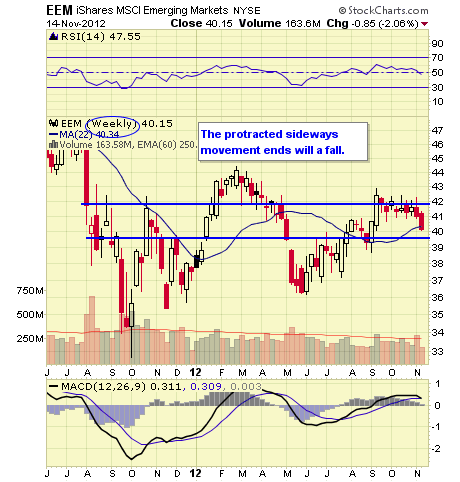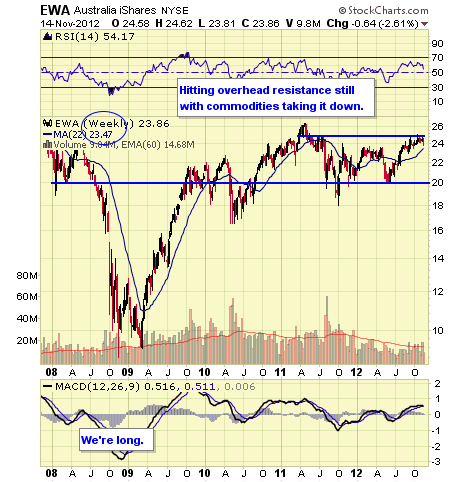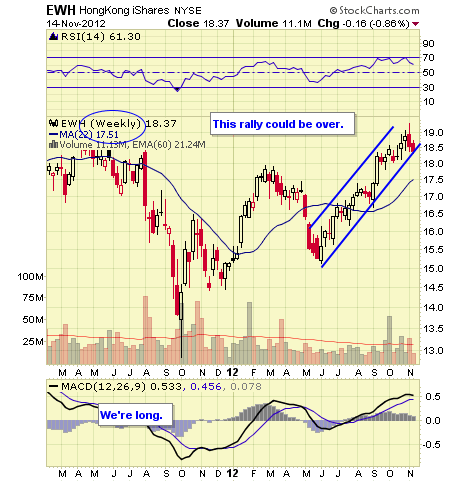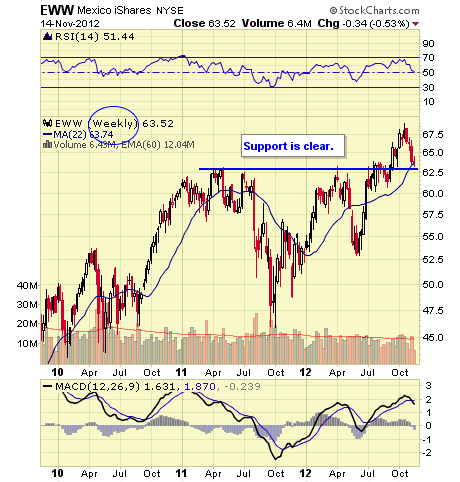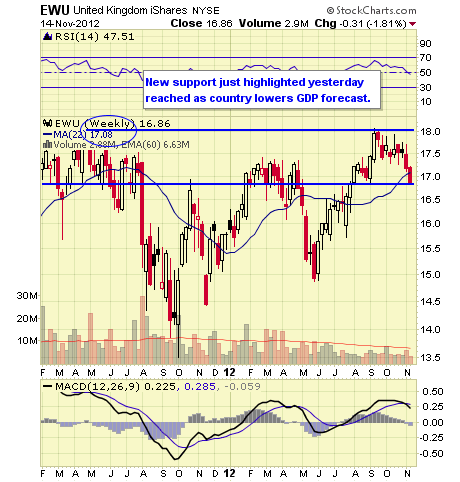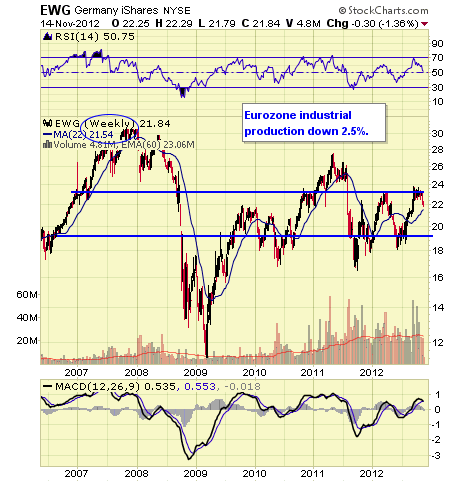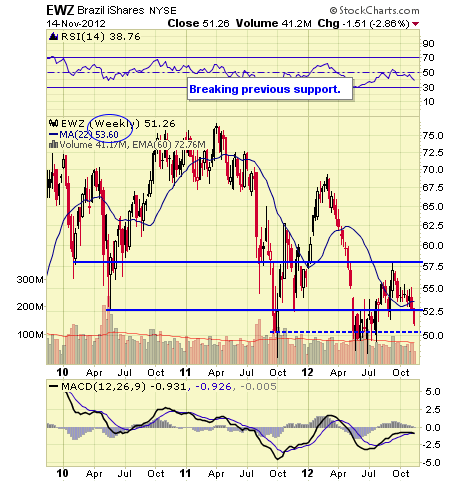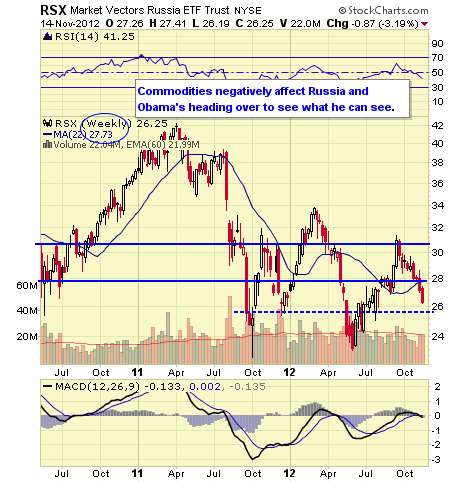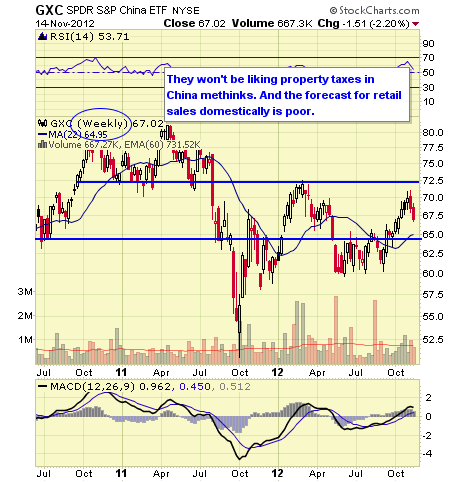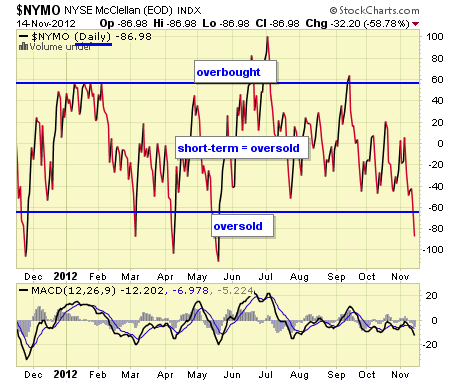 The NYMO is a market breadth indicator that is based on the difference between the number of advancing and declining issues on the NYSE. When readings are +60/-60, markets are extended short term.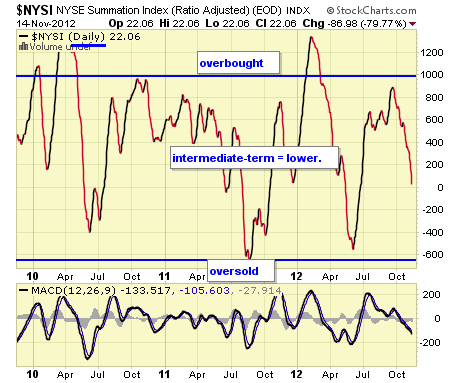 The McClellan Summation Index is a long-term version of the McClellan Oscillator. It is a market breadth indicator, and interpretation is similar to that of the McClellan Oscillator, except that it is more suited to major trends. I believe readings of +1000/-1000 reveal markets as much extended.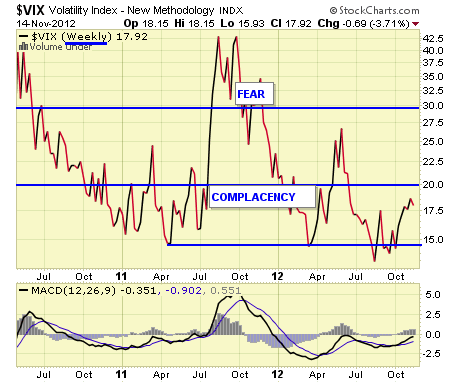 The VIX is a widely used measure of market risk, and is often referred to as the "investor fear gauge." Our own interpretation is highlighted in the chart above. The VIX measures the level of put option activity over a 30-day period. Greater buying of put options (protection) causes the index to rise.
Concluding Remarks
Investors aren't interested in protracted compromise negotiations. They're selling first and asking questions later.
What should concern Wall Street and financial services purveyors is they may be losing both Generation X and Y as potential investors. This is something I'll be writing about shortly.
Jobless Claims Thursday will be impacted by Sandy, no doubt. Also, the Empire State Mfg Survey and Philly Fed Survey could encourage bulls.
Lastly, remember with markets this oversold, short-term rallies can occur at any time.
Disclaimer: The ETF Digest maintains an active ETF trading portfolio and a wide selection of ETFs away from portfolios in an independent listing. Current "trading" positions in active portfolios, if any, are embedded within charts: Lazy & Hedged Lazy Portfolios maintain the follow positions: VT, MGV, BND, BSV, VGT, VWO, VNO, IAU, DJCI, DJP, VMBS, VIG, ILF, EWA, IEV, EWC, EWJ, EWG, & EWU.
The charts and comments are only the author's view of market activity and aren't recommendations to buy or sell any security. Market sectors and related ETFs are selected based on his opinion as to their importance in providing the viewer a comprehensive summary of market conditions for the featured period. Chart annotations aren't predictive of any future market action rather, they only demonstrate the author's opinion as to a range of possibilities going forward.
Disclosure: I have no positions in any stocks mentioned, and no plans to initiate any positions within the next 72 hours. I wrote this article myself, and it expresses my own opinions. I am not receiving compensation for it. I have no business relationship with any company whose stock is mentioned in this article.