Leap Wireless (LEAP), a flat rate telecom carrier, has had a terrible year in terms of stock performance, losing more than one third of its stock value. The latest results posted by the company further confirm our previous stance on the stock. Even though the company had its first profitable quarter since 2007, it was largely due to a $130 million gain from spectrum sales. The company continues to bleed customers and almost all its key business metrics are deteriorating. We reiterate our previous stance because weak subscriber trends for the company are likely to continue and with cost per gross additions on the rise, its margins will stay under pressure.
The company reported third quarter revenue of $774 million which remained pretty much flat from the same quarter of the previous year. LEAP posted profits of $26.9 million or 32 cents per share for the quarter compared to the 90 cents per share loss it posted in Q3 2011. However, excluding the one-off gain from spectrum licenses, the company's loss would have had been slightly over one cent per share which roughly translates to a negative earnings surprise of around 60%. The company has been suffering from consistent losses, largely due to high customer churn. Despite the modest growth in revenue over the years, it has not been able to achieve growth in its bottom line. Its recent performance is shown in the chart below.
Q1 2012

Q2 2012

Q3 2012

Actual EPS

($1.28)

($0.54)

($1.14)

EST. EPS

($0.98)

($0.50)

($0.70)

% Surprise

-31%

-8%

-63%
Contracting Subscriber Base:
Leap, with its business model centered around the more cost conscious customer, has been suffering from a continued decrease in the number of its subscribers and that is a major factor behind the company's lack of growth in earnings. LEAP recently started selling some high-end smartphones including the iPhone, however, despite that, it has not been able to achieve growth in the number of its subscribers. Its customer base has seen some contraction over recent quarters and the third quarter was no exception. Total subscriber base stood at slightly over 5.7 million by the end of Q3 2012, a contraction of 16,730 subscribers over the third quarter of the previous year.
Consistently rising churn:
Net customer losses were 270,000 compared to the 9,500 subscriber gain in the same quarter a year ago. These are substantial customer losses, also reflecting on the company's churn which is on a consistent incline.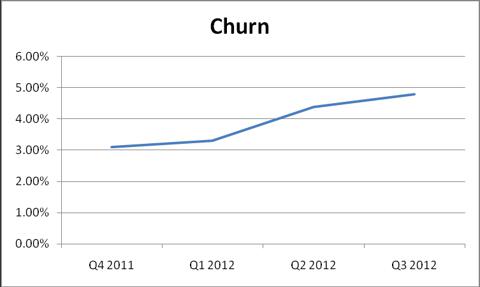 The decision to carry high end smartphones and upgrade its various service plans has helped the company in giving a boost to its average revenue per user. However, its average cost per gross addition has also gone up by over 30% which outweighs the increase in ARPU that the company was able to achieve in the quarter. Margins as a result have been under pressure, with OIBDA contraction of approximately 15% in Q3 2012.
Declining Gross Margins:
In the current year, the company entered in a three year agreement with Apple (NASDAQ:AAPL) to purchase its phones for approximately $900 million. Selling the iPhone is, no doubt, profitable for telecom carriers as it boosts the monthly bills that they receive due to increased internet usage on wireless devices. The downside is increased subsidies which eventually lead to margin erosion. Leap has suffered from such erosion as well, with its gross margins contracting consistently.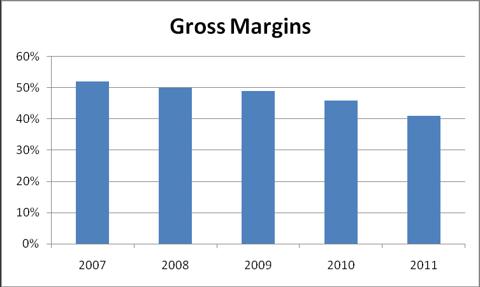 Analysts Downgrades:
Citigroup recently downgraded LEAP to "neutral," with the target price set at $8 per share. The other downgrade came from JPMorgan Chase (NYSE:JPM), which downgraded the shares from overweight to neutral. Currently, only 30% of sell side analysts have a buy recommendation on the stock.
Leap is trading at cheap valuations, as is reflected in its multiples. Almost all of its multiples are at a discount to those of its peers. However we do not consider the stock to be undervalued. It can be considered undervalued only if the company is able to expand its margins and bring customer growth.
| | | | | |
| --- | --- | --- | --- | --- |
| | LEAP | AT & T (NYSE:T) | Verizon (NYSE:VZ) | MetroPCS Communications, Inc. (PCS) |
| P/S | 0.15X | 1.5x | 1.1x | 0.7x |
| P/B | 0.93X | 1.9x | 3.2x | 1.1x |
| EV/EBITDA | 5.8x | 7.2X | 5.2X | 3.8X |
Disclosure: I have no positions in any stocks mentioned, and no plans to initiate any positions within the next 72 hours.
Business relationship disclosure: The article has been written by Qineqt's Telecom Analyst. Qineqt is not receiving compensation for it (other than from Seeking Alpha). Qineqt has no business relationship with any company whose stock is mentioned in this article.