EMC Corp. (EMC) is expected to report Wednesday pre-market open. Street estimates are set at $3.73B/$0.195 for Q3, with consensus expecting Q4 guidance for $4.15B/$0.25. 
In general our view has not changed from our report of September 23rd, where we downgraded the stock. We continue expect EMC will likely report in-line or just below Street forecasts. Our view remains that strength around the recent CX upgrade cycle should offset a portion of the unexpected weakness in September. However, disappointing revenue results from both IBM and Sun (JAVA) suggest potentially there is more risk to the downside than we had anticipated 3 weeks ago.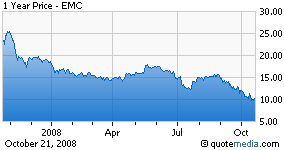 We remain very concerned around expectations for Q4, where even though projections have been coming down, the Street is still expecting a better than 10% sequential increase in sales, particularly given the shock in the financial vertical which remains a key EMC customer vertical.
We continue to have questions around the intermediate and longer-term picture. We see DELL, which had supplied a significant portion of EMC's growth in the middle of this decade, acting as a headwind moving forward as it further shifts sales emphasis its own storage platforms. In addition we view EMC's reluctance to tinker with current designs as potentially leading to larger competitive issues, particularly in the face of increased competition from emerging players.
The one potential offset to these trends is EMC's venture into the consumer space with Mozy in particular showing some promising trends, though we believe any meaningful top-line impact is likely in the distant future. Given these factors, we are maintaining our negative view on EMC heading into Wednesday's earnings calls.
Disclosure: Avian Securities, LLC, its officers and employees may from time to time acquire, hold or sell a position in the securities mentioned herein in this report.