On September 21, I gave you a list of 5 stocks to keep in mind as short recommendations when the Fed's QE adrenaline wears off (please read: Stocks To Sell Short When The QE Adrenalin Wears Off). I think that it is indeed wearing off and I think it's time to revisit some of these recommendations to see how our short logic has done.
LinkedIn Corporation (LNKD)
The stock was about $122 dollars at the time of my recommendation as a short candidate. The recommendation is based valuation metrics alone. Nothing has changed since then. I still think this stock is a bubble of mythical proportions. Even though the company had a spectacular Q3 report, there is no valuation formula that anyone can give me to justify the current valuation of this company. With a forward PE of 77 and Price/Sales of 13 and Price/Book of 13 also, this stock is too rich for my investment pallet.
If you are short, keep your short positions, for if the stock goes below $90, the downturn form there will be ferocious. The stock has broken below the 50 day moving average as well as the long term 200 day average. About 7% of the float sold short until now. Yesterday's close: $98.77.
images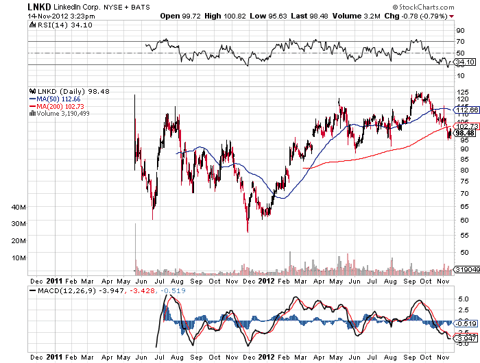 Yelp, Inc. (NYSE:YELP)
Again, my beef with this stock is the high sky valuations. Nothing personal, just business. That in spite of the very good Q3 results. In my last review the price was about $26.5 and about 30% of the float was short. This time around the shorts have increased and are around 35% of the float. And frankly speaking, I don't think no one is going to cover for a while, or until such time that this stock has some reasonable down to earth valuation (as I see it). Price/Sales 9, Forward PE 500+, Price/Book 8. If you sold short, my recommendation is to keep your positions. Yesterday's close: About $17.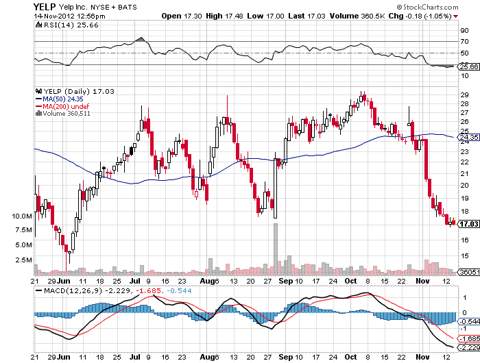 Baidu, Inc. (NASDAQ:BIDU)
This recommendation was not as expensive as the previous 2 picks, however this stock had something the others didn't. And that was a chart that was bending over and almost asking to be sold short.
Today that same chart looks like a waterfall. And technically speaking at least, it looks like the fall has gained momentum. If I were to buy this stock, it would have to fall in $40-$50 range. I don't know if it does go that low, but if it doesn't, there are many other fish in the ocean.
When I recommended this short play, the stock was about $112. Yesterday it closed at $93.57. Recommendation: Keep short position as is, and cover if you see technical strength. If by some chance the stock falls to the $40-$50 range, cover and go long.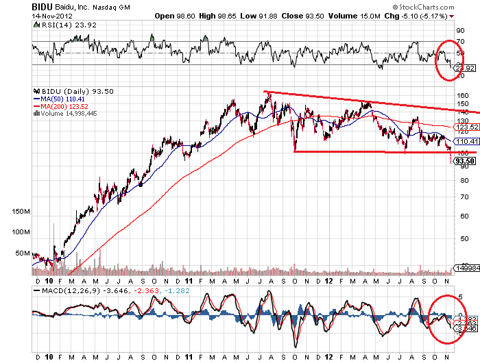 Vulcan Materials (NYSE:VMC)
This company is also too rich for my tastes, especially because its main business is gravel! The only reason this stock has remained where it is, is because there was a takeover attempt by Martin Marietta Materials (NYSE:MLM). In fact, MLM might still want to try to take it over, however it is seeking a lower price. Other than that, Q3 results were lower by 28% year-over-year and total revenue was also lower by 4,2%.
This stock has remained flat as of my recommendation. It was about $47 when I mentioned it and it was still $47yesterdy. In fact, its chart is like a cardiogram. My initial recommendation stands. In other words, if no MLM deal happens, then it is a short candidate. One interesting note to mention, 5.3% of the float is short, up by about 0.3% from the previous period.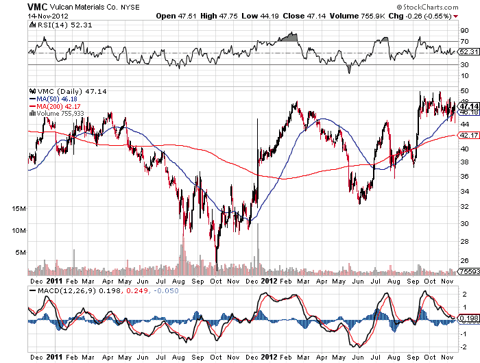 Lamar Advertising Co. (NASDAQ:LAMR)
I still have no idea what the appeal of this stock is, but the market is what it is. However, logic and common sense is also what it is, and logic and common sense dictates (for me at least) that this company is valued too rich.
My initial recommendation wasn't to short this stock just yet, because of technical strength - it was breaking to the upside. Since then, Q3 results came in very good and earnings tripled year-over-year. However this stock is still too expensive for my tastes. Forward PE stands at 67, Price/Sales 3.3 and Price/Book at 5.
I therefore reiterate my short recommendation, when we see confirmed technical weakness. And as in my previous note, we still do not have any such weakness, therefore we still can not attempt to open short positions.
Having said that however, total shares sold short have increased dramatically. With the total number of shares outstanding at 93.66 million, there are currently 7.7 million shares short, up significantly from 6.37 million shares short the previous month. It seems that others have the guts to go against a bullish chart. Sorry but I don't. I still think this is a short candidate, but only when we see technical weakness.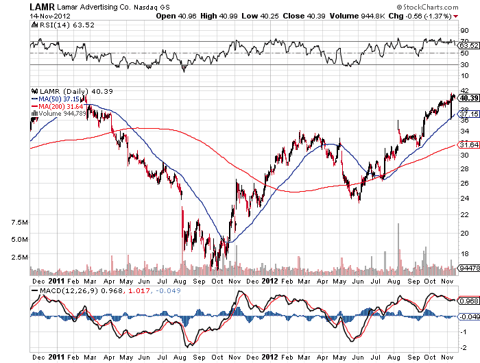 Finally, the market is probably undergoing a across the board sell-off. Problems in Europe as well as the fiscal cliff in the U.S. have probably taken its toll on the market. This will reduce the markets appetite for risk assets and the stocks listed above, are the definition of risky assets. As such, if this market weakness continues, I think the above stocks will perform very good on the downside
Disclosure: I have no positions in any stocks mentioned, and no plans to initiate any positions within the next 72 hours. I wrote this article myself, and it expresses my own opinions. I am not receiving compensation for it (other than from Seeking Alpha). I have no business relationship with any company whose stock is mentioned in this article.