"Nothing is real. Everything is permitted" Hassan Al Sabbah
Pfizer (NYSE:PFE), the world's largest pharmaceutical company, has been hit hard by generics. The company has lost patent protection of six of its top brands in the last 12 months. However, its share price has been defying gravity and even trending upward from a 52 week low of $18.15 to its current price of over $24.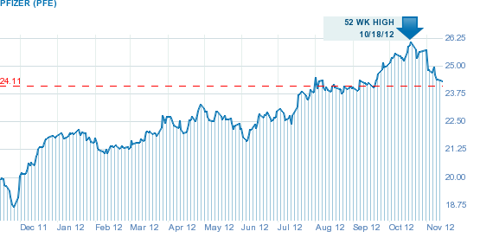 Between November 2011 and October 2012 Pfizer lost patent protection to Caduet, Detrol, Geodon, Lipitor, Revatio and Viagra with combined peak sales in the past five years of close to $18 billion. Is it time to buy, sell, hold, run for the exit or make a killing short selling the stock?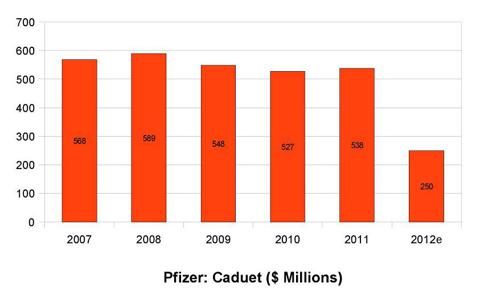 Caduet (amlodipine and atorvastatin), a single pill therapy combining Lipitor and Norvasc for the prevention of cardiovascular events, lost exclusivity in the US in November 2011 and various other major markets during 2012.
Ranbaxy (OTC:RBXZF) and Mylan (NASDAQ:MYL) launched authorized generic versions of Caduet in December 2011. Several multi-source generic companies followed suite mid-2012.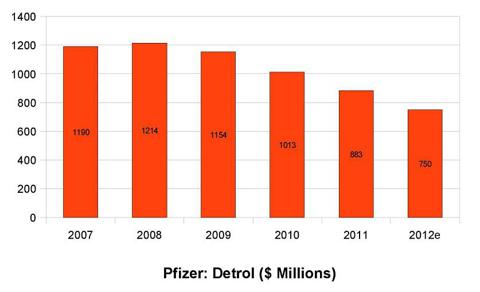 Detrol (tolterodine tartrate), a muscarinic receptor antagonist, is one of the most prescribed branded medicines worldwide for overactive bladder. Detrol lost basic patent, including the six-month pediatric exclusivity period, in September 2012.
Teva (NYSE:TEVA) has already launched a generic immediate release Detrol and Mylan is planning to launch a generic version of the long acting (LA) extended-release formulation in 2014.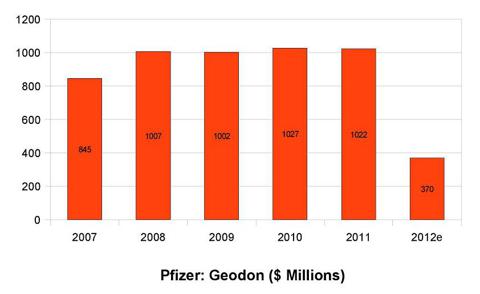 Geodon (ziprasidone), an atypical antipsychotic indicated for the treatment of schizophrenia and bipolar disorder, lost patent exclusivity in the US in March 2012. Dr. Reddy's Laboratories (NYSE:RDY) launched a generic version of Geodon immediately following patent expiry date.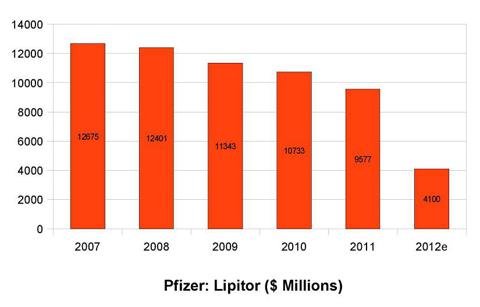 Lipitor (atorvastatin), for the treatment of elevated LDL−cholesterol levels in the blood, lost US patent exclusivity in November 2011. Lipitor authorized generics from Watson Pharmaceuticals (WPI) and Ranbaxy entered the market in December 2011 and multi-source generic competition began in May 2012.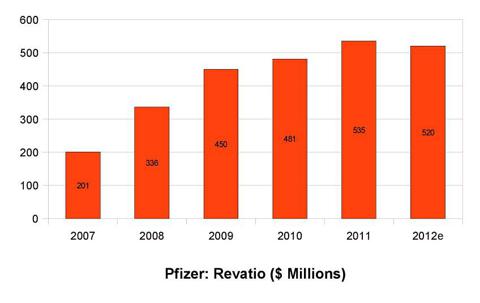 Revatio (sildenafil), for the treatment of pulmonary arterial hypertension, has the same active ingredient as Viagra. Revatio tablets lost US patent exclusivity in September 2012 and Revatio intravenous injection will lose exclusivity in May 2013.
Mylan began shipping a 20 mg tablet generic version of Revatio after receiving FDA approval this week. According to IMS Health, Revatio 20 mg tablets, 20 mg had US sales of approximately $339 million for the 12 months ending September 30th 2012.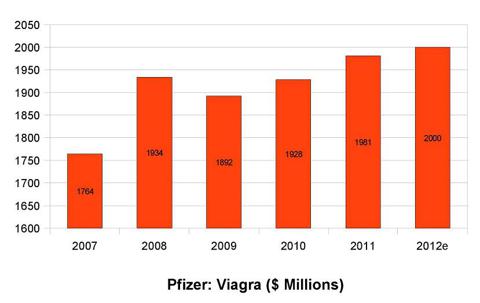 Viagra (sildenafil), the world leading treatment for erectile dysfunction and one of the world's most recognized pharmaceutical brands, began facing generic competition in Europe in December 2009.
Viagra's US patent, originally scheduled to expire in March 2012, has been extended to April of 2020. However, the Canadian Supreme Court invalidated Pfizer's Viagra patent by a 7-0 decision last week allowing generic competition in Canada ahead of Viagra's 2014 patent expiration date. It will be interesting to watch how this decision may affect Viagra's US sales in the coming years.
No one argues against Pfizer being one of the best multinational drug companies there is and a real solid going concern. However, a billion here and a billion there in lost revenue and soon we will be talking real money.
Year-to-date, Pfizer has already lost approximately $5.5 billion due to patent expiry and the hemorrhage is expected to continue. At a PE of over 19, I would say it is time to short sell the stock with some elaborate option strategies which some astute SA contributors have already started contemplating.
Disclosure: I have no positions in any stocks mentioned, and no plans to initiate any positions within the next 72 hours. I wrote this article myself, and it expresses my own opinions. I am not receiving compensation for it (other than from Seeking Alpha). I have no business relationship with any company whose stock is mentioned in this article.