If you like the color red, Wednesday was your day. US stocks continued a downward slide on fiscal cliff worries, with all three major indices finishing more than 1% in the red. A lot of stocks have been hit during the recent market drop, including many of which you would think would hold up fairly well. Philip Morris (NYSE:PM) is a good example. The cigarette maker has now lost nearly $12, a fall of 12.5%, since its 52-week high on October 5th. As the name is my top value pick currently, I must return today to analyze the name at current levels. I've stated in past articles that you should use pullbacks in the name to accumulate, and that included averaging into the name in the mid and low $80s. Philip Morris closed Wednesday at $82.39, the lowest close since early June. Here is why investors should take another look at the name.
The increased value proposition:
Philip Morris is an investor favorite because it provides great value. The company pays an awesome dividend and is buying back plenty of stock. Investors get a nice stream of income each quarter, and the buyback reduces the amount of shares outstanding, making the remaining shares more valuable. The buyback provides a bit of a floor to the name when the stock is dropping, and the dividend makes this name one investors feel safe holding through tough times.
Back in September, Philip Morris raised its dividend from 77 to 85 cents per quarter. With that new dividend, the company pays investors $3.40 per share each year. With the recent fall in the stock, Philip Morris now yields 4.13% on an annual basis. That compares to when the stock was at its 52-week high and only yielded 3.61%. An increase of 52 basis points is nothing to shy away from. Comparatively speaking, a 30-Year US Treasury bond currently yields 2.72%. Philip Morris yields about 52% more than that.
As for the buyback, the company plans to buy back about $6 billion each year during its current 3 year program, meaning about $1.5 billion per quarter. The fall in shares will allow the company to buy back more shares at cheaper prices. Let's take that $1.5 billion figure for a minute. At an average of $94 per share, the company can buy back about 15.96 million shares per quarter. At Wednesday's closing price, they could buy back 18.21 million shares. That's quite a difference.
The growth story:
The following table is one I've used in several articles for this industry. It shows the currently expected growth, in terms of both earnings per share and revenues, for 2012 and 2013, along with a two-year total. Along with Philip Morris, the other four names I always discuss are Lorillard (NYSE:LO), Altria (NYSE:MO), Reynolds American (NYSE:RAI), and British American Tobacco (NYSEMKT:BTI).

Those are where expectations stand as of Wednesday. But a current number is meaningless unless you know where the number was previous. So here are the changes in each names' forecast, since my last update on October 22nd.
Philip Morris - 2012 revenue growth forecast reduced from 1.7% to 1.2%. 2013 revenue growth forecast increased from 6.0% to 6.2%. Two-year total reduced from 7.8% to 7.4%.
Lorillard - 2012 revenue growth forecast reduced from 4.5% to 3.4%. 2013 revenue forecast reduced from 5.6% to 4.8%. Two year revenue total reduced from 10.3% to 8.3%. 2012 earnings per share forecast reduced from 8.5% to 6.5%. 2013 earnings forecast reduced from 9.9% to 8.3%. Two-year total reduced from 19.3% to 15.4%.
Altria - 2012 revenue growth forecast increased from 4.1% to 4.6%. 2013 forecast reduced from 1.1% to 1.0%. Two-year total increased from 5.2% to 5.7%. 2012 earnings per share growth increased from 7.3% to 7.8%. 2013 earnings per share forecast reduced from 7.3% to 7.2%. Two-year total increased from 15.1% to 15.6%.
Reynolds - 2012 revenue decline intensifies, from -0.5% to -2.7%. 2013 revenue growth increased from 0.8% to 1.1%. Two-year total goes from positive 0.4% to -1.6%. 2013 earnings growth reduced from 7.5% to 5.1%. Two-year total reduced from 12.8% to 10.3%.
British American - 2012 revenue forecast reduced from 1.0% to 0.3%. 2013 revenue forecast increased from 3.4% to 3.8%. Two-year total reduced from 4.5% to 4.2%. 2012 earnings forecast reduced from 8.3% to 6.4%. 2013 earnings forecast increased from 7.2% to 8.3%. Two-year total reduced from 16.2% to 15.2%.
So what are the key takeaways? Well, most of the names have seen estimates come down a bit. But one important point here is that Philip Morris now has the highest earnings per share growth forecast. Lorillard has lost that title, but still holds the top revenue spot. However, Philip Morris is now a stronger 2nd in terms of revenues.
Valuations are coming down further:
I always say that growth is important, but the more important part is how much are you paying for that growth. Well, the following table shows valuation metrics for each, as of my last update and now.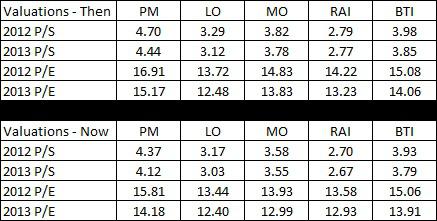 Now you'll notice that a bunch of the valuations have come down, and quite a bit too. Most of these names saw some hit to their growth forecasts, but the stocks are also mostly all down over the past month. The point here is that Philip Morris still trades at a premium, but that premium is coming down, as seen in the following table. The premium is Philip Morris' valuation in that category compared to the average of the other four. Now, when creating this table I realized that the premium in my last update was wrong. So I've updated the numbers to fix that in this table.

The important takeaway here isn't the number itself, not in entirety. Just as important is the trend, and the trend shows that the premium is evaporating quickly. Back in early October, the price to sales premiums were 37.44% and 33.89%, respectively. The earnings per share premiums were 20.35% and 16.67%. Basically, the premium Philip Morris trades at on a P/E basis for 2013 has almost been halved. At the same time, the company now has the highest earnings per share growth potential over the two year period. Philip Morris was trading at a huge premium in early October. A lot of that is now gone, making this a much more attractive investment.
The analyst take:
I don't want you to just take my word for it when it comes to Philip Morris. It's always good to see what the professional Wall Street analysts say. The following table shows the average rating, where a 1.0 is a strong buy and a 3.0 is a hold. The table also shows the average, or mean, price target currently, and the upside to that target from Wednesday's close.

Back in early October, Philip Morris was trading above its average price target, and was tied for just the second best rating. Now, it's tied for the best rating, and has the second most upside. All of these names show a lot more upside than in previous updates, just because most of these names have come down a bit lately. However, I will say that since the last update, Lorillard, Altria, and Reynolds have seen their price targets reduced a little. British American's has stayed the same (with only 2 analysts having targets), while Philip Morris' average target has come up about a dollar.
Conclusion - If you want it, get it:
In past Philip Morris articles, when the stock was at $90 and above, investors were telling me that they would love to get this stock in the low $80s. Well, here is your chance. The fiscal cliff issue has brought down markets, and a number of great stocks as well. Philip Morris' growth forecast remains very strong, the buyback is in place, and the dividend yield is a lot higher. The stock can definitely go lower if Washington fails to act, but for those looking to get in, $82 and change looks a lot better than $88 or $94.
Disclosure: I have no positions in any stocks mentioned, and no plans to initiate any positions within the next 72 hours. I wrote this article myself, and it expresses my own opinions. I am not receiving compensation for it (other than from Seeking Alpha). I have no business relationship with any company whose stock is mentioned in this article.
Additional disclosure: Investors are always reminded that before making any investment, you should do your own proper due diligence on any name directly or indirectly mentioned in this article. Investors should also consider seeking advice from a broker or financial adviser before making any investment decisions. Any material in this article should be considered general information, and not relied on as a formal investment recommendation.