Last week we had decided to analyze and evaluate Pitney Bowes Inc. (NYSE:PBI) in the wake of its Q3 2012 results. We had discussed how it has gone from being one of the most solid-performing blue chip niche business services companies to seeing stagnation and somnolence in its business operations. We refreshed our knowledge of the company's 30 year streak of increasing its dividends, including the incremental dividend growth seen from 2000 to 2012. We had also touched upon why we decided to analyze and evaluate the company as well as why we took a pass on it in August and why we have consigned it to our "watch but don't buy list". Such factors that led us to table taking a decision on it included its declining sales, stagnant free cash flows, negative credit outlook and the high level of goodwill and intangible assets relative to its assets, shareholders' equity and market capitalization ratios. The reason why we have added it to our watch list and why we decided not to short it is because the company has a 12% dividend yield, a 20% free cash flow yield, a high level of interest-bearing finance receivables relative to its interest bearing debt and because there were six insider buys in May.
At first glance, Pitney Bowes has a severely lopsided liability/equity side of the balance sheet in that it has $3.68B in total debt, $296.37M in minority interest payable and $124.6M in total shareholders' equity. However, we can see that the reason why PBI has such a low equity balance is because of its share repurchase program. Throughout the years, PBI has spent $4.5B to repurchase 122.6M net shares. This represents 37.9% of the shares issued by the company. Unfortunately for Pitney Bowes shareholders, it is kind of depressing to see the company spend $4.5B to repurchase shares throughout the years when the company only has a $2.55B market capitalization. It is even more depressing to see that the company has spent an average of $36.755/share on its repurchase program when its share price is trading at $12.73 as of Friday November 2.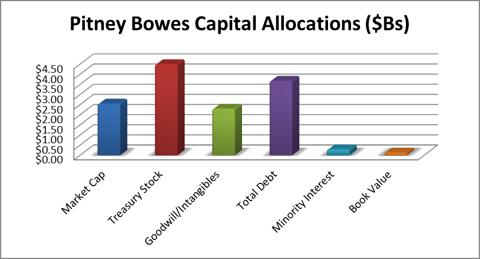 Source: Morningstar Direct (Amounts in Absolute Values)
The company has $3.68B of debt as of Q3 2012 and we see good news and bad news here. The bad news is that the company's credit rating was downgraded to the lowest investment grade credit rating early in the year by the three major credit rating agencies. The good news is that the company still has an investment grade credit rating. The bad news is that its interest bearing debt accounts for over 50% of its assets and the good news is that its finance receivables (loans and leases) account for 31% of its assets.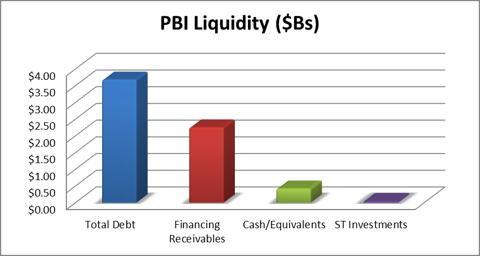 Source: Morningstar Direct
The bad news is that the company has a $375M debt maturity due in Q2 2013 and the good news is that the company was able to raise $220M in October 2012 at LIBOR +2.25% or Prime Rate + 1.25% (at PBI's option) with an eye towards using the cash raised from the debt issue towards paying off the $375M maturing bond issue. In short, the company plans to pay its maturing debt in part through the issuance of replacement debt and in part by using existing cash balances and cash flows generated from operations. The company paid down $550M in debt in 2012 and has between $300-$600M in maturing debt coming due from 2013-2019. One item of interest to us is that the company generated $373.7M in financing revenues and had $148.65M in interest expense ($61.39M allocating to financing related operations and $87.26M allocated to general corporate debt) in the first nine months of 2012. When we consider that the company generated $422.8M in pre-tax operations during this period, it appears that more than half of its pre-tax income from continuing operations is related to financing operations.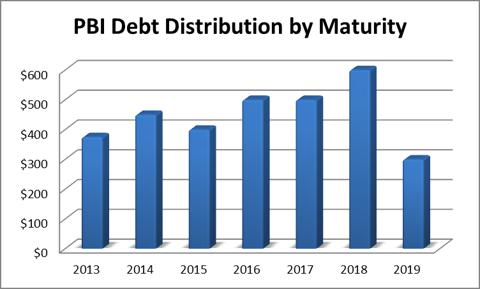 Source: Pitney Bowes's 2011 Annual Report
The company also has a defined benefit retirement plan. Its plan is 83.5% funded as of last year and consists of $1.4B in assets and $1.7B in liabilities. The company has contributed $361M to the plan since 2009 in order to offset service costs, interest costs and actuarial losses. In order to mitigate its benefit obligation, the company closed its defined benefit plans to new employees in 2005 and will freeze benefit accruals on or after December 31st, 2014. Like many companies with a defined benefit pension plan, Pitney Bowes had a small pension plan surplus as of 2007 but the combination of a stock market crash in 2008 coupled with drastically reduced discount rates on its pension obligations helped result in its pension plan's funded status swinging from a small $78M surplus to a $430M deficit. Despite making $361M in voluntary and mandatory contributions to the plan since 2009 and despite benefiting from positive capital markets performance from 2009-2011, the company's pension plan still had a $281M deficit as of 2011.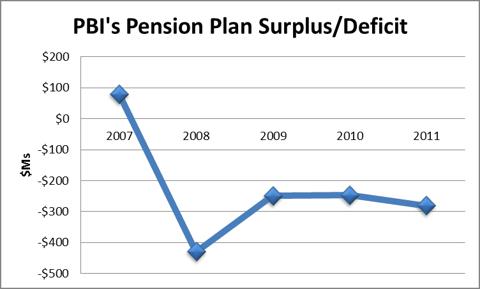 Sources: Pitney Bowes's 2007-2011 Annual Reports
In conclusion, we can see why we have decided to put this company on our watch (but not necessarily buy) list. PBI's 12% dividend yield is very tantalizing. However, based on the weak macroeconomic environment as well as the continuing downtrends in the company's business, we are not rushing in to take a position. For investors who would take a position in Pitney Bowes, we would recommend at most a 2% stake in your portfolio and we would recommend investors identify factors that would attract them to investing in Pitney Bowes other than its dividend yield. Because of the high dividend yield and the high free cash flow yield, the company is potentially undervalued and we believe that it would be a very risky move on the part of investors to engage in an outright short on the company (either through buying a put or by shorting the stock). We will be following up this report by breaking down Pitney Bowes's recent quarterly results as well as its dividend coverage ratios.
Disclosure: I have no positions in any stocks mentioned, and no plans to initiate any positions within the next 72 hours. I wrote this article myself, and it expresses my own opinions. I am not receiving compensation for it (other than from Seeking Alpha). I have no business relationship with any company whose stock is mentioned in this article.
Additional disclosure: This article was written by an analyst at Saibus Research. Saibus Research has not received compensation directly or indirectly for expressing the recommendation in this article. We have no business relationship with any company whose stock is mentioned in this article. Under no circumstances must this report be considered an offer to buy, sell, subscribe for or trade securities or other instruments.