Bank Of America (NYSE:BAC) has had a fairly easy buy and sell pattern over the past year. This pattern can be seen in the Google Finance chart below. I have purchased and sold Bank Of America twice this year based on its stock price. I will explain why this buy and sell pattern has been consistent over the past year and will continue for at least the next year or two.
(Click to enlarge)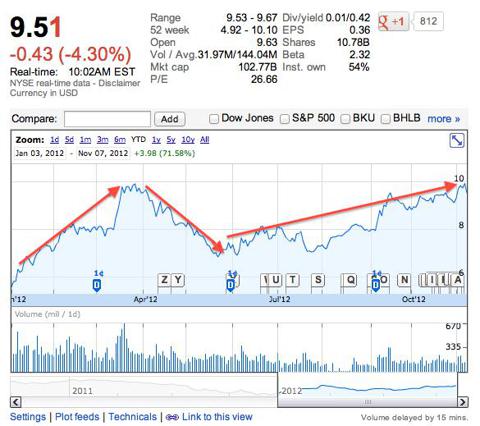 Image courtesy of Google Finance.
I invest, I don't gamble in the stock markets. Charts give me an overall picture of a stocks price over a period of time. To truly understand the chart patterns in Bank Of America I need to look deeper into a company before I invest.
I start at Google Finance news to see what is currently going on at Bank Of America. The news is bloody awful as my British friends like to say. Bank Of America has one multi-billion dollar lawsuit after another. I counted at least 6 major multi-billion dollar lawsuits against Bank Of America from both private and government claimants. The government lawsuits concern me more than all other litigation facing Bank Of America. Government intervention can restrict the business practices of a company and seriously undermine their future revenue. Government intervention during the financial crises forced Bank Of America to lower its dividend. The Dodd-Frank financial regulatory reform law will require all banks to lower the fees they charge for debit card use. The Dodd-Frank law will also require banks in the U.S. to hold billions more in reserves. Foreign banks like Deutsche Bank that have a U.S. subsidiary are taking steps to avoid Dodd-Frank requirements. The total cost of these lawsuits range from a low of $20 Billion to as high as $53 Billion. These lawsuits have seriously impacted Bank Of America and will continue to do so for the next year or two.
Bank Of America's current financials demonstrate that Moynihan has a grasp of how to lower long term debt. Moynihan has brought down long term debt to $287 Billion from last year's high of $399 Billion. Moynihan has not fared as well with revenues. Bank Of Americas revenues fell to $20 Billion and net income fell to just $340 million. Moynihan will need to bolster revenues and net income soon to pay for all the claims filed against Bank Of America. I need to go deeper into Bank Of America financials before I invest.
I then go to the Motley Fool page on Bank Of America to see what irreverent and offbeat news they have uncovered on Bank Of America. This Motley Fool article shoots down Bank Of America's CEO Moynihan trumpeting all those asset sales since 2010 to generate $12 Billion in Tier 1 capital. The article supports my previous analysis that Bank Of America will need to increase its revenues and net income soon. Now I'm beginning to see that Bank Of America's stock price reflects its current financial and legal status. I still want to dig a little deeper into Bank Of America's financials to make sure I haven't missed anything that could jeopardize my investment.
My investment research on Bank Of America ends at Seeking Alpha. Here is where the investors are separated from the gamblers on Wall Street. The articles on Bank Of America in Seeking Alpha provide a very thorough review of Bank Of America's fundamentals in plain English as can be seen by this article and this article. Other investors are seeing what I'm seeing about Bank Of America. Bank Of America's weak revenue and low net income coupled with its ongoing litigation nullifies its gains in lowering long term debt and increasing its Tier 1 common capital ratio .
From the Bank Of America litigation news, current financials and stock price chart I can see that Bank Of America will gradually drift down into the $7 range again, maybe even touch the high $6 as it has in the past year. It will then stop its decent, because of its Tangible Book Value (TVG) of $13.48, its Tier 1 common capital ratio (11.41%) and improving long term debt. The $20-$53 billion in lawsuit claims and weak revenues and low net income will keep Bank Of America's stock from going above the $10 range for at least the next year or two.
Bank of America is a great company in the long term with $1 trillion in deposits. If you want to acquire Bank Of America I would wait like I will for the stock price to drift down before investing. Exit your Bank Of America position when the stock nears the $10 range if the litigation is still as monstrously high as it is now or if the government implements further restrictions on Bank Of America's business practices.
Disclosure: I have no positions in any stocks mentioned, and no plans to initiate any positions within the next 72 hours. I wrote this article myself, and it expresses my own opinions. I am not receiving compensation for it (other than from Seeking Alpha). I have no business relationship with any company whose stock is mentioned in this article.