JetBlue (NASDAQ:JBLU), the low-cost airline, reported its earnings for the third quarter on October 25. The company topped its earnings estimate and met its revenue expectations. Investors were delighted with the results, considering that Delta Airlines (NYSE:DAL), only a day ago, reported results that missed both revenue and earnings estimates. Also, the results for US Airways (LCC), though satisfactory, raised some concerns within the investor body after the airlines reported a decline in yield and PRASM in their mainline business stream.

Revenue and earnings both saw a rise. Historically, recessions have always brought more business for the low-cost airlines and reduced business for the mainstream airlines. People, in such times, have less money to spend and express airlines offer the perfect opportunity to travel the same distance in the same time period with lesser money spent. That is why all airlines reported a decline in their mainline businesses but posted strong results for their express divisions.
The following chart shows some of the important performance indicators of JBLU: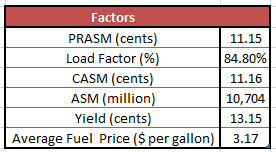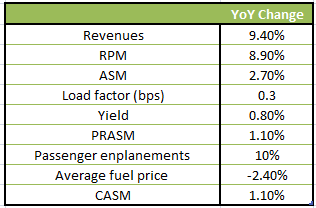 All factors except for Cost per Available Seat Mile (CASM) were in favor of the company and its investors. RPM, ASM, Load factor, yield and PRASM - all saw a rise. Many people tend to confuse yield with PRASM. Where PRASM is connected with the calculation of ASM, yield is calculated using RPM and not ASM, and therefore yield is a better indicator of an airline's performance given that it indirectly incorporates load factor into its calculations. The increase in ASM was justified given the rise in load factor. The company plans to focus more on its routes connecting its hub at Boston to Latin and Caribbean international routes.
Many believe the rise in fuel consumption (on a YoY basis) to be the main reason behind the 1.1% rise in CASM. The company consumed 152 million gallons of jet oil in this quarter, almost 8.5% more than a year ago. Last year it consumed 139 million gallons. However, this may not be the only reason, given that CASM, excluding fuel cost, rose by 3.7 percent. Maintenance expense has been a recent headwind that has caused CASM to rise. These expenses have been rising because a large part of the fleet acquired in the year 2000 is aging. Maintenance cost rose by 30% YTD and 44% compared to costs incurred in the same period last year. However, JBLU has recently signed a maintenance provider agreement that will help to slow down the rise in these costs. Also, the scheduled delivery of new airplanes in 2013 will help the company curb some of these costs. The current average age of JBLU's fleet is 6.3 years. The ex-fuel CASM is expected to go up by 2-4% in the next quarter.
Update on Hurricane Sandy:
JBLU has a significant exposure to the New York metropolitan market as approximately one-half of its daily flights originate or deplane in New York. Historically, JBLU's passenger traffic is highly exposed to leisure travel as compared to its peers such as South American Airlines (NYSE:LUV), Delta Airlines or even United Continental Airlines (NYSE:UAL) that have diversified their network of operations. As customers divert their resources towards recovery efforts, leisure travel will be more negatively affected compared to corporate travel in the short-run time period. Therefore, even though JBLU has said that the impact on October's profits will be immaterial, we still believe that near-term demand will soften.
On November 7, major airlines were witnessed canceling their flights in and out of New York in anticipation of a major winter storm in the region. After Sandy, this second storm would have been a disaster for the industry. Wolfe Trahan had already estimated the loss number to be around $190 million. However, the New York region airports were seen recovering quickly from the storm, as shown by the graph below:

Pilot shortage:
A recent article by The Wall Street Journal claimed that the current pilot shortage is one of the worst in the last forty years. The shortage has been triggered by the higher experience requirements for the prospective airline pilots. This will give airlines a tough time as a wave of pilot retirements is around the corner. In 2007, US regulators increased the retirement age of pilots from 60 to 65. In December, most of them will start turning 65. The new laws that will come into effect next summer will require prospective airline pilots to have at least 1,500 hours of flight experience under their belts, which is six times the current level. Another law expected to be implemented in 2014 will force airline companies to give their pilots more time for rest.
Pilot shortage in the airline industry is analogous to the truck drivers' shortage in the truckers industry. Having witnessed how costs have gone up in the trucking industry, one can estimate the hit the airline industry will face in another six months or so.
Regional airlines have limited ability to raise wages, which will become inevitable once the supply gets restrained. Also, the market believes that regional carriers will be hit the most given that they have been a training ground for feeding pilots to the larger carriers. In the next eight years, 65,000 pilots are expected to be hired, which is almost 70% of the current overall employment level of 96,000 pilots in the industry.
JBLU's CEO was reported saying, "The industry is facing an exodus of talent in the next few years" and could "wake up one day and find we have no one to operate or maintain those planes."
Conclusion:
The improvement in flight schedules after the second winter storm (after Sandy) came quicker than what the market had expected. Also, oil analysts were reported saying that US oil inventories and production are high and therefore fuel prices are expected to fall in the near-term. Despite the pilot shortage problems, JBLU seems like a growth story and a lot will depend on how it manages its ex-fuel operating costs, especially maintenance costs, as the fleet is going through a heavy maintenance cycle.
Disclosure: I have no positions in any stocks mentioned, and no plans to initiate any positions within the next 72 hours.
Business relationship disclosure: The article has been written by Qineqt's Industrial Analyst. Qineqt is not receiving compensation for it (other than from Seeking Alpha). Qineqt has no business relationship with any company whose stock is mentioned in this article.