The speed at which the Great British Pound is falling against the US Dollar is staggering.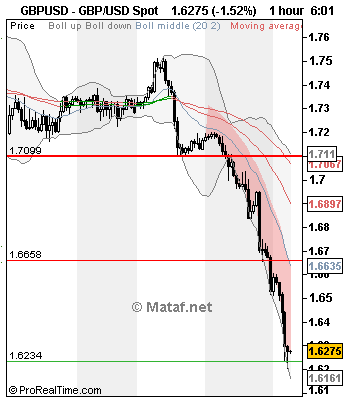 Historically, the GBP has fallen under 1.4 twice in the past 16 years. Current levels are a stark contrast to the levels set at the end of 2007, when the GBP traded a bit higher than 2.1. In less than a year the GBP has fallen roughly 23%. I believe there is a possibility that we may revisit the sub 1.4 levels.
This is an extreme oddity, considering that the Fed Funds Rate stands at 1.5% and there is a possibility that the Fed may cut rates to 1%.
Taken from this Reuters Article, US RATE FUTURES-Bets tilt further toward 50 bps Fed cut:
WASHINGTON, Oct 21 (Reuters) - U.S. short-term interest rate futures on Tuesday tilted further toward an aggressive rate cut at next week's Fed policy meeting, picking up on prospects for an protracted slowdown in the U.S. economy.

For the first time, futures suggest more than a 60-percent chance for the Fed to lower rates by one-half percentage point at the Oct. 28-29 meeting, backing up a similar-sized emergency cut on Oct. 8.
Normally falling interest rates would cause the base currency to fall in value against higher yielding currencies. In the past year when the Fed started dropping interest rates the USD fell against higher yielding currencies such as the New Zealand Kiwi, the Australian Dollar and the Great British Pound.
There is a market expectation that governments around the world, and especially in those with a high yielding currency, will drop rates aggressively similar to the USD.
The USD strength is non-indicative of a Fed Funds Rate of 1.5% and possibly lower. The Fed is now creating and pumping cheap money into the financial system at a breakneck pace. The debt racked up by the credit crises is close to getting out of control and we still haven't faced the full brunt of a possible OTC derivative collapse. To compound the problem of the influx of new money, the Fed has announced the possibility of a second stimulus package.
Taken from this Forex Article: Mid-Day Report: Dollar Strengthens on Talk of Second Stimulus Package
Dollar strengthens in early US session after Fed Chairman Bernanke said that additional fiscal stimulus package should be considered to help improve "access to credits" by consumers, homebuyers, businesses and other borrowers given the "extraordinarily uncertain" economic outlook. In his testimony to House Budget Committee, Bernanke said that such actions might be "particularly effective" at promoting "economic growth and job creation." Dollar index soars to as high as 82.92.
The USD Index has broken the 85 level and may well be on its way back to the 90 level. If the USD does break 90, we should see the GBP fall under 150 and possibly 140 if GBP rates are slashed aggressively in the near-term.