"He who is not everyday conquering some fear has not learned the secret of life." - Ralph Waldo Emerson
The post-election pull back continues Thursday, as it looks like another down day in the markets. The silver lining, of course, is that stocks are a lot cheaper than they were just a week ago. For those investors prudent enough to keep a high amount of cash on hand prior to the re-election of President Obama, there are a lot more equities in the bargain bin. One stock that I have traded successfully over the years that looks like its ripe to pick up again is Activision (NASDAQ:ATVI).
Activision Blizzard publishes online, personal computer, console, handheld, and mobile interactive entertainment worldwide.
Eight reasons ATVI is undervalued at $10.50 a share:
The company just announced its game, "Call of Duty: Black Ops II" had more pre-orders in its first day than its massive hit, "Call of Duty: Modern Warfare 3" sold last year when it sold $400mm on its first day. Actual sales numbers have not been revealed as of this writing.
Activision has over $3B in net cash on its books (over 25% of market capitalization).
The mean analysts' price target held by the 14 analysts that follow the stock is north of $14.50 a share, more than 35% more than the current price.
The stock is selling at the very bottom of its five-year valuation range based on P/E, P/CF, P/S and P/B.
The stock has a five-year projected PEG of less than 1 (.94).
The company has beat earnings estimates for 12 straight quarters. The average beats over consensus during the last four quarters have averaged 40%.
ATVI sells for just over 10x forward earnings, a discount to its five-year average (17.1).
It has solid long-term technical support at these levels (see chart below):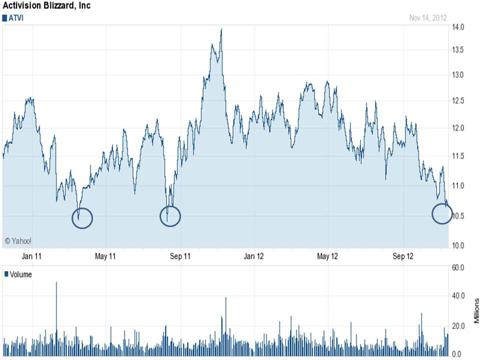 Disclosure: I am long ATVI. I wrote this article myself, and it expresses my own opinions. I am not receiving compensation for it (other than from Seeking Alpha). I have no business relationship with any company whose stock is mentioned in this article.