This time, the U.S. fiscal cliff is no longer just about politics. It is about long-term damage to both the government's finances and the broader economy with prolonged increases in debt relative to GDP. This fiscal cliff problem will be fixed eventually, however, it is important for investors to be aware of the consequences and the impact it may bring to the financial market.
Federal debt held by the public currently exceeds 70 percent of the nation's annual output, the GDP. This is the highest percentage since 1950, according to data provided from the Congressional Budget Office (CBO). In order to shrink the budget deficit from nearly $1.1 trillion in fiscal year 2012 to about $200 billion in 2022, where the debt would decline to 58 percent of GDP in 2022, the U.S. needs increases in taxes and decreases on spending that are scheduled to take effect at the beginning of January, 2013. If lawmakers maintained current policies by preventing most of those changes from occurring, what CBO refers to as the alternative fiscal scenario, the debt held by the public would increase to 90 percent of GDP 10 years from now and keep rising rapidly thereafter.
Increasing Pressure on the Budget
As stated by the CBO, "The aging of the baby-boom generation portends a significant and sustained increase in coming years in the share of the population that will receive benefits from Social Security and Medicare and long-term care services financed through Medicaid." Moreover, per capita spending on health care is likely to continue to grow faster than per capita spending on other goods and services for many years. CBO further stated that, "Without significant changes in the laws governing Social Security, Medicare, and Medicaid, those factors will boost federal outlays as a percentage of GDP well above the average of the past four decades - a conclusion that applies under any plausible assumptions about future trends in demographics, economic conditions, and health care costs," as seen from the figure below.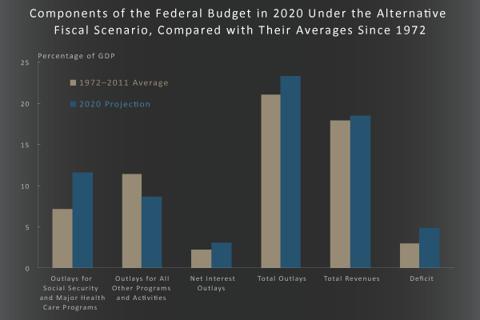 Source: Congressional Budget Office (CBO)
Consequences and Possible Targets
If the debt continues to increase relative to GDP, a few consequences will be suffered:
Higher federal spending on interest payments and a reduction in national saving.
Limiting policymakers' ability to use tax and spending policies for the unexpected challenges, which means the U.S. government has no money to pay the emergency bills.
Increase the chances of a fiscal crisis as the government can no longer borrow at affordable interest rates due to the lack of investors' confidence. T

o

simplify, it means Chairman Bernanke can hardly print more money without much serious cost.
From the economic perspective, as projected by CBO, if the tax and spending policies changed as scheduled in January, 2013,
"All of that fiscal tightening occurs, real (inflation-adjusted) gross domestic product will drop by 0.5 percent in 2013 (as measured by the change from the fourth quarter of 2012 to the fourth quarter of 2013) - reflecting a decline in the first half of the year and renewed growth at a modest pace later in the year. That contraction of the economy will cause employment to decline and the unemployment rate to rise to 9.1 percent in the fourth quarter of 2013. After next year, by the agency's estimates, economic growth will pick up, and the labor market will strengthen, returning output to its potential level (reflecting a high rate of use of labor and capital) and shrinking the unemployment rate to 5.5 percent by 2018."
This is a real, serious dilemma as the target for the Federal Reserve is to rev up the U.S. economy and to reduce the unemployment rate. The central bank's main objective is to lower interest rates and mortgage rates in particular, thus fueling more spending and eventually more jobs. Fed Chairman Bernanke just announced QE3 two months ago and now Americans are seriously learning how policymakers need to cut the budget, which will eventually lead to more job reduction. The issue is further complicated with the current global economic slowdown and the lack of investors' confidence.
Still, a decision needs to be made. Below is a scenario comparison table, captured directly from CBO, showing different amounts of deficit reduction in 2020 and its impact on budgetary outcomes. A logical decision would be for reduction in the amount of $750 billion to $1 trillion to restore the U.S. to a healthy balance. Any reduction below $500 billion is not solving the real problem and could ultimately lead to a super financial crisis.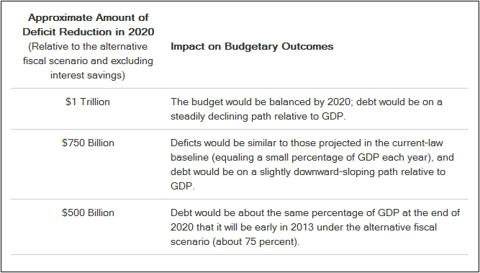 Source: Congressional Budget Office (CBO)
Thinking and Taking Actions
House Speaker John Boehner stated, "we won't solve the problem of our fiscal imbalance overnight and we certainly won't solve it by simply raising tax rates or taking a plunge off the fiscal cliff." President Obama insisted that rich people have to pay their fair share and he repeatedly called for the expiration of the portion of Bush tax cuts that apply to households making more than $200,000 ($250,000 if married). Mr. Warren Buffett said, "the fact that [lawmakers] can't get along for the month of January is not going to torpedo the economy," and Mr. Buffett also advocated a twist on the so-called Buffett Rule, which would force anyone who makes more than $1 million per year to pay a minimum tax rate of 30%. Below I will make some logical "guesses" based on the study so far:
President Obama and Mr. Buffett will be right again and the

richest

will be taxed higher. The questions needed to be addressed from two perspectives: economics and social responsibilities. Without going into further detail, it will be a tough question between capitalism and socialism. Fairness is always much easier said than done, as always.
The market will be full of fears until a final call is made or until we jumped off the cliff. There will be more political dramas on this issue and more concerns will be pumped out until there is some other new problems to worry about.
A combination of tax hike and a reduction of spending will be taken into action to avoid the financial crisis down the road. The divided government, consisting of a Democratic president and Senate and a Republican House, continues to be split over the subject, with Democrats insisting upon higher taxes for the wealthy, and Republicans countering that such a move would stunt job creation in the US by heavily taxing "job creators," as reported by Reuters. To make it worse, there is a 7-week deadline for policymakers to make the final call.
2011 Debt-Ceiling Crisis
Divided policymakers and an expected deadline, facing a "must-resolved" fiscal problem, are the best formula to create a storm of fears for investors. This is strongly reminiscent of the debt-ceiling crisis in 2011, where Dow Jones Industrial Average continued to decline until President Obama and Speaker of the House John Boehner reached an agreement on July 31, 2011, which was subsequently followed by the signing of the Budget Control Act of 2011 into law by President Obama on August 2, 2011. However, the fear was not fully dismissed until Standard & Poor's downgraded the credit rating of US government bonds for the first time in the country's history, which caused the Dow Jones Industrial Average to plunge 635 points (5.6%) in one day on August 5, 2011, as seen from the chart below where the red circle highlights the period of events mentioned.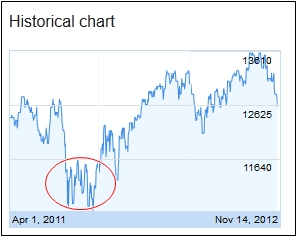 Source: Google Finance
Preparations and Investment Implications
Investors need to study the fiscal cliff in detail and understand its implications to their own investment portfolio. We will review a "parachute" for investors via options play and indices ETFs, such as SPDR S&P 500 Trust ETF (NYSEARCA:SPY) or PowerShares QQQ Trust ETF (NASDAQ:QQQ) , SPDR Dow Jones Industrial Average ETF (NYSEARCA:DIA), and iShares Russell 2000 Index ETF (NYSEARCA:IWM).
For long-term investors, it will be a great time to review health-care stocks and readers can review a series of articles on the aging baby boomers and the long-term growth demand for healthcare products and services, as recently published on Seeking Alpha.
From a cash flow investing perspective, it might be a good time to review the buying opportunities for the strong, solid companies and a few targets can be read here.
Short-Term Technical Analysis
If history is any guidance, it is the time for investors to take extra precaution and be fully prepared for the potential fiscal cliff crisis. A quick technical analysis will be done on the SPDR S&P 500 Trust ETF to show where the market stands.
SPY closed at $135.98 with a 1.32% loss on Wednesday, with a volume of 41.22M. SPY had been trading in the range of $116.20-148.11 in the past 52 weeks. As seen from the chart below, SPY had closed below its 50-day MV of $143.15 on Oct. 23, 2012 and had officially sliced through and closed below its 200-day MV of $137.36 on Wednesday. The MACD (12, 26, 9) indicator had been showing a bearish sign since Sep. 25, 2012 and the MACD difference continued to diverge after Wednesday's trading. From the momentum perspective, RSI (14) of 28.06 is currently in the over-sold territory with an increasing selling momentum. SPY is very bearish technically in the short-term.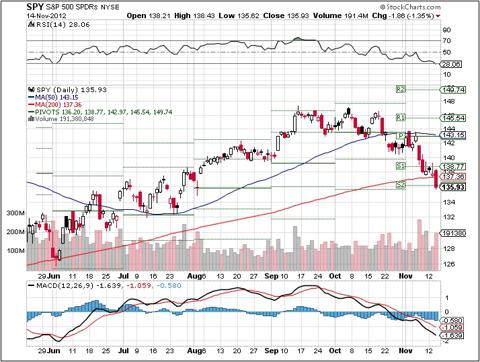 Source: StockCharts.com
Hedging with Options
For investors who have a diversified stock portfolio, it is still a good time to review setting up the hedging positions with options via the target of SPY or QQQ, DIA, and IWM. For existing SPY stock holders, a bearish debit put spread will be reviewed below:
Buy 1x Jan. 19, 2013 Put at the strike price of $131 for the cost of $1.82
Short 1x Jan. 19, 2013 Put at the strike price of $126 for the credit of $1.03.
The net debit will be $0.79 and the maximum return potential is $4.21 ($5 maximum gain - $0.79 cost). If SPY closes at or below $126 on Jan. 19, 2013, this options play will provide $4.21 for the downside protection. The cost of this debit put spread of $0.79 is almost the same as the quarterly dividend distributed by SPY, where the latest dividend distribution was $0.78. I like to view it as the insurance policy paid by SPY for SPY stockholders. Investors can use similar concepts to set up downside protection for individual stocks through options with the cash received from the dividend, especially in this kind of daunting market.
This debit put spread will also give active traders the flexibility to trade short-term volatility while the time decay issue is minimized with the short put position. However, for more conservative investors who would like to spend more on hedging, a simple out-of-money put will provide the best downside protection, where maximum loss will be capped at the strike price for the put contract.
Note: All the prices are quoted from the closing of November 14, 2012 and all calculations are before fees and expenses. Investors and traders are recommended to do their own due diligence and research before making any trading/investing decisions.
Disclosure: I have no positions in any stocks mentioned, and no plans to initiate any positions within the next 72 hours. I wrote this article myself, and it expresses my own opinions. I am not receiving compensation for it (other than from Seeking Alpha). I have no business relationship with any company whose stock is mentioned in this article.
Additional disclosure: Long healthcare and cash flow stocks. Short Indices ETFs.