For a couple of weeks now we have been going through a Liberty Media (LMCA) lull as it relates to Sirius XM (NASDAQ:SIRI). There are a few reasons for this. First is that not much more can happen until the FCC delivers its decision. Second, Liberty Media seems to have a focus on its spin from Starz, and third, Liberty Media has simply been relatively quiet on the Sirius XM front.
For all intents and purposes it appeared that there would be no CEO decision until 2013, no share buybacks until 2013, and no real change in control until 2013. With everything seeming to be held off until next year, we saw a Liberty Media and by extension a Sirius XM lull develop.
On November 9th that seemed to change. Essentially out of nowhere Liberty Media decided to add almost 4 million SIRI common shares to its already substantial stake. With two purchases on the 9th and 13th Liberty now sits at about an equivalent of 49% of the company.
As always, there are many moving parts. Several members of Sirius XM management recently exercised and sold options and this changes the share count yet again.
So what caused Liberty Media to be a buyer at $2.75? Why only 4 million shares? We may never know these answers, but we can with relative certainty know that sooner rather than later Liberty Media will gain de jure control of Sirius XM. Looking at The Liberty Stake we can note that the company is a mere step away from having 50%.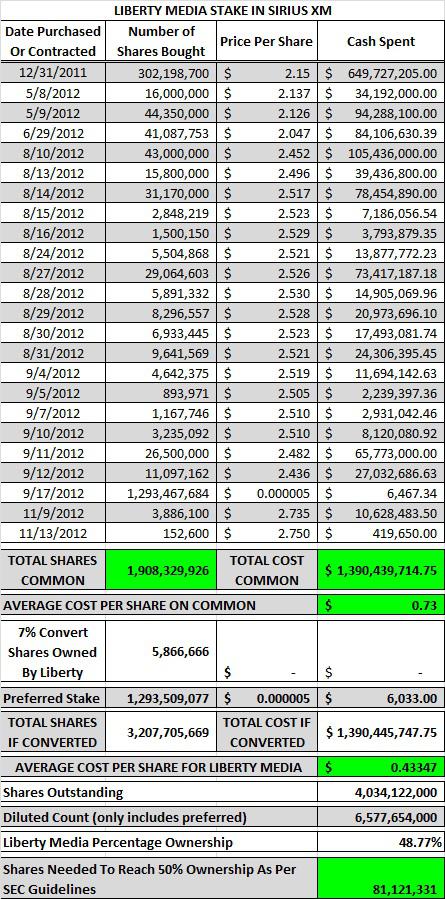 It would appear that Liberty needs some 81 million shares to get to an actual 50% stake. Whether the number is 75 million or 85 million is not really material. What is material is that there will be a point in time when Liberty makes the move for actual 50% ownership, and that the company has the wiggle room under the 50% level to be a player at various times in the coming weeks.
There was a point in time when Liberty seemed to be the defender of this equity in the $2.50s. With SIRI trading in that range again, Liberty may well step up to the plate again. The next few trading days should prove interesting.
Watch the $2.45 to $2.50 level closely and put it on your radar screen. That is the neighborhood of the 100 day exponential moving average. The 200 day sits at $2.35 or so. While the equity may not break down to those levels, they should be something to watch.
In my opinion Liberty has the wiggle room to add another 60 to 70 million shares without getting too close to the 50% threshold that they won't pass until FCC approval arrives. Once again we have to watch the Liberty Media actions closely.
Disclosure: I am long SIRI, LMCA. I wrote this article myself, and it expresses my own opinions. I am not receiving compensation for it (other than from Seeking Alpha). I have no business relationship with any company whose stock is mentioned in this article.