Stocks To Trade
Today, we are looking at an earnings trade in Procter & Gamble (NYSE:PG), longs in Johnson & Johnson (NYSE:JNJ) and iShares Barclays 20+ Year Treasury Bond (NYSEARCA:TLT), and shorts in Lam Research (NASDAQ:LRCX) and Juniper Networks (NYSE:JNPR).
For an earnings trade, we are looking at Procter & Gamble today. The company had great earnings at the end of October, but it has moved lower since that report and broken out of an upward channel it was in. The company reported very solid earnings and good outlook for its October report. Today, the company followed that up with a solid analyst meeting. It guided Q2 EPS above consensus estimates today at that meeting at 1.09 - 1.13. Further, the company mentioned a number of cost-saving objectives moving forward. We believe the company will be improving margins even further in 2013. The company's 200-day MA will be an important support level at 65, and we can use that line for a bull put spread. The stock should start to rebound after today's meeting, and we would expect the market to buy on today's positive analyst meeting and earnings if the market bottoms as well. We like this play for those that want to be involved in PG.
Trade: PG, Dec22, 65/62.50 Bull Put Spread
Max Gain: 19%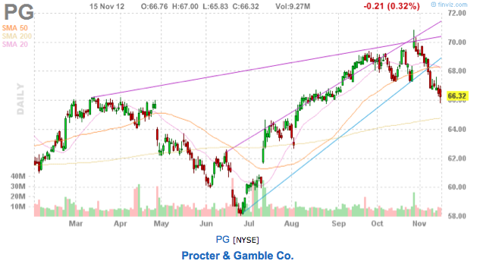 For longs, we like the looks of Johnson & Johnson and iShares Barclays Treasury Bond. JNJ has had some recent weakness in its stock price as it's moved from 72.50 to 69 over the past several weeks, but we believe that JNJ may start to see cash flow moving back in soon. The reason we believe this is that the stock has declined some during recent market weakness, but it still has a lot of fundamental and technical support. First off, the stock is still holding an upward triangle that can be seen below. We believe that it's a buy on the break of the 50-day MA. JNJ has not broken down as strongly as many other stocks after a great earnings report in October that showed good growth in earnings. Additionally, the company will see a flight to safety if the market continues to decline that will allow it to outperform. Look for JNJ to start to move again on a break over the 50-day MA.
TLT is also looking solid right now for a protection play. TLT has had great support at 120 all year, and we believe that the bond market will stay strong throughout the end of the year. A solving of the fiscal cliff would probably be the only reason to see bonds lose interest. Free money from the Fed will not occur for the rest of the year as well. We like the 121/119 bull put spread as there is the 50-day, 20-day, and multiple support levels between current prices and 121.
Equity Trade: JNJ, Long
Breakout Point: Break of 50-day MA
Options Trade: TLT, Dec22, 121/119 Bull Put Spread
Max Gain: 14%
For shorts, we like the looks of Lam Research and Juniper. Lam Research has been weakening over the past several sessions, with two large drops over last two days due to market weakness, along with comments made at the UBS Technology Conference that the company will see low levels of demand for DRAM. We believe that this fundamental news will create some near-term weakness for the company. The company did have decent earnings in the middle of October, which allowed it to breakout, but the last two days of weakness has brought the stock back to its earnings breakout. If the stock were to break support at 34.00, we could see a major breakdown, as that would be the failure of the 50-day MA and earnings support line.
Another bearish position we like is Juniper Networks. The company is in a downward channel currently, and we believe that it is a perfect bear call spread. Earnings were weak in late October, and the stock has gone nowhere since. The stock broke lower today, and it is sitting below its 200-day MA. With high competition in the router sector and weak market conditions, we see no catalyst moving forward for JNPR. The 19/20 bear call spread sits above the 200-day MA.
Stock Trade: LRCX, Short
Breakout point: Break of 50-day MA
Options Trade: JNPR, Dec22, 19/20 Bear Call Spread
Max Gain: 11%
Tomorrow's Outlook
The market tried to get itself going today, but to no avail. There is still very little buyer interest in the market, which makes sense with the fiscal cliff and Greek deal still not even close to solved. Until those are solved, the market will continue to drift, mostly lower. We did get some decent news from Empire Manufacturing, but it did not outweigh a weak jobless claims report that moved 400K for the first time in months. Tomorrow, the market will be getting news about Industrial Production, which will be the large data point. Other than that, it is options expiration day, which could lead to some interesting moves in various stocks. All in all, our expectations remain low for the market moving forward until something changes.
Our Moves/Holdings
We have the following positions:
In our Short-Term Equity Portfolio, we are long Baxter (NYSE:BAX) and Ball (NYSE:BLL). We are short Siemens (SI) and Wyndham Worldwide (NYSE:WYN).
In our Options Portfolio, we are long Hershey (NYSE:HSY), Whirlpool (NYSE:WHR), and Netflix (NASDAQ:NFLX). We are short SPDR S&P 500 (NYSEARCA:SPY) and Baidu (NASDAQ:BIDU).
In our Earnings Alpha Portfolio, we are long HollyFrontier (NYSE:HFC) and iShares Barclays Treasury. We are short Direxion Financial (NYSEARCA:FAS) and SPDR Energy (NYSEARCA:XLE).
In our Goldman Sachs Up/Down Paper Portfolio, we are long CSX (NYSE:CSX), Avis Budget (NASDAQ:CAR), and Taiwan Semi (NYSE:TSM).
Charts courtesy of finviz.com.
Disclosure: I have no positions in any stocks mentioned, and no plans to initiate any positions within the next 72 hours.
Business relationship disclosure: The Oxen Group is a team of analysts. This article was written by David Ristau, one of our writers. We did not receive compensation for this article (other than from Seeking Alpha), and we have no business relationship with any company whose stock is mentioned in this article.