I have to say I'm very impressed by the performance of major US banks in face of the ongoing industry transformation. Working from the trenches of a major European Bank in NY, I know firsthand the pains that the industry is going through aside from the characteristic cyclicality. To name a few:
Euro-zone debt crisis
deleveraging across OECD economies,
balance sheet cleanup process,
interest margin compression,
and post crisis strait-jacket regulation
However, investors should look deeper as these headwinds could mean a long term buying opportunity in an industry set to rebound. To support my view, last week the SEC approved to reinstate JP Morgan's share buy-back program, surprisingly after only five months from the knock down "London Whale" trading scandal, which whipped out more than $6.0B from JPM's balance, and triggered a stock drop of nearly 30%.
Industry Overview
Banking industry profit margins have been returning to healthy levels, now nearly 20% below the pre-crisis levels. Despite this normalization, the market still values the banks at a discounted book value -KBW Index Price-to-book at nearly 0.8x.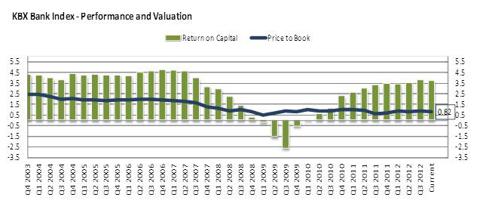 Source: Bloomberg, KBW Bank Index.
Most notable is the fact that banks have returned to profitability on a more solid risk-adjusted basis. US banks have performed surprisingly well under adverse circumstances; managing to cleaning up their balance sheets, redefining their businesses, and complying with the new regulation and with their shareholders expectations to the extent possible. All major banks in our scope exceed the Basel III requirements ahead of the January 1st 2013 deadline.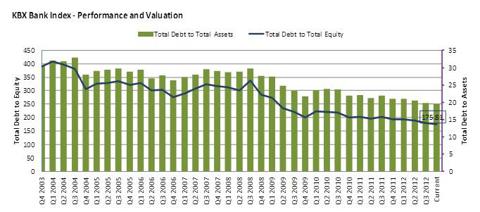 Source: Bloomberg, KBW Bank Index.
The Contenders
Given the above framework, my goal is to provide an industry comparison to rank the best positioned banks in the US. Below is a list of the major Diversified Banks by market cap and selected performance metrics for my comparison purposes. I rank them from better to worst assigning them values from 1-12; measured here is business operation, balance sheet quality, and stock valuation.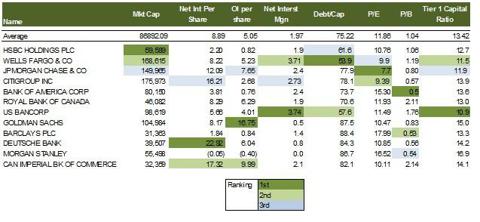 The Overall Winners: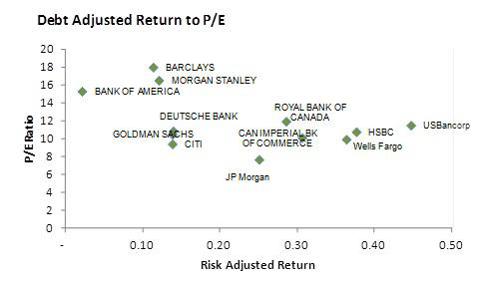 1. Wells Fargo (NYSE:WFC) as its operations add up the most points in this exercise. Despite being a US-only player WFC has the highest NI margin of the group. Noteworthy is the fact that WFC is the second least levered of the banks and ranks second in terms of the quality of its balance sheet - WFC did pretty well and remained profitable amidst the financial crisis despite having acquired the defunct Wachovia Bank.
2. JP Morgan (NYSE:JPM) ranks second, and I have to say without the extra-credit from overcoming the London Whale trading blow. In only five months JPM is back on its feet, the stock price recuperated to above $40 per share from a low of $31 after the mess. Moreover JPM is a global player with a meaningful global and diversified operation.
3. US Bancorp (NYSE:USB) ranks third under these criteria. Worth mentioning is the quality of its balance sheet which, despite being a US-only player, ranks No.1 in this parameter.
**A special mention for Bank of America (NYSE:BAC) that, although very low on our ranking, has managed to withstand and stay afloat after the worst acquisitions in banking history; on one end the defunct Countrywide Financial with the highest levels of toxic mortgages inside its belly, and on the other end Merrill Lynch & Co with the highest underwriting liabilities for toxic mortgages securitizations (from… you guessed right!).
Annex 1. The Metrics:
Market Cap: in order to measure the "too big to fail" syllogism; as Economist Paul Ormerod would say "size is the single most important factor for a company's survival".
Net Interest Income per share: as a gauge of the "bread and butter" lending business. This represents the money made from the differential in interest charged from the interest paid -i.e. what creditors pay the bank minus what the bank pays to its lenders, such as depositors.
Operative Income per share: the banking industry equivalent to EBITDA per share. This parameter shows the income performance after paying operative expenses such as salaries, wages, and advertisement -since banks account for interest expenses at the level of COGS.
Net Interest Margin: measures how profitable are the investments done by the bank versus its debt obligations.
Debt/Capital: to compare leverage and/or leverage available capacity in proportion to net working capital
P/E, and P/B: to compare stock prices and valuation
Tier I Capital: to show i) adequacy of the bank's capital reserves, and ii) as a gauge of balance sheet quality -this means that the riskier the balance sheet the more capital a bank would need to cover up for eventual losses.
Disclosure: I am long JPM. I wrote this article myself, and it expresses my own opinions. I am not receiving compensation for it (other than from Seeking Alpha). I have no business relationship with any company whose stock is mentioned in this article.