VIX - Market Sentiment:
Thursday saw S&P futures moving higher until terrible unemployment claims numbers came out sending the futures lower across the board. Unemployment claims soared coming in at 439K versus just 372K expected by analysts. To make things worse the previous number was also revised higher from 355K to 361K which is the highest reading since May 2011.
Wednesday, the NYMO oscillator closed at -87 and continued further down after the weakness in Thursday's trading. Thursday the NYMO Oscillator closed with a reading of -92.71 further putting us into "Oversold" territory. Again, for those who follow my trades on twitter, I did buy a synthetic short position on Leveraged ETF (NYSEARCA:SDS) Thursday selling calls to buy puts.
The spot CBOE Volatility Index (VIX) actually went lower, trending down early and almost touching 17.60 before rebounding. The volatility ETF (NYSEARCA:VXX), 2x ETF (NASDAQ:TVIX), and alternative 2x ETF (NYSEARCA:UVXY) again were outperformed by outright SPX ETF (NYSEARCA:SPY) puts as the volatility continues to rise in ETFs across the board. Of the 19.2M contracts traded Thursday many were in the Bond ETF (NYSEARCA:TLT) and other large names such as the Energy ETF (NYSEARCA:XLE). Thursday the largest trades in the VIX were again call selling premium although this was somewhat capped as the majority of these were short call rolls.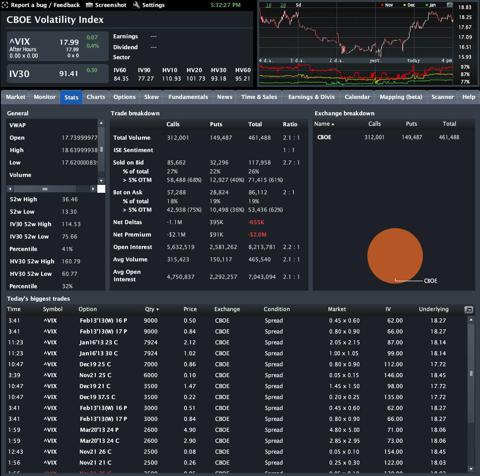 Statistics and Screenshot Provided By LiveVol
Volatility ETFs continue to suffer from structure and lack of backwardation. This situation could change if the selling accelerates. It's hard to believe November VIX futures were sitting at the mid 16s just a few short days ago. VIX futures are below.
Wednesday
· November VIX futures 17.70
· December VIX futures 19.03
· January VIX futures 20.55
Thursday
· November VIX futures 18.00
· December VIX futures 19.20
· January VIX futures 20.60
Options Paper:
Thursday option paper was very light in individual names. Therefore, seeing puts hit Lam Research (NASDAQ:LRCX) was interesting in a name which does not show up in a lot of sonar reports. Thursday more than 266K of puts were bought on the ask with December 33 and 32 strike puts leading the charge. Of the 7,704 puts which traded Thursday on LRCX more than 82% were bought on the ask. Average option activity in this name is typically only 2.7K contracts per day. Thursday saw more than 8.2K contracts trade with puts outnumbering calls almost 15:1. This is very bearish for this computer and technology name. Implied volatility shot up almost 7% in this name showing increased buying pressure across the board for puts. Keep an eye on this name as any pop could be a great short for a quick trade.
Another name frequent to the sonar is Apple (NASDAQ:AAPL) which Thursday alone accounted for 1 out of every 19 contracts which traded in the options market. This was more than 25% above average but the piece which stands out to me was the premium taken home by bears. Again, a large shift in sentiment in AAPL as more than 13M worth of put premium was bought in Thursday's session versus just 1.2M call premium.
AAPL is dangerously close to the May lows 522.18 where a break below would more than likely cause computer algorithms to sell even more as this should be heavy support. Although AAPL traded dangerously close to this level Thursday the low trade was 522.62 where the bulls came in to defend. Again, I exited my AAPL long, saving me 40% as we continue to make lower lows and lower highs. Keep an eye on this as AAPL has truly been a leader during this market run but could weigh it down on a pullback as well.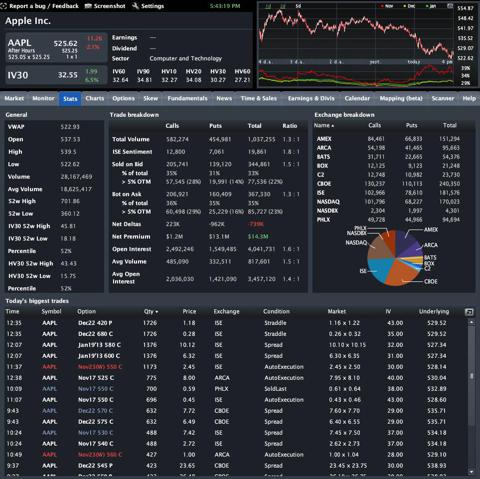 Statistics and Screenshot Provided By LiveVol
Popular ETFs and equity names with bullish / bearish paper:
Bullish Option Flows - ISE & % OTM calls bought on offer
Pandora (NYSE:P) 83% of 3.1K OTM calls
Health Net (NYSE:HNT) 78%
Zynga (NASDAQ:ZNGA) 76% - Bottom Fishing and nothing more in my opinion
Transocean (NYSE:RIG) 67%
Delta Air Lines (NYSE:DAL) 67% - Heavy call action over recent weeks
DirecTV Group (NYSE:DTV) 66%
Rowan Companies (NYSE:RDC) 63%
MGM Mirage (NYSE:MGM) More than 6.8K of OTM calls bought
Kinross Gold (NYSE:KGC) 53% - Glad we exited long but may be worth another look
Bearish Option Flows - ISE & % OTM puts bought on offer
Corrections Corp (NYSE:CXW) 84%
Goodyear Tire (NYSE:GT) 76%
Royal Caribbean (NYSE:RCL) 72% - Puts continue to dominate
Ultra Long Crude (NYSEARCA:UCO) 2.3K puts bought
Trina Solar (NYSE:TSL) 63% - Continues negative theme
Linn Energy (LINE) 61% - 61%
As always, happy trading and stay hedged. Remember, equity insurance always looks expensive until you need it!
Disclosure:
I am long: AGNC, APC, KERX, MTGE, WLL
I am short: CSCO, FE, FNSR, FXE, SDS
Trades today:
Closed FXY short
Closed HES short
Entered SDS synthetic short
Disclaimer: The opinions in this document are for informational and educational purposes only and should not be construed as a recommendation to buy or sell the stocks mentioned or to solicit transactions or clients. Past performance of the companies discussed may not continue and the companies may not achieve the earnings growth as predicted. The information in this document is believed to be accurate, but under no circumstances should a person act upon the information contained within. I do not recommend that anyone act upon any investment information without first consulting an investment professional as to the suitability of such investments for his or her specific situation.
Disclosure: I wrote this article myself, and it expresses my own opinions. I am not receiving compensation for it (other than from Seeking Alpha). I have no business relationship with any company whose stock is mentioned in this article.