For the past 2 years, Chinese stocks trading in the U.S. have been in a bear market after dozens of Chinese companies were found to be fraudulent. Shares of almost all Chinese companies are trading at very cheap valuations… if we believe the balance sheet. However, over the last 6 months there have been few if any new frauds discovered in Chinese-listed companies. I believe the worst is behind us and the bad apples have been found in regards to fraud.
One company that presents a special situation is Cogo Group (COGO). COGO is a Chinese-based communication equipment company. The CEO signed a definitive agreement on Oct. 23rd, 2012 to purchase certain subsidiaries from COGO for $78M. The deal was completed on Nov 15th, 2012 along with their quarterly earnings report. The CEO has paid $10M in cash to COGO and will pay the balance of $68M by year-end 2012. The $78M represents nearly the entire current market cap of COGO. What interests me is the current 10 million share buyback which is underway as we speak, which if completed would represent 30% of the shares outstanding. COGO began buying shares on September 24th, 2012 and has bought more than 302,000 shares as of November 14th, 2012. Management has stated they believe shares of COGO are significantly undervalued and says they plan to continue to repurchase shares as a "strategic use of cash". Personally, I like the fact there is such a large buyback in place showing that management isn't just talking, but rather taking action.
As of September 31st, 2012, COGO had $256M in equity, which is the equivalent of just over $7 in book value. The book value and cash value as of September 31st doesn't show the effect of the recent sale of 30% of the COGO business to the CEO. Either way, the stock trades at a significant discount to its book value.
COGO reported Q3 earnings on November 15th, 2012 with sales of $216.4M and non-GAAP earnings of $.11/share. COGO remains slightly profitable, but this isn't what interests me. The constant share buyback that will be underway over the next 6-12 months will likely take shares of COGO significantly higher. The buyback will take time since SEC rules allow for a company to only buy 25% of the average daily volume over the prior 4 weeks. I expect they'll be buying back stock as aggressively as possible over the next 6-12 months. Management believes their shares are undervalued and as long as they continue to repurchase shares I believe investors should look at COGO as a multi-month trade.
I want people to re-read that prior sentence. I believe this represents a great trading opportunity, not an investment. With COGO's book value over $7/share, and a stock buyback which will buoy shares for the next several months, I believe shares of COGO can reach $5 within 12 months. I still don't think investors will pay book value for most Chinese companies, but a share buyback of this size will significantly influence the share price. Traders looking to buy COGO should realize COGO should be a speculative and a very small position in their portfolio. Thinly traded stocks can be very volatile and investors should be very cautious, especially in the current market volatility.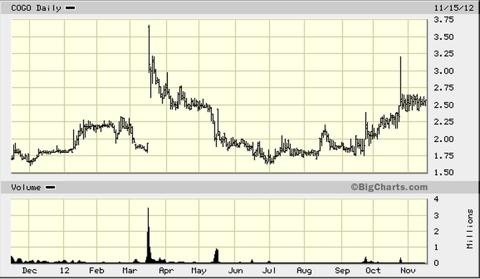 Disclaimer: This article is intended for informational and entertainment use only and should not be construed as professional investment advice, but rather my opinions as a writer only. Trading stocks are risky -- always be sure to know and understand your risk tolerance as in any given trade/investment you can incur substantial financial loss. By reading this article, you agree and understand that I am not giving recommendations on stocks to trade. Any trade you make -- wins, losses, or break even -- are entirely your decision and responsibility. You also agree and understand that I have no material insider information -- just opinions. Always do your own complete due diligence before buying and selling any stock, and/or consult with a licensed qualified broker dealer and/or certified financial adviser.
Disclosure: I am long COGO. I wrote this article myself, and it expresses my own opinions. I am not receiving compensation for it (other than from Seeking Alpha). I have no business relationship with any company whose stock is mentioned in this article.