On August 10 of 2011, I wrote an article telling people to buy stocks after the S&P 500 (NYSEARCA:SPY) dipped over 18% from the recent highs of April 2011. The S&P 500 proceeded to chop around for about a month, and went about 3% lower from when that article was written. During that time, the rhetoric around the blogosphere was thick with fear as America's credit rating was just downgraded. Since then, the SP rallied to a high point of over 30%.
We saw another corrective pullback during the spring and summer of this year. Europe and Spain were in the news then, and the world was supposed to end with the collapse of the system based on what was being written during that time. I wrote an article on May 18th telling SA readers to close their eyes and buy stocks in the midst of the fear. The market bottomed 2 weeks later about 2% lower, and then rose about 16% to the September highs.
Fast forward to today. Since the September highs, the S&P 500 has fallen over 8% in a matter of weeks. The news is now filled with Europe's problems yet again along with the fear of the impending fiscal cliff that will supposedly send America into a tailspin. Add in the fact that dividend and capital gains taxes are supposed to be going up, and you have a recipe for people freaking out.
Freaked out investors is what I like. I will make another call today to buy stocks. We should be within 2-3 weeks of another very important bottom before the beginning of a strong rally.
From a technical stand point, the market has made a healthy pullback to the 50 week moving average, the same spot the market rallied from the last time we were at this point: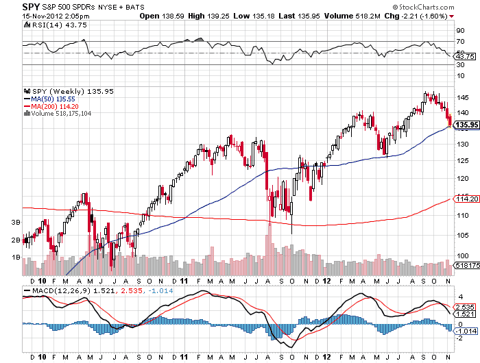 I am seeing a lot of fear in certain stocks and sectors that I am looking to take advantage of.
The first sector I am buying is Mortgage REITs. mREITs have been absolutely crushed in the past few weeks, with some stocks dropping 15% in two days. Fear over the endless MBS purchases being made by the Fed have caused investors to sell these stocks first, and ask questions later. I agree that there are some serious headwinds for this sector now that the interest rate spreads are collapsing, but the fire sale in this sector has created deep values when one compares the book values of these stocks to the market cap one can buy them for today.
I am buying Apollo Residential Mortgage (NYSE:AMTG) based on the fact that book value is sitting at $21.46, yet I can buy the stock for under $19 today. That is an 11.46% discount to the liquidating value of the company, and I get to enjoy a 17.30% declared yield while I wait. I am picking up dollar bills for 89 cents. AMTG puked 13.2% in the past two days alone. Thank you scared investors.
I am also buying CYS Investments (NYSE:CYS). Since September 14th, CYS is dropped 23.8% and now has a market cap of $2.09 billion. If CYS liquidated today, the book value would bring an instant 24% gain. That means CYS could sell all their mortgage bonds off in the market, cease being a corporation, and return all cash to the shareholders. If they did that, we would get an instant 24% gain. I am not advocating that the company do that, because they would then be out of business, but I make the point to show you how cheap CYS is compared to the liquidating value of the company. That is like picking up dollar bills for 76 cents in my book. For taking on the interest rate spread risk, the current income is sitting at 15.12%.
With the recent news of Annaly Capital (NYSE:NLY) bidding to buy Crexus (NYSE:CXS), Annaly management has made the wise decision to diversify away from competing where the Fed, with unlimited capital, is playing. Crexus has a portfolio of commercial loans an currently is trading at a discount that is over 20% to book, based on Yahoo! Finance numbers for last quarter.
Focusing along the commercial loan market, NorthStar Realty Finance (NRF) trades at a 29% discount to book and sports an 11.84% dividend. I prefer though to buy the preferred shares (NRF-PB) for NRF as they currently yield 9.23% and trade at a 11.48% discount to par. I like knowing that I get paid first when dealing with a smaller company in the space.
On the more traditional side of the stock ledger, Apple (NASDAQ:AAPL) has become a deep value play. Now down over 25% from the highs 6 weeks ago, the company went from a darling to a dog in a short time. Everyone has an opinion as to why AAPL has fallen from the tree and why they will or won't come back, but I like the company here based just on a valuation basis.
With a current market cap of $500 billion, if I take away the $120 billion in cash that is on the balance sheet, I would buy the entire company for $380 billion. AAPL, assuming no growth, generates roughly $42 billion in cash each year. Free cash flow is the way any investor should judge whether a company is worth buying or not. FCF is considered owner earnings, the earnings you could take home if you owned the company. Being $380 billion short of buying the entire company, I can instead buy a small percentage and get the same benefit of value. Who would not want to buy AAPL whole here and earn 11% on their money, again, assuming no growth whatsoever. That is the number one would get if they could buy 100% of Apple and turn their Free Cash Flow into owner earnings. It is also the amount of excess cash that Apple could pay if they decided to pay the entire $42 billion in FCF in the form of a dividend. That is a very high FCF yield.
Intel (NASDAQ:INTC) is also on my by list after seeing shares drop around 30% in such a short period of time. The shares are now yielding 4.5%, which for a cash hog of a company, is very appetizing. When I subtract long term debt from cash, I get a current market cap of around $97 billion for the world's largest semiconductor company. Taking the past 4 quarters of FCF, Intel generated $8.1 billion. That equates to an FCF yield of 8.1%, which is above average for large cap tech names. Intel around $20 is a no brainer in my book.
C & J Energy Services (CJES) is still, in my opinion, the cheapest stock in America. CJES has done nothing but outperform skeptics at every turn in this cyclical down turn in natural gas. Every peer CJES is up against trades at a valuation that is from 15-30% higher, and yet, CJES continues to outperform both in the field, and in the financials. Sporting a silly 4.68 PE today, CJES is expected to see earning of $3.04 next year. Keep in mind that analysts have been consistently low (4.2% low on average for the past 4 quarters) one can only guess that $3.04 next year will be closer to $3.27. Staying conservative though, if they only earn $3.04 next year, that is a forward PE of only 5.88. When you compare those projections to industry peers, CJES is valued today at about 40% LESS than its peers, and yet it is growing faster. CJES is our largest position for our clients, and my largest holding. It's rare that you find such a small cap stock growing like a weed but being priced by the market like a penny stock. I predict an easy double in this company over the next few years.
These are just a few of the many ideas for getting invested in the market for the impending strong rally that will take place within the next few weeks. In relation to any other investment option out there, stocks still remain very cheap on a relative basis. Take a look:
| | | |
| --- | --- | --- |
| Investment | 10Yr Tsy | DJI |
| Year | 1999 | 2012 |
| DJI Equal Weight Total | 2.66% | 7.85% |
| 10 Year Treas. Yld | 6.50% | 1.70% |
| Difference | -3.84% | 6.15% |
This is a chart I made back in May showing the income one could expect owning a 10 year Treasury vs. 25 of the Dow 30 stocks (not all stocks included like financials and insurance. Insurance values are based more on book value, while the financials have huge FCF showing that would skew the numbers to look even better, and I just don't trust those numbers.) As you can see, owning a 10 year Treasury in 1999 would have produced over 144% more income than owning stocks at that time. That was a harbinger of things to come for each asset class. Today, the exact opposite is taking place, and the difference is more pronounced. Owning stocks for the FCF could provide 361% more income as of my May research. Although stocks have risen since then, the gap is still enormous. This leads me to believe it is still time to lighten up on bonds, buy stocks, and expect new all time highs for the indexes within the next 8-12 months.
Disclosure: I am long AAPL, AMTG, INTC, CXS, NLY, CYS, CJES. I wrote this article myself, and it expresses my own opinions. I am not receiving compensation for it (other than from Seeking Alpha). I have no business relationship with any company whose stock is mentioned in this article.
Additional disclosure: I am also long NRF-B (Northstar Preferred B Shares)