The utilities sector has offered a decent risk-adjusted return in the last year or so. A glance at Utilities SPDR ETF (NYSEARCA:XLU) reveals that it was up more than 8% YTD in August this year. Macroeconomic uncertainly and historic low-level for treasury yields have made utilities an attractive investment option. Utilities are low-risk companies and offer attractive dividend yields.
XLU has a beta of 0.48, which is a testimony to its low risk. However, in the last three weeks, utilities have underperformed the broad market and took a dip of more than 8%. We believe this came about mainly due to the expected dividend-tax hike and the devastating Hurricane Sandy. This recent dip in utilities led to negative YTD performance for XLU, which is currently trading at $34, near its 52-week low of $33.18. We believe the recent fall in XLU provides a good entry point for investors. The chart below shows XLU's YTD performance.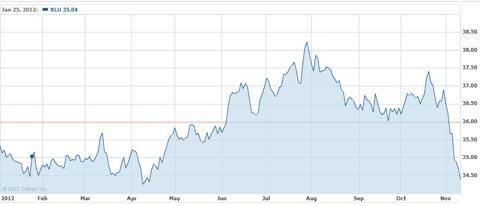 Source: Yahoo Finance.
Utilities are considered a safe haven for investors during times of uncertainty, owing to their low risk and slow-growth nature. XLU replicates the price and returns of the stocks in the Utilities select sector index. Duke Energy (NYSE:DUK), Southern Company (NYSE:SO) and Exelon Corp (NYSE:EXC) have the highest holdings in XLU of 9.3%, 9% and 6.6%, respectively.
Since the utilities sector is regulated, it has historically traded at lower valuations than the broad market. However, if we look at recent valuations, XLU has been trading at a slight premium, mainly because of its high yield which has garnered investor's interest. In October, XLU was trading at P/E of 16x, higher than broad market's (NYSEARCA:SPY) P/E of 14x and P/Es of other ETFs like Financial ETF's (NYSEARCA:XLF) 13x, and Nasdaq's (NASDAQ:QQQ) 15x. XLU has a five-year median P/E of 13.4x, less than its current P/E of near 15x.
Although, the sector offers attractive yields, the anticipated increase in the tax rate has put pressure on utilities. XLU is down more than 8% in the last three weeks and had underperformed the market, as well as other high paying sectors like Staples (NYSEARCA:XLP) which is down 3%. The chart below displays the performance comparison of different ETFs.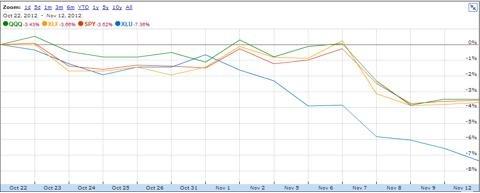 Source: Google Finance
| | | |
| --- | --- | --- |
| | Dividend Yield | Beta |
| XLU | 4.4% | 0.48 |
| SPDR S&P 500 ETF Trust | 2% | 1 |
| PowerShares QQQ Trust | 1% | 1 |
| Financial Select Sector SPDR | 1.5% | 1.7 |
Source: Reuters
President Obama securing a second term means the current low-tax rate on dividends for wealthier investors would most probably expire at the end of the year. The tax rate is expected to rise for wealthier investors from 15% to 39.6%. The increase in tax on dividends would lower effective dividend yields, and to maintain them at an attractive level utilities' stock prices need to be corrected. We believe the recent dip in utilities was because of this price-correction mechanism to maintain yields at an attractive level. Moreover, we believe Sandy is another reason that led to pressure on utilities' stocks as storm-related costs will increase going forward and earnings would be adversely affected.
We have a positive outlook on utilities as they offer high dividends with low risk and the recent price dip makes an ideal entry point for investors to buy XLU.
Disclosure: I have no positions in any stocks mentioned, and no plans to initiate any positions within the next 72 hours.
Business relationship disclosure: The article has been written by Qineqt's Utilities Analyst. Qineqt is not receiving compensation for it (other than from Seeking Alpha). Qineqt has no business relationship with any company whose stock is mentioned in this article.