Let's look at a some numbers from Dell's (DELL) presentation yesterday regarding its Q3 results.
Overall revenue for the company continued the slide on both a year-over-year and quarter-over-quarter basis. The only bright spot is servers and networking. However, that is a very small part of overall revenues to be able to make up for the downturn in the other business segments of the company.
For the quarter ended Nov. 2, Dell reported net income of $475 million, compared with net income of $893 million for the same period last year. Revenue for the quarter year over year fell nearly 11% to $13.7 billion. Income per share was 27 cents compared to 49 cents year over year. Revenue guidance for Q4 calls for increased revenue of 2%-5% from Q3, and the company maintained its full-year forecast for adjusted earnings of $1.70 per share.
Click to enlarge images.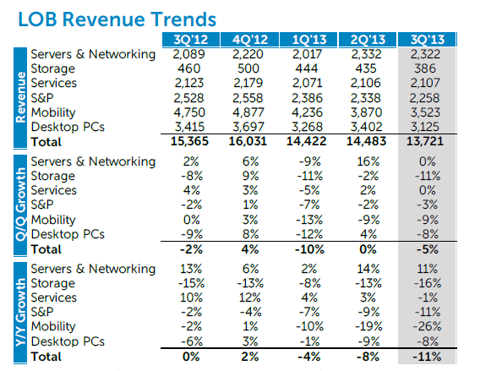 PC sales are down overall for the whole industry. In fact, 2012 is the first year in which we have seen declining PC sales in 11 years, according to a recent report from IHS iSuppli. Also, many consumers are putting off buying new purchases because of the transition to the Windows 8 operating system. So to some extent, the company has a small excuse for the slump in PC sales. Microsoft Windows sales fell 33% in the most recent quarter, and Q2-Q3 revenue at Intel (NASDAQ:INTC) declined for the fist time in 20 years. So, overall there is a pattern that touches everybody. When it rains, it rains on everybody.
However, Dell does not have an excuse for the fact that it still has no tablet strategy. As such, Apple (NASDAQ:AAPL), Google (NASDAQ:GOOG), and Amazon (NASDAQ:AMZN) have taken the lead. In my opinion, this is inexcusable and indicates a lack of vision. The lack of strategy in the tablet space is the reason why the mobility business of the company is down 26% from last year. Having said that, however, I think that it will cover some ground next year as Windows 8 rolls out and people migrate to the new operating system.
Also, corporate IT spending has been weak. As far as consumer spending is concerned, a lot has to do with the introductions of Windows 8 and the overall economic environment. And while global economic issues, such as the European and U.S. fiscal cliff, have a lot to do with the hesitation in corporate IT spending, there are limits to how long companies can put off upgrading systems. The same also applies to the average consumer. While I expect Windows 8 to be a catalyst for Dell and many other PC makers going forward, I also see pent-up demand building, both on the consumer side and on the corporate level.
But Dell above all else needs to innovate. Unless it comes up with value-added products that are unique and can differentiate it from the pack, it will keep muddling through. Mostly, that has to do with a tablet and tablet-PC strategy, as well as a touchscreen strategy, which I think will really propel sales in the future.
A bright spot in all of this is that the company, year to date, has returned about $900 million to shareholders via its recently introduced dividend and stock buyback program. In fact, I wish the company would trash the dividend and focus on stock buybacks alone, until such time it can get its act together and innovate in order to make people excited about the stock.
As you can see from the chart below, the float has shrunk about 40% over the past eight years.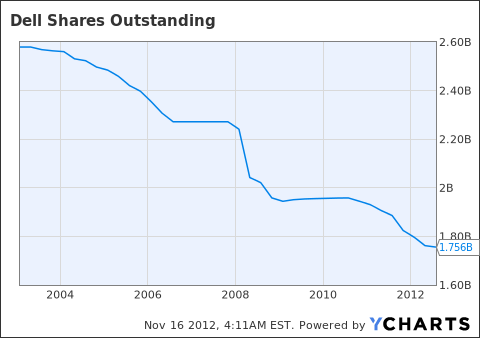 The company is cheap, make no mistake about it. And while it might get even cheaper, with a current P/E of about six and free cash flow to provide for stock buybacks, Dell has a good backstop even if things get worse. If I am correct that Windows 8 will be a catalyst for revenue in 2013, then the stock might actually be at rock bottom.
If you are a conservative investor, putting a portion of your portfolio in Dell stock at current prices is probably one of the better choices you can make -- if you have a long-term horizon. The downside is very limited, but the potential great when the company reinvents itself and people become exited about the stock once again.
Disclosure: I have no positions in any stocks mentioned, and no plans to initiate any positions within the next 72 hours. I wrote this article myself, and it expresses my own opinions. I am not receiving compensation for it (other than from Seeking Alpha). I have no business relationship with any company whose stock is mentioned in this article.