Here's an interesting flyer for risk-takers: Poseidon Concepts (OTCPK:POOSF).
The stock was crushed yesterday, down 62% on the Toronto Stock Exchange on a massive 24.6 million shares.
Post Script: Today at 10:30am it is trading at $4.95 CAD after hitting a high of $5.25 and another low of $4.49 on 4.85 million traded.
Poseidon had released disappointing Q3 earnings Wednesday evening, downsizing 2012 EBITDA guidance and CAPEX spending plans.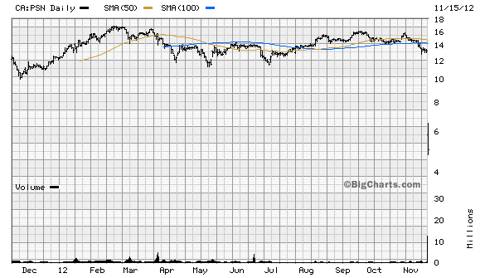 I bought some at $4.90 CAD at the close yesterday. There are 81.1 million shares outstanding and only $55.5 million in (term) debt on the balance sheet, with a $100 million facility, not due until June 30, 2014.
Wednesday PSN closed at $13.22 valuing the company at $1.07 billion. That was probably too much given it is a new company, in spite of growth predictions based on their new way of handling oil service fluids (see below).
But the next day it is valued at $405 million?
As I said, Poseidon has 81.1 million shares and 7.2 million in stock options, which are all out of the money now.
Poseidon did several stock issues over the two past years, with the outstanding rising from 53.9 million January 1, 2011. The last issue was for 6.3 million shares at $13.00 in February.
Officers and directors own 11% of the outstanding, so they are feeling the pain too. There was no insider selling over the past few months leading up to the earnings announcement.
The Company is a year old spin-off from Open Range Energy which was subsequently purchased by Peyto Energy (OTCPK:PEYUF).
I'll be honest, I had never heard of this company before yesterday. I am buying based on a bounce and the valuation is reasonable (NOW), for a quick flip. Usually the most dangerous market downturns are those of companies accused of accounting irregularities and/or have no revenues, only dreams.
Neither would appear to be the case here.
Poseidon's 500 trucks and tanks in the field simplify the management of hydraulic drill "fracking" fluids for the drilling industry in the North Dakota Bakken oil play and from Western Canadian operators.
84% of Poseidon's $41.1 million in Q3 revenues came from the United States, the rest from Canada.
86% of nine month revenues of $148.1 million came from the U.S.
Poseidon says competition is heating up because they had found a better and cheaper way for companies to manage these fluids. The Company's literature says their solution is still the best, and they are adding new services (fluid heating, remote monitoring).
Reading the news fallout from the stock drop, most analysts blamed the drop on the shock value of the reduced expectations for the rest of the year versus the frothy growth expectations of this oil service darling.
On the stock, one market pundit said that "the shorts had won" on Poseidon.
But the TSX short position on PSN as of October 31 was only 1.16 million.
I have a healthy respect for short sellers and the information their actions provide.
We'll find out the short position as of November 15 in a few days. My guess is, the shorts were not particularly active, hence the shocking 62% drop in the stock.
If the shorts get active here, they could push the stock even lower, but I think it is too low for them to bite down.
I think there will be a relief rally in PSN this morning, driven by bargain hunters and perhaps some short covering.
My valuation at a modest 4X EBITDA (midpoint of yesterday's 2012 revised guidance of $140-150 million) gets me to $525 million net of debt, or $6.48 per share.
Here's another kicker. PSN pays a 9 cent monthly dividend, and it has declared for November and December 2012.
They generated $25.8 million of cash flow before working capital changes versus the dividend payout of $22 million.
Working capital sucked up $20.1 million during Q3, which is normal in a growing business. But Poseidon had a $7.4 million dividend payable versus only $3.5 million in cash on the balance sheet. So the dividend could be cut if the business continues to soften and they need to preserve capital. That's fine. We aren't buying this stock for yield.
Poseidon earned 10 cents per share in Q3, and 85 cents per share for the first 9 months of 2012.
One red flag was the 9.5 million write off of bad accounts receivable in Q3. Without the write off, Poseidon would have made about 18 cents per share in Q3.
The problem is that 90% of Poseidon's current assets are accounts receivables and it puts in doubt whether they will all be collectible. How many dead beat oil and gas drilling companies are out there that won't pay their bills?
Poseidon's aging of their accounts shows the A/R with $89.4 million not past due (within 120 days) and $36.1 million over due (more than 120 days).
That seems a very slow collection process and a risk that a write down in bad debts from customers might occur.
Luckily, 13% of revenues are from one large, hopefully established customer. And Poseidon says they have hired more accounting staff to beef up their management of these problems.
All in all, most of the bad news (at least those made public yesterday) are probably already reflected in the stock price.
This stock has been murdered. You might be able to make some money on the bounce. It's for high risk traders only.
Disclosure: I am long OTCPK:POOSF. I wrote this article myself, and it expresses my own opinions. I am not receiving compensation for it (other than from Seeking Alpha). I have no business relationship with any company whose stock is mentioned in this article.