The Gist
The time to buy is when there's blood in the streets, even if the blood is your own.
This well-known maxim is credited to Baron Rothschild, a British financier and member of the famous banking family who reportedly made a fortune buying in a panic following the Battle of Waterloo. What a great contrarian quote. In investing, a contrarian is one who attempts to profit by investing against the grain, to go against the crowd, because the crowd is usually wrong and always late. A contrarian believes that certain crowd behavior among investors can lead to exploitable opportunities. Pervasive cynicism about a stock or sector can drive the price so low that it exaggerates the investment's perils and belittles its future prospects. Identifying and seizing on these opportunities is a well-known investing tactic utilized by legendary investing experts such as Warren Buffett.
I believe these stocks may present such an opportunity. There may not be blood in the streets, but the market is down 5% since Election Day. If the U.S. politicians are unable to stop the U.S. from falling off the fiscal cliff, there will be blood.
The following five stocks have significant upside potential based on their consensus price targets and are trading well below 52 week highs. The companies are trading on average 58% below their 52 week highs and have 51% potential upside based on the analysts' mean target prices. Vringo, Inc. (VRNG) has the most upside potential. With a mean price target of $10 and the shares currently trading at $3.60 Vringo has 172% upside. We are in the midst of a sell off based on macroeconomic and geopolitical issues. Often, this is precisely the time to pick up shares in out of favor stocks.
Additionally, most of the five stocks have some positive fundamentals and share prices trading below $5. Stocks trading for $5 or less tend to be more volatile with frequent, larger percentage moves in the stock price. This provides the opportunity for greater returns (or losses) relative to the market. These are stocks that may provide more bang for your buck.
The Goods
In the following sections, we will take a closer look at these stocks to determine if the mean target prices are justified. We will perform a brief review of the fundamental and technical state of each company. Furthermore, we will attempt to discern the sector, industry or company specific catalyst for the stocks. The following table depicts summary statistics and Friday's performance for the stocks.

Alcatel-Lucent, S.A. (ALU)
The company is trading 62% below its 52-week high and has 37% upside potential based on the analysts' mean target price of $1.40 for the company. ALU was trading Friday for $.99, down nearly 4% for the day.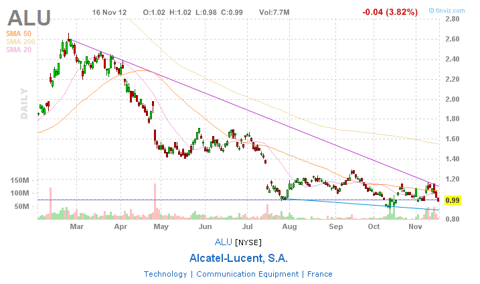 Fundamentally, ALU has several positives. EPS growth for next year is expected to be 20%. ALU is trading for approximately 55% of book value. The company has $2.57 in cash per share. Book value per share is $1.88.
Technically, ALU has been in a well-defined trading range between $1 and $1.20 for the last several months. In my latest missive regarding the stock, I suggested waiting until the stock had pulled back to the $1 mark prior to starting a position. This has occurred. The stock is currently testing support at the bottom of the trading range.
Alcatel-Lucent rallied recently based on the news AT&T (NYSE:T) plans to spend $22B on capex each of the next 3 years. The telecom sector is growing by leaps and bounds currently. Cisco (NASDAQ:CSCO) recently beat estimates and provided good fiscal Q1 guidance. The risk reward ratio is favorable for the long haul at this point. The stock is a buy at this level.
Clearwire Corporation (CLWR)
The company is trading 29% below its 52-week high and has 30% upside potential based on the analysts' mean target price of $2.75 for the company. Clearwire was trading Friday at $2.16, up nearly 2% for the day.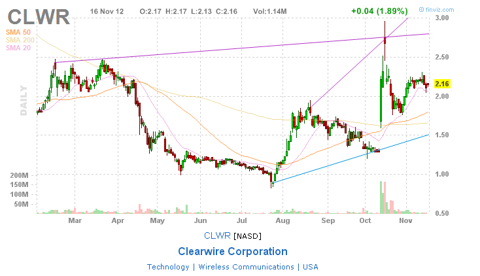 Fundamentally, Clearwire has a few positives. EPS is up 78% quarter over quarter. EPS is expected to be up 35% next year. The company has $0.81 cash per share.
Technically, Clearwire went on a massive run after positive comments were made on the earnings conference call. The stock is currently trading just above the 20-day moving average. The stock has been consolidating for the last month after the parabolic move higher. The golden cross was achieved in mid-October.
Clearwire's recent run was most likely primarily due to short covering after the CFO talked about the possibility of an upcoming strategic transaction on the conference call. I like the stock here as a speculative buy. I posit Sprint (NYSE:S) will complete the purchase of Clearwire after the Softbank deal is finalized.
Nokia Corporation (NOK)
The company is trading 56% below its 52-week high and 45 above its consensus mean target price of $2.62 for the company. Nokia was trading Friday for $2.71, down slightly for the day.
Fundamentally, Nokia has several positives. Nokia is trading for slightly above book value, 26% of sales and has $3.06 in cash per share. EPS next year is expected to rise by 78%. Nokia pays a dividend with a 9.29% yield.
Technically, the stock has rebounded nicely since July and has established an uptrend. The stock is currently in a breakout position at the apex of a descending triangle. This is usually when a major breakout move will occur.
U.S. carriers are doing their best to give the Windows Phone (NASDAQ:MSFT) a fighting chance. Verizon Wireless (NYSE:VZ) will offer a Windows Phone model for free with contract signed by year end, but doesn't say from whom. Big Red currently offers Nokia's mid-range Lumia 822 for $99. Sprint meanwhile promises to introduce WP models next year. AT&T is offering Nokia's Lumia 920 for $450 without a contract. Nokia's is aggressively pricing their product which bodes well for the company. With a dividend yield of nearly 10% and Microsoft's backing, the risk/reward ratio looks positive for the stock. Nokia is a buy here.
Sirius XM Radio Inc. (SIRI)
The company is trading 11% below its 52-week high, and has 18% upside potential based on the analysts' mean target price of $3.14. Sirius stock was trading for $2.63 Friday, down nearly 1% for the day.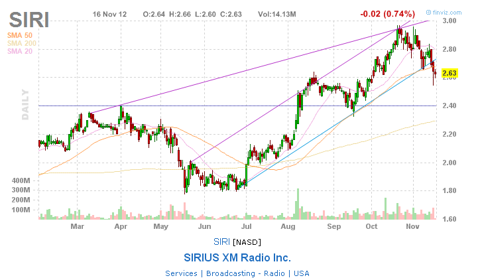 Fundamentally, this stock has several positives. SIRI has a forward P/E of 26, and trades for 22 times free cash flow. EPS for the next five years is expected to rise by 28%. Quarter-over-quarter sales are up 14%. SIRI's TTM ROE is 87%, and the company's net profit margin is 103%.
Technically, Sirius stock has been in a well-defined uptrend since the start of July. The coveted golden cross was just achieved by the stock. This is when the 50-day SMA crosses above the 200-day SMA and is considered extremely bullish. Nevertheless, the stock has broken through support at the bottom of the current uptrend channel and the 50-day sma.
In my last missive regarding the stock I stated to wait for the stock to pull back to the 50-day sma prior to starting a position. Now that the stock has broken through support, I would wait until it finds a bottom prior to starting a position. I expect the next catalyst will be the announcement of the new CEO. This will take some time and is not always a positive event. I would avoid SIRI currently.
Vringo, Inc.
The company is trading 36% below its 52-week high and 172% above its consensus mean target price of $10.00 for the company. Vringo was trading Friday for $3.62, up over 3% for the day.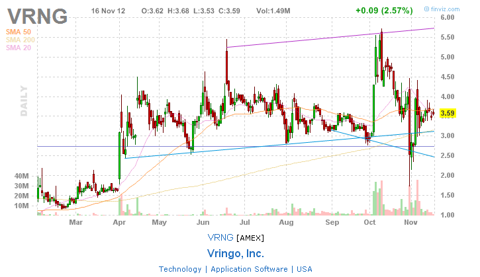 Fundamentally, Vringo has some positives. Vringo's institutional transactions are up 135% in the past three months. The company has a gross margin of 74%. EPS this year is up 40%.
Technically, the stock is stuck in a trading range between $3 and $6 with volatile swings from top to bottom of the trend channel. This is standard behavior for patent lawsuit plays. Currently the stock is resting near the bottom of the channel.
Vringo is a patent play. Patent plays are not about the fundamentals, they are about winning a patent case. The stocks involved often have wild swings as motions and appeals are won and lost. Most recently, Vringo filed a lawsuit against ZTE in Germany alleging infringement over wireless network infrastructure components.
Vringo is a speculative play, but is now trading near the bottom of the recent trend channel. If you were inclined to buy in to the story, now would not be the worst time to do it. As I have stated previously, I believe a portion of a portfolio should be dedicated to speculation, and this is definitely a speculative buy.
The Bottom Line
Stocks are currently out of favor. The market began to drop precipitously in the last few weeks as it reacted to several major negative macroeconomic and geopolitical developments from the usual suspects, U.S. budget issues, the European sovereign debt debacle and Middle East unrest. Moreover, disappointing quarterly reports are telling of a sluggish global economy which drove the markets even lower.
Nevertheless, I see the sell off as a buying opportunity. The market always bounces back. This is a buy on the dip scenario. Let's not forget, the world's central banks have been taking action and the Bernanke put is firmly in place until 2015. I have chosen stocks I feel have notable upside long-term but are out of favor currently. This is a case of the baby being thrown out with the bath water.
Before buying any stock do your own due diligence first. If you do decide to start a position, I suggest layering in a quarter at a time on a weekly basis at a minimum to reduce risk. Build the position slowly. You can also set a 5% trailing stop loss order if you wish to minimize risk further.
Disclosure: I have no positions in any stocks mentioned, but may initiate a long position in NOK, VRNG, ALU, CLWR over the next 72 hours. I wrote this article myself, and it expresses my own opinions. I am not receiving compensation for it (other than from Seeking Alpha). I have no business relationship with any company whose stock is mentioned in this article.
Additional disclosure: : This is not an endorsement to buy or sell securities. Investing in securities carries with it very high risks. The information contained within this article for informational purposes only and is subject to change at any time. Do your own due diligence and consult with a licensed professional before making any investment decisions.