By Kimberly Chan
Hewlett-Packard Co. (NYSE:HPQ) has shown a clear decline over the past few quarters. The stock price has been dropping nearly every month for the past year with a 52-week change of -51.85%, and Yahoo Finance analysts have consistently stated a downgrade. However, Hewlett-Packard has not relinquished hope and continues to work toward recovery.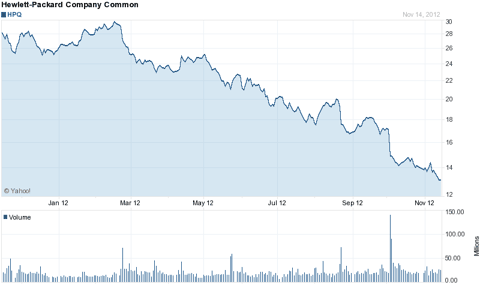 Downward Trend of PCs and Earnings
Earnings for Hewlett-Packard are to be released on November 20th, and they do not seem to hold promising news. One Businessweek writer predicts the upcoming earnings for Hewlett-Packard and Dell (DELL) to show "the end of a PC era." While it is not certain if PCs are dying off now or in the near future, there have been drops in PC shipments, sales and earnings for HPQ. In addition, the fourth quarter is estimated to have a 6% decrease in revenue.
Recognizing Bad Times
Hewlett-Packard Chief Executive Officer, Meg Whitman, recognizes the bad news. She addressed investors by stating that "the recent financial performance of HP has not been good." This admission of a negative performance showed transparency, but certainly did not help the company's stock. While Hewlett-Packard has had to cut jobs to maintain current profits, Whitman maintains that there is strong innovation within the company.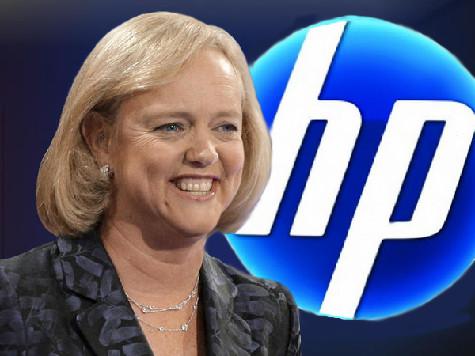 Improvements and Additions
This innovation is channeled into focusing on more than just PCs. Hewlett-Packard is also focused on producing printers and tablets to increase office efficiency and improve consumer experience.
At the end of October, the company announced two printers, new Officejet Pro and LaserJet models. They are designed for the office, to reduce costs, improve efficiency, and increase speed. Hewlett-Packard's goal with these printers is to tailor their products to the digital workflow of an office environment. It hopes to improve overall productivity of the office consumers, adding to customer satisfaction.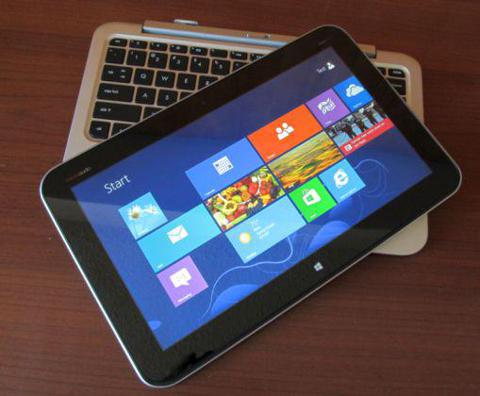 In addition, Hewlett-Packard's new product, the Envy x2, is expected to be available in the United States on November 14th. This product is a tablet-laptop hybrid that is meant to rival the competition of Dell's Latitude 10, Microsoft's Surface, and of course the iPad. If this product is a hit, it could give Hewlett-Packard a much needed boost in sales.
Major Threats
Even if sales increase for a short time, it does not ensure that Hewlett-Packard stays on top of innovation. There is the looming threat that cloud computing will slowly take customers away from Hewlett-Packard's servers and disk-drives. Despite efforts to integrate strong cloud computing technology into its products, the company is still in the planning stages. For now, it does not seem like it is a powerful contender in the cloud area.
Conclusion
There are various new fronts on which Hewlett-Packard has the opportunity to increase earnings over the next few years. At the moment, these new fronts are in their beginning stages, and the company seems to lag behind in performance. It will need to focus on new products and services that feed the consumers' technological growth. It needs to set the bar high to catch up and stay on the innovative front. If Hewlett-Packard can really produce and sell new and better technology than its competitors, it may not be a bad idea to buy HPQ while it is still so low.
Disclosure: I have no positions in any stocks mentioned, and no plans to initiate any positions within the next 72 hours. I wrote this article myself, and it expresses my own opinions. I am not receiving compensation for it (other than from Seeking Alpha). I have no business relationship with any company whose stock is mentioned in this article.