In October, we analyzed and evaluated the recent telecom tie-ups between T-Mobile USA and MetroPCS (PCS) as well as Sprint Nextel (NYSE:S) and SoftBank (OTCPK:SFTBF). We concluded that Sprint was a stronger company than the old T-Mobile USA as well as MetroPCS and that the T-Mobile USA/MetroPCS would not be a long-term competitive threat to Sprint even if we excluded the impact of the $8B capital infusion that SoftBank would be providing. We also expressed our discontent that Sprint felt the need to sell out 70% of the company to a Japanese company because unlike T-Mobile, Sprint now carries Apple's (NASDAQ:AAPL) cutting edge iOS mobile communications devices. Sprint earned the right to sell Apple's iPhone in 2011 after agreeing to a hefty $15.5B commitment in order to do so and it has sold 6.3M iPhone devices in the 12 months that it has been carrying the device. Although Sprint was snubbed by Apple with regards to carrying the 3rd generation iPad in Q1 2012, we had projected that Sprint would crash the iPad party that AT&T (NYSE:T) and Verizon Wireless (NYSE:VZ) were holding by March 2013. We guess we were just a little too pessimistic with regards to Sprint joining the iPad party. As of Q3 2012, Sprint has a slight edge on T-Mobile USA with regards to tablet and other connected device customers. Sprint has 3.36M connected devices customers while T-Mobile has 2.95M. Sprint was able to grow its connected devices customer base by 24% over the last 12 months versus 17% for T-Mobile USA.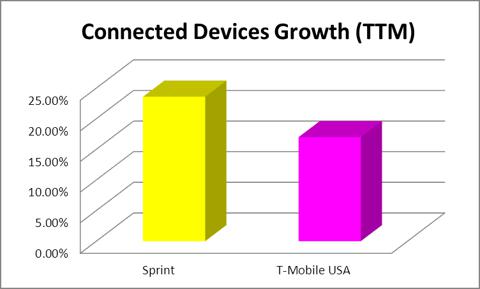 Source: Sprint and T-Mobile Q3 Earnings Releases
We are disappointed that Sprint has not yet turned a profit during Hesse's tenure while T-Mobile USA is still marginally profitable. We are also disappointed that T-Mobile is still generating more free cash flow than Sprint. However we can certainly justify why Sprint has a deficit in YTD 2012 FCFs while T-Mobile USA still has $325M in YTD FCFs. If Sprint had spent as much in CapEx as T-Mobile, Sprint's YTD FCFs would have been comparable to T-Mobile USA's YTD FCFs. Sprint increased its CapEx budget to invest in its Network Vision strategic network upgrade and reorganization project in order to increase efficiency and enhancing network coverage, call quality and data speeds for its wireless customers.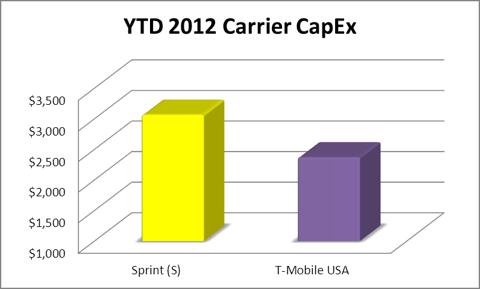 Source: Sprint and T-Mobile Q3 Earnings Releases
As part of this strategic reorganization, Sprint has joined AT&T and Verizon in adopting the 4G-LTE wireless communications network. Sprint has rolled out the 4G-LTE service to 32 cities in the United States as of October and is looking to roll out 4G-LTE to an additional 115 cities in the coming months. Sprint is looking to add 4G-LTE coverage in New York, Chicago, San Francisco and Boston to name a few notable cities that Sprint is targeting. T-Mobile USA won't have 4G-LTE until next year and won't be able to decrease its CapEx spending in 2013 like it did in 2012.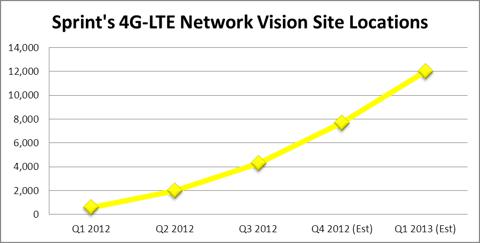 Source: Sprint's Last Three Quarterly Earnings Reports
Although Sprint had more customer defections (-423K) in Q3 2012 than T-Mobile USA (-159K), this does not force us to change our thesis. Sprint enjoyed a 5% year-over-year increase in its revenue in Q3 2012 and this was higher than what the AT&T/Verizon duopoly achieved. T-Mobile saw its revenue decline due to its steady erosion of retail postpaid customers. Sprint attributed its lackluster customer acquisition statistics in Q3 2012 to its focus on preserving as many legacy Nextel customers as possible rather than trying to go out and get new customers, especially while it is in the early stages of its 4G-LTE buildout. Sprint also kept its customer acquisition powder dry while waiting on new iOS devices from Apple. Now that Apple has released its widely anticipated iPhone 5 as well as welcomed Sprint into the US Chapter of the iPad club, Sprint will be increasing its external marketing efforts in Q4 2012. Sprint currently outperforms T-Mobile USA in terms of churn and ARPU. Sprint has 2.09% Q3 2012 Postpaid Churn and 1.88% postpaid churn excluding Nextel versus 2.3% Q3 2012 Postpaid Churn for T-Mobile USA. Sprint has 3.37% Q3 2012 Prepaid Churn and 2.93% prepaid churn excluding Nextel versus 6.2% Q3 2012 Prepaid Churn for T-Mobile USA. Sprint's Postpaid ARPU in Q3 2012 was $61.18 ($63.21 excluding Nextel) versus $56.59 for T-Mobile USA in the same period. Furthermore, Sprint has been able to increase its postpaid ARPU by 5% over the last 12 months while T-Mobile USA's postpaid ARPU has declined by 3.375% in that time period.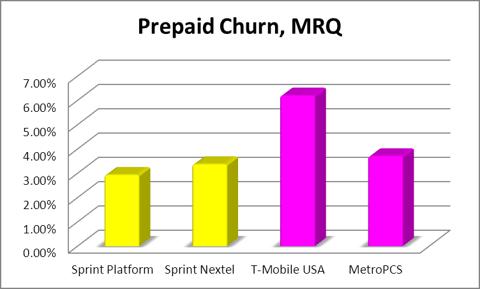 Sources: Sprint and T-Mobile Q3 Earnings Releases
VoiceStream Wireless had generated impressive growth in the 1990s and that led Deutsche Telekom to offer $50B to acquire it in 2000. Despite suffering an $18B asset impairment charge in 2002 due to the implosion of the tech and telecom bubble, T-Mobile USA generated strong growth for Deutsche Telekom by growing it subscriber base from 7M in 2001 to a high of 33.8M in 2009. However, T-Mobile USA's subscriber levels have seen a small and steady decline to 33.3M as of Q3 2012. The real concern for T-Mobile USA is that it is seeing its postpaid contract customers churn out and are being replaced with low-margin prepaid customers. Deutsche Telekom also recently wrote down its remaining goodwill in Q3 2012 for T-Mobile USA, resulting in an $8.13B charge. When we compare Sprint's $29.7B write-off of its Nextel goodwill in 2007 with T-Mobile's combined ~$26B write-downs in 2002 and 2012, we can see that both Sprint and Deutsche Telekom had made significant overpayments for deals from hell.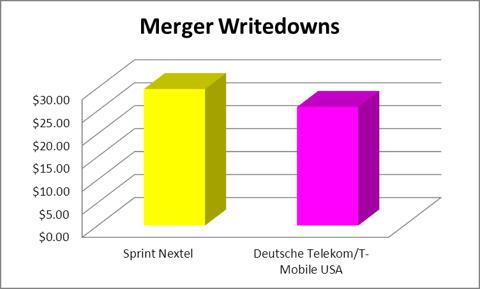 Sources: Deutsche Telekom 2002 Annual Report, T-Mobile USA Q3 Press Release and Sprint's 2007 Annual Report
T-Mobile USA stopped growing its customer base around the same time Sprint began to see growth in its customer base. We believe that Sprint's improvements in customer service have served to take market share away from T-Mobile USA and because Sprint has Apple's iPhone whereas T-Mobile made sport of the iPhone only to spend $4B to upgrade its network in order to accommodate 1 million subscribers who brought old iPhone devices onto T-Mobile's slow 2G GSM network. We think that is why even though Apple's sales of its iPhone smartphone were slow until it released the iPhone 5, it decided not to let T-Mobile USA join the iPhone club in the US. We think that is why Philipp Humm decided to step down as T-Mobile USA's CEO and we don't think that T-Mobile USA's merger with MetroPCS will change this dynamic.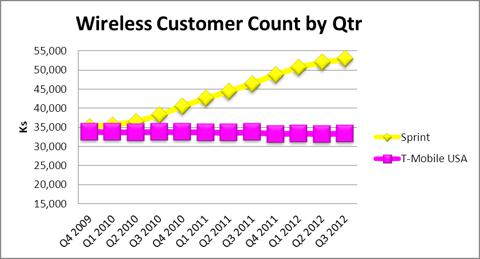 Sources: 2010-2012 Quarterly Earnings Reports for Sprint and T-Mobile USA
For customers and investors, we still believe that the best alternative to the AT&T and Verizon U.S. wireless duopoly is Sprint. We think Sprint offers stronger absolute and risk adjusted investment prospects, as well as a better customer value experience versus T-Mobile USA and its parent company Deutsche Telekom for the following 7 reasons:
Sprint offers the iPhone and iPad from Apple while T-Mobile has Apple's iOS devices only in

Europe.

Sprint generates 90% of its revenues from the faster growing wireless segment. While Deutsche Telekom does not break out revenue by product, we expect it to generate a larger share of its revenue from wireline operations, which is

declining.

Sprint has joined the 4G-LTE club while T-Mobile USA won't have 4G-LTE until 2013. Sprint will have a 6-18 month head start on T-Mobile USA when it finally gets 4G-LTE.
Sprint is the only company that still offers unlimited high-speed data. Verizon and AT&T are phasing out unlimited data and T-Mobile USA throttles data after 2GB is used.
Sprint and T-Mobile USA have essentially switched places in terms of customer satisfaction ratings. It even dropped below AT&T, a company that has historically had low customer satisfaction ratings. Despite not merging with AT&T, T-Mobile joined AT&T at the bottom of the 2012 American Customer Satisfaction Index.
Sprint only has 12 more months of suffering Nextel run-off and improved its Nextel retail postpaid contract subscriber retention rate from 27% in H1 2011 to 39% in Q4 2011, 46% in Q1 2012, 60% in Q2 2012 and 59% in Q3.
Sprint's postpaid churn of 2.09% in Q3 2012 (1.88% excluding Nextel) is better than the 2.3% for T-Mobile USA.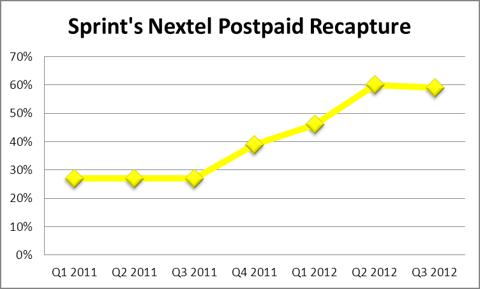 Source: Sprint's Last Three Quarterly Earnings Reports
Based on these 7 reasons, we not only reinforced our long position holding thesis in Sprint, but also that T-Mobile USA is the sick man of the mobile communications world. We can see how even while Sprint was in the midst of a multi-year, multi-step transition process, it was still able to outperform Deutsche Telekom by a wide margin since the end of 2008. We expect Sprint to continue to solidify its hold on 3rd place in the US mobile communications market because Sprint has the iPhone and T-Mobile doesn't. Though we added to our long position a couple of months ago, we don't believe that Sprint is out of the woods yet. We are not foolhardy to say that Sprint is in the same league as Apple or the AT&T-Verizon duopoly but we see that Sprint's Network Vision project and Softbank partnership will enable it to put distance between T-Mobile USA/MetroPCS and increase its competitiveness against the AT&T/Verizon duopoly.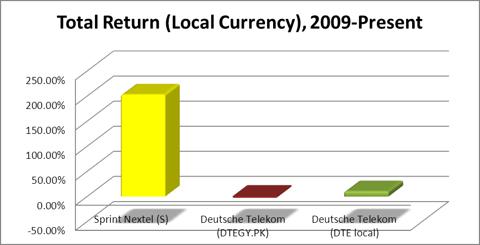 Source: Bloomberg LP
Disclosure: I am long S, AAPL. I wrote this article myself, and it expresses my own opinions. I am not receiving compensation for it (other than from Seeking Alpha). I have no business relationship with any company whose stock is mentioned in this article.
Additional disclosure: This article was written by an analyst at Saibus Research. Saibus Research has not received compensation directly or indirectly for expressing the recommendation in this article. We have no business relationship with any company whose stock is mentioned in this article. Under no circumstances must this report be considered an offer to buy, sell, subscribe for or trade securities or other instruments.