"Any intelligent fool can make things bigger and more complex... It takes a touch of genius - and a lot of courage to move in the opposite direction." - Albert Einstein
Yesterday I outlined my philosophy of taking small risks to achieve possible large gains during declines in the market. My strategy illustrated a bull market spread strategy that used Apple (NASDAQ:AAPL) as a good candidate given its large decline, cheap valuations and some technical support. As the markets continue to decline, there will be more and more solid stocks with these characteristics. Another tech stock that gives us a way to make a cheap bet on a bounce that triple our money if the sentiment improves in the market is EMC Corp (EMC).
First, the technical set up. As one can see in the chart below, EMC is close to medium term technical support levels. It has also has spent a good deal of the last six months at or above levels that will double or triple my 50 cent bet.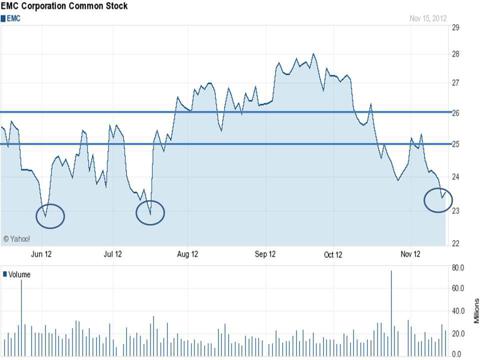 EMC Corporation develops information and virtual infrastructure technologies and solutions. The company offers enterprise storage systems and software.
4 Reasons EMC is worth more than just over $23 a share:
The 34 analysts that cover the company have a $30 a share price target on EMC, some 30% above its current price.
Competitor NetApp (NASDAQ:NTAP) reported earnings the other day that easily beat estimates and should improve the sentiment around the demand in storage sector.
The company is growing revenues at 8% to 10% a year and the stock sports a five year projected PEG of under 1 (.97). The stock sells for just over 12x forward earnings, a discount to its five year average (16.2).
The company has a $49B market capitalization. $4B of that is net cash and some $29B is EMC's 80% ownership stake in fast growing server virtualization software firm VMWare (NYSE:VMW), so the company is cheaper than it first appears.
Here is my option strategy on EMC structured to give me a four to one risk/reward play that will triple my money.
Option Strategy: Buy the December 24 call while simultaneously selling the December 26 call for a net spread of $.45 (lets call it $.50 with commissions).
Outcome 1: EMC continues sinking, stays flat or does not get above $24 from current levels by December 22nd. In which case I lose my $.50 bet.
Outcome 2: The sentiment improves on the overall market and the company stages a rally getting it over $26 by December 22nd. In this case I make $2.
Outcome 3: The stock settles between $24 to $26 a share by December 22nd. I make anything above the $24 strike price. EX, If it ends at $25 a share, I make a $1 on my fifty cent bet.
Disclosure: I am long AAPL, EMC. I wrote this article myself, and it expresses my own opinions. I am not receiving compensation for it (other than from Seeking Alpha). I have no business relationship with any company whose stock is mentioned in this article.