When we apply our quantitative fundamental screen for high quality, above average dividend yield companies, and cross reference that with one of our quantitative technical filters, two stocks among the more than 7,000 individual stocks on the NYSE and NASDAQ stand out.
Only 35 stocks passed our fundamental filter. Only 75 passed our technical filter. Only 2 passed both filters. They are General Mills (NYSE:GIS) and Heinz (HNZ).
THE FUNDAMENTAL QUANTITATIVE FILTER
- Broad Scope:
Price > = $5.00
Market capitalization >= $250 million
Current dividend yield >= 3%
5-year dividend growth rate >=3%
- Liquidity:
Per minute 3-month average dollar trading volume >= $25,000
- Dividend Consistency:
Dividends paid in each of the past 5 full calendar years
Dividends were not decreased in any of the past 5 fiscal years
Dividends paid over the last 4 quarters (1,2,3,4) >= dividends paid over prior 4 quarters (5,6,7,8)
- Growth:
Revenue growth over last 5 years >=3%
Revenue growth over last 3 years >=3%
Revenue growth over last 1 years >=0%
- Profitability:
Cumulative cash flow from operations last 3 years > $0.00
Cumulative cash flow from operations last 5 years > $0.00
- Dividend Coverage:
Cumulative dividends paid in last 5 fiscal years <= cumulative cash flow from operations over 5 years
Cumulative dividends paid in last 12 months <= cumulative cash flow from operations in last 12 months
THE TECHNICAL QUANTITATIVE FILTER
Price within 2 standard deviations of the moving average for each of 10, 21, 63, 126 and 252 days
Price in upper half of the price channel for 21 and 63 days
Linear regression slope positive for 100 and 200 days
Positive Directional Movement greater than Negative Directional Movement over 14 days
Average per minute dollar trading volume greater than $25,000
While they are holding up well technically by these factors, and are solid dividend performers, they are not standouts in terms of growth potential.
They have, however, outperformed important indexes, such as the S&P 500 (proxy: SPY) and the S&P Dividend Aristocrats (proxy: SDY) since the 2007 pre-crash period, and provided more stability in shorter periods. That stability could be important if the fiscal cliff issues are not handled adequately.
Ratings From Pure Technical Sites:
On their 100 point scale, StockCharts.com rates GIS 57 and HNZ 76.
Based on their 20-day, 50-day and 100-day criteria, BarChart.com rates GIS 20% Buy, 25% Sell, 67% Buy and 8% Buy overall. They rate HNZ 60% Buy, 75% Buy, 67% Buy and 72% Buy overall.
Comparative Charts Over Different Time Periods:
Since 2007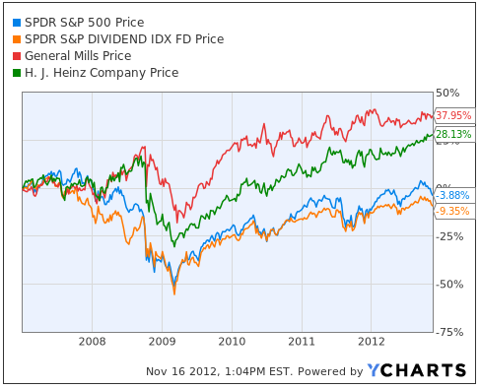 1 Year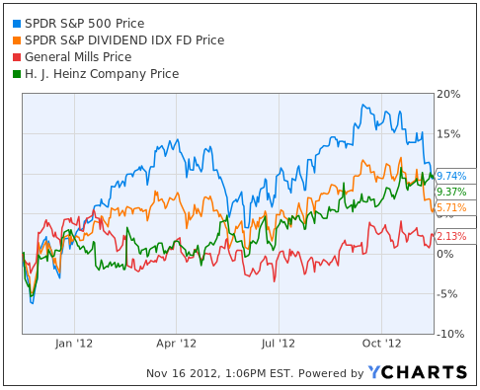 3 Months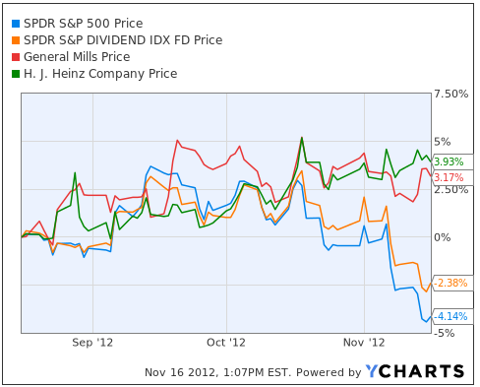 Since The Election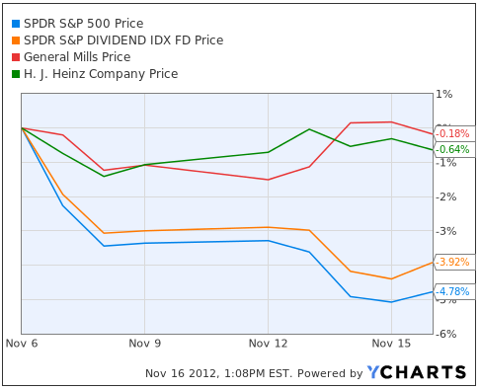 Valuation Metrics And Analyst Ratings:
They both seem expensive at this time, but they do yield attractively with well covered dividends, a history of dividend growth, and strong brand equity.
They are highly rated by Thomson Reuters StarMine and by Standard & Poor's for year ahead performance.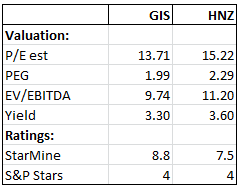 However, the average analyst target prices are not increasing and Heinz is at target now.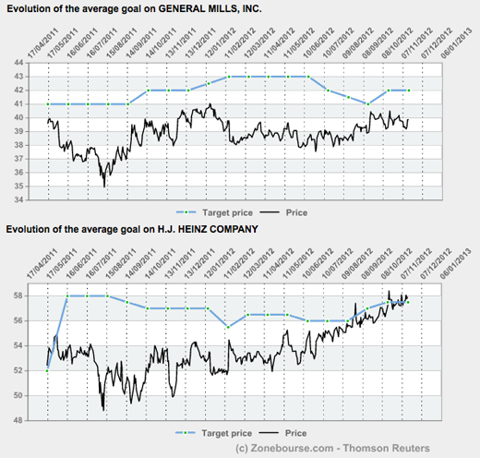 Suitability of either of these stocks, or any other stock, is entirely dependent on an array of personal facts and circumstances. They may make sense for some, and be completely unsuitable for others.
Clearly, not suitable for someone with a primarily capital appreciation objective, but perhaps useful to someone primarily interested in income and income growth.
Disclosure: QVM has positions in GIS and HNZ in some accounts as of the creation date of this article (November 16, 2012). We certify that except as cited herein, this is our work product. We received no compensation or other inducement from any party to produce this article, but are compensated retroactively by Seeking Alpha based on readership of this specific article.
General Disclaimer: This article provides opinions and information, but does not contain recommendations or personal investment advice to any specific person for any particular purpose. Do your own research or obtain suitable personal advice. You are responsible for your own investment decisions. This article is presented subject to our full disclaimer found on the QVM site available here.