The Pig in the Poke
Spain's prime minister Mariano Rajoy has always stressed that he doesn't want to buy the pig in the poke when it comes to an ESM aid request by Spain. "Before we take your Greek gift package, let us see what's actually in it," was and is his constant refrain. Between the lines he always insisted that Spain has actually done enough, that the budget consolidation program is on track, and so forth, implying that he might want aid, but not with any conditions tied to it. Those, asserted Rajoy, were already fulfilled.
Another ploy Spain's government used was to send Louis de Guindos abroad and let him solemnly declare that 'Spain actually doesn't need a bailout," a pronouncement occasionally greeted with laughter by his audiences. In reality it almost amounted to a threat: After all, the markets perversely enough want Spain to apply for aid, since that will get the ECB's OMT money flowing.
On the other hand we have of course the ECB itself, which always insists that there won't be any OMT unless there is an official application for aid, and with it, a memorandum of understanding that lays down conditions. Its help, so it says, will then be tied to the fulfillment of said conditions. A bit of a Mexican standoff has ensued since then, with Spain refusing to apply unless it can be assured that its fiscal sovereignty won't be curtailed in a similar manner as that other EFSF/ESM wards have to endure, and the ECB refusing to go medieval on shorts in Spanish government debt unless Spain knuckles under.
However, the precise content of the conditions is of course not in the ECB's remit - that is to be decided by the other EU governments (in practice Germany and France need to give their placet). So the euro area has thus far been spared the dubious pleasure of seeing the supply of euros increased in order to keep Spain's bond market afloat. Moreover, the credit markets have anyway remained calm based on the knowledge that the ECB is waiting in the wings.
EU Gives Nod To Rajoy's Measures
Now Spain has for the first time received something of an official assurance that it won't have to do more than it has already done in terms of austerity (the term austerity needs to be put into quote marks as the public debt continues to increase). Olli Rehn delivered the news yesterday. Not only that, the ECB actually sent out a point man to urge Spain to move forward with the bailout application.
"European Union budget enforcer Olli Rehn removed an obstacle blocking Spanish Prime Minister Mariano Rajoy's path to a sovereign bailout, endorsing his deficit-reduction efforts as the recession deepened.

The spending cuts and tax increases Rajoy has introduced for this year and next are enough to satisfy the EU, Rehn said yesterday in Brussels. Those policies are also smothering the economy. It contracted 1.6 percent in the third quarter, more than the 1.3 percent in the previous three months, the nation's statistics institute said today, confirming its estimate.

"Spain has taken effective action in restoring the sustainability of public finances," said Rehn, the economic and monetary affairs commissioner. "The box is ticked, as long as the implementation is solid and convincing."

The announcement follows concessions to Greece, Portugal and earlier leniency granted to Spain itself, in a further shift away from the fiscal retrenchment that critics say has spread recession across southern Europe and exacerbated the fiscal crisis. Millions of workers across Europe logged off yesterday to protest against austerity as European officials pressed for Rajoy to ease the financial pressure on Spanish companies and consumers by asking for aid.

"Spain must urgently seek the bailout," European Central Bank Governing Council member Luc Coene said at an event in Ghent, Belgium yesterday. The comments were first reported by De Standaard newspaper and confirmed by central bank officials."
(emphasis added)
So why the sudden mixture of leniency and urgency?
Risk Aversion May Be Coming Back
For one thing, the recent massive protests and strikes across the euro area have underscored how politically fragile the euro rescue operation is becoming. This in turn has led to a bit of uncertainty creeping back into the markets.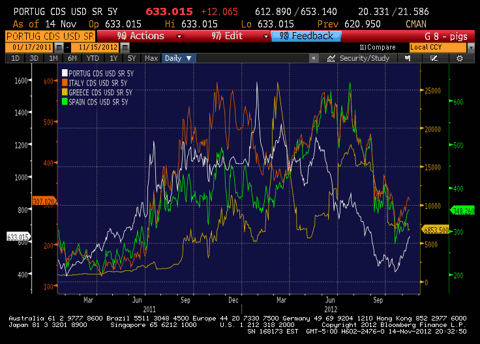 5 year CDS on Portugal, Italy, Greece and Spain.
As can be seen above, CDS spreads have begun to bounce again. While it may be the case that they are no longer as reliable as they used to be now that naked trading in sovereign CDS has been banned in Europe, we are inclined to conclude that while perhaps the size and speed of the moves may have decreased, sellers of such protection will still price their offers according to their assessment of credit conditions. So lately a bit of concern has crept back into the markets. And we all know how quickly that can snowball and get out of hand again. This is also reflected in a slight upward drift in the yields of the underlying government bonds, especially Spain's: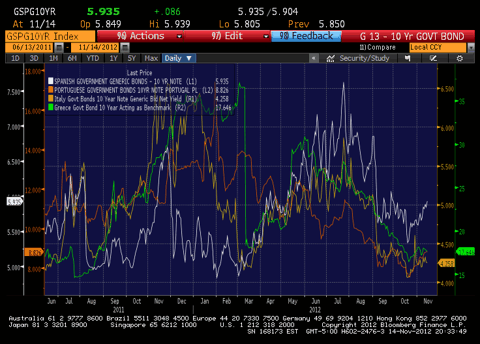 10 year government bond yields of Portugal, Italy, Greece and Spain.
Moreover, our proprietary CDS index of European banks has begun to move up again after testing a level of lateral support: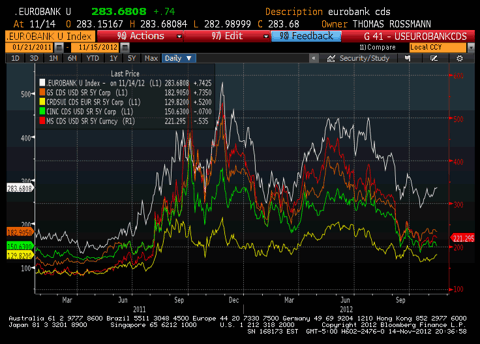 Our proprietary unweighted index of 5 year CDS on the senior debt of eight major European banks - the white line (including BBVA, Banca Monte dei Paschi di Siena, Societe Generale, BNP Paribas, Deutsche Bank, UBS, Intesa Sanpaolo and Unicredito), compared to 5 year CDS on the senior debt of Goldman Sachs (orange), Morgan Stanley (red), Citigroup (green) and Credit Suisse (yellow) - click for better resolution.
And finally, euro basis swaps have recently abruptly changed direction again:
Three month, one year, three year and five year euro basis swap.
Yes, all these moves are still small and it may turn out that they don't mean much. However, that was what everybody thought when the same thing began to happen in the summer of 2011. The small moves at the time were initially ignored, but they soon morphed into a panic at the height of which the markets even began to question France's banking system, and with it the solvency of the French government.
So now we have this odd backtracking from the EU's previous tough line and the amusing spectacle of the ECB practically begging Spain to allow it to begin printing money already.
How does the old saying go? "Whom the Gods want to destroy, they first make mad."