Although American Capital Agency's (NASDAQ:AGNC) salad days have passed it by, this isn't due to anything that could be laid at the feet of the company's management. We believe that American Capital Agency's CEO Malon Wilkus has created one of the finest income-oriented investment vehicles with his American Capital Ltd. (NASDAQ:ACAS) company as well as its two most well-known mortgage real estate investment trust vehicles AGNC and American Capital Mortgage (NASDAQ:MTGE). American Capital Agency was founded in 2008 and it hired Gary Kain from Freddie Mac to serve as its dedicated Chief Investment Officer. Gary Kain was hired in January 2009 to succeed Russell Jeffrey who was the CIO at the time of the IPO in 2008. As far as managerial hires go, we think that was such a stroke of luck and genius it reminds us of how a sagging, underperforming utility in Wisconsin (Wisconsin Energy) hired Gale Klappa away from Southern in order to replace its outgoing CEO Richard Abdoo. The team of Wilkus and Kain took AGNC from a 2008 start-up to the second largest mREIT in the industry with $102.2B in assets as of Q3 2012. Although we can't expect it to generate the 20% annualized yields and capital appreciation that it enjoyed in 2010, we see that it is a better-run organization than Annaly Capital Management (NYSE:NLY).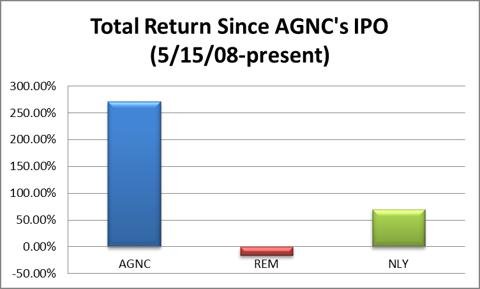 Source: Morningstar Direct
The first item that drives our AGNC over Annaly thesis is based on the financial reporting of each company. We find AGNC's financial reporting to be easier to understand and easier to utilize in order to evaluate the financial and operating performance of each company. We like that AGNC offers a separate calculation schedule to compute its core net interest spread income whereas the only mention of Annaly's core net interest spread income is buried in its earnings press release. Another example of AGNC's superior financial reporting is how it reports its CPR Prepayment Rates and other Key Performance Statistics. We find that AGNC's Key Performance Statistics Reporting in its earnings releases is more robust than Annaly's plus it offers greater organization of the key operating metrics. The third item that we like about AGNC's financial reporting versus Annaly's is that AGNC reports its financial statements in millions of dollars, rather than the thousands of dollars that Annaly uses. We're surprised that Annaly reports its financial statement results in thousands of dollars rather than millions of dollars considering that Annaly is almost 39% bigger than AGNC in terms of balance sheets assets. Despite the fact that Annaly has almost 39% more assets than American Capital Agency, AGNC had 14% more comprehensive income than Annaly.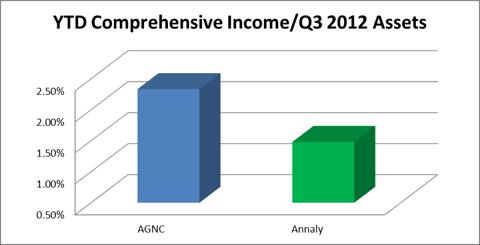 Source: MRQ Reports for American Capital Agency and Annaly
American Capital Agency's dividend yield of 16.2% is 280bp higher than Annaly's 13.4%. Both companies have seen its dividend decline from its peak in Q4 2009 however American Capital Agency has only had one dividend cut during this period. Annaly has cut its dividend six times in the last three years, including four times in the last five quarters. Annaly's per share dividends have declined by 33% in this time period versus 10.7% for American Capital Agency.
The most important factors behind our American Capital Agency over Annaly thesis is that AGNC has better operating performance metrics than Annaly. Annaly has done a good job in positioning itself as the senior statesman, conservative risk-management oriented mREIT. However the company's performance pales in comparison to American Capital Agency's performance. Considering that American Capital Agency is still performing better than Annaly with regards to key operating metrics even though it surpassed the $50B asset level last year and the $100B asset level this year, Annaly's stakeholders can't really make the case that Annaly's weak performance is due to its massive size because AGNC is not that much smaller than Annaly anymore.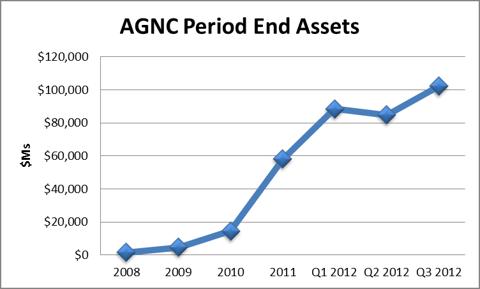 Source: Morningstar Direct
The first performance metric that validates our thesis is the cost of funds. Annaly's cost of funds in the most recent quarter was 1.52% versus AGNC's 1.11%. We were surprised that Annaly would have such a high cost of funds considering it has its own broker-dealer operations and it tries to show how conservative it is. Regardless of whether Annaly's record is matching its rhetoric, we would think that Annaly would be the one with the lower cost of funds. Despite the fact that AGNC has a lower cost of funds than Annaly, its average asset yield as of the period end was only 18bp lower than Annaly's. That surprised us because we would expect AGNC to have the higher average gross yield and Annaly to have the lower cost of funds. We were also surprised that general and administrative expenses for Annaly represented 2bp more of its revenue than AGNC, even though AGNC had 39% less assets. We would have expected Annaly to have a lower overhead percentage than AGNC due to its larger size.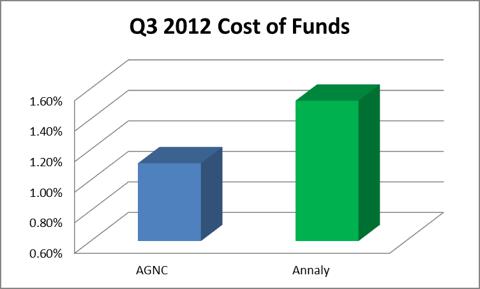 Source: MRQ Reports for American Capital Agency and Annaly
One area that we are not surprised that AGNC beats Annaly in is its CPR prepayment rate. Considering that Annaly's CPR prepayment rate has been 16% or higher since 2009 with the exception of an 11% CPR in Q2 2011, we're speculating that Annaly is going out of its way to chase prepayment. That probably explains why although Annaly's performance since 2009 has been in line with the average mREIT, it has been a severe laggard relative to Gary Kain and American Capital Agency. AGNC had a similar level of CPR prepayments until Q4 2010 then it saw its prepayment rates decline from 18% in Q4 2010 to 13% in Q1 2011 and 8-10% from Q2 2011 to Q3 2012.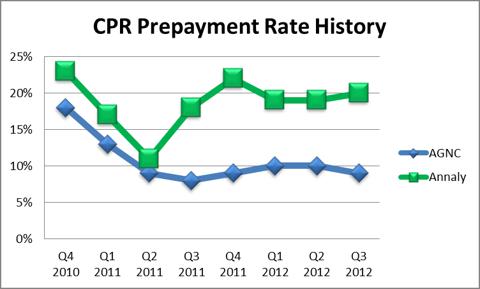 In conclusion, we still see AGNC as one of our favorite mREITs especially because it is repurchasing $500M of its stock. We think that the only part of Annaly's conservative, risk-management-oriented thesis that holds is that it uses less leverage than AGNC. Other than that, we can see that AGNC offers investors greater investment potential than Annaly on a nominal and risk adjusted basis. Annaly may be the mREIT industry's bellwether but we see AGNC's performance ringing Annaly's bell. The last reason why we believe that AGNC is a better mREIT for investors than Annaly is because while Annaly's management is great at making glib commentary about macroeconomic events, we find that American Capital's Gary Kain is better at managing the macroeconomic environment than the late Mike Farrell and his successor Wellington Denahan-Norris at Annaly.
Disclosure: I am long MTGE. I wrote this article myself, and it expresses my own opinions. I am not receiving compensation for it (other than from Seeking Alpha). I have no business relationship with any company whose stock is mentioned in this article.
Additional disclosure: This article was written by an analyst at Saibus Research. Saibus Research has not received compensation directly or indirectly for expressing the article's recommendation. We have no business relationship with any company whose stock is mentioned in this article. Under no circumstances must this report be considered an offer to buy, sell, subscribe for or trade securities or other instruments.