VIX - Market Sentiment:
S&P futures had a real wild ride on Friday, trading in a 19 handle range. If you woke up early today, the futures were down, touching the 1340.25 level before hammering upward, touching 1349 when the market opened. Throughout early trading, we saw the selling continue and accelerate as both Apple (NASDAQ:AAPL) and Google (NASDAQ:GOOG) tested and broke lows not seen since May. Yesterday on Twitter, I mentioned I opened a SDS short position looking to play a bounce today. With the NYMO Oscillator closing yesterday with a reading of -92.71, the market felt due for a bounce. Other oscillators, including the NYSE Summation Index (here) and the $NYA50R measures stocks trading above 50 day moving average (here), are both signaling a potential bounce. Unfortunately, I was stopped out of my position just before the noon hour, just as the market attempted to rally as "Fiscal Cliff" talks ended.
The spot CBOE Volatility Index (VIX) was also moving in today's trading session. Volatility ETF (NYSEARCA:VXX), 2x ETF (NASDAQ:TVIX), and alternative 2x ETF (NYSEARCA:UVXY) again moved significantly higher before being slammed back down as futures were again sold down. More than 3.4M worth of call premium was sold on the bid today after the quick move higher. 30% of the 385K calls that traded today were sold on the bid. Look to next week, as these positions could possibly be put back on.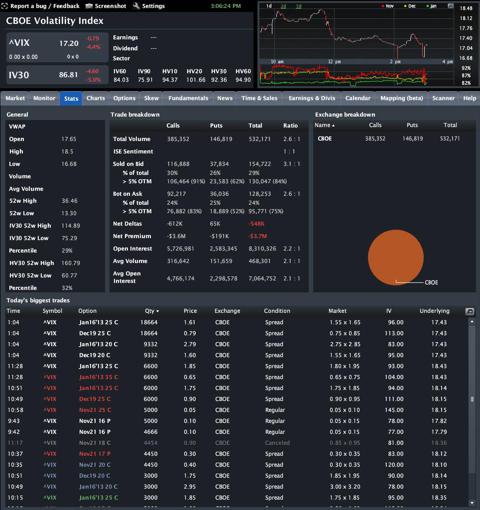 Statistics and Screenshot Provided By LiveVol
VIX futures are below.
Yesterday
· November VIX futures 18.00
· December VIX futures 19.20
· January VIX futures 20.60
Today
· November VIX futures 18.00
· December VIX futures 19.20
· January VIX futures 20.60
Options Paper:
Today, one trade dominated the option paper in terms of single size orders -- a huge put roll on Emerging Markets ETF (NYSEARCA:EEM) went off. This position was put on back on November 8th. The front month 40.5 strike puts traded 112K+ contracts bought for .38 at the time. This was a single bet of more than 4.25M, believing EEM could break lower in the next week. The position was sold today for .42, collecting 4.7M and immediately used to buy more than 112K of the November 40 strike quarterly puts for .62. This effectively took the 500K they made and rolled it down, now spending 6.94M in premium to open the 40 put strike. This extremely large move continued the theme of ETF hedging versus single stock hedging. The trade will profit greatly or potentially hedge losses if EEM craters between now and the end of November. This type of trade is typically not my space, but just the volume alone has my ears perked up to keep it on my radar. Puts outnumbered calls more than 2.6:1 in today's trading session.
It appears someone from the energy bull camp today decided to step up and draw a line in the sand regarding Cheniere Energy (NYSEMKT:LNG). Today, 32K of the March 12 puts were sold for .65, while 32K of the March 17 calls were bought for .80. Net of the trade, the investor paid 480K in premium and is holding more than 38.8M in buying power against their position to put this trade on. The position is a variant of a synthetic long and gives the trader great leverage to the upside. As you can see by the screenshot below, more than 2.4M worth of calls were bought and 2.5M worth of puts were sold today. Options were almost 8x average daily volume in this name.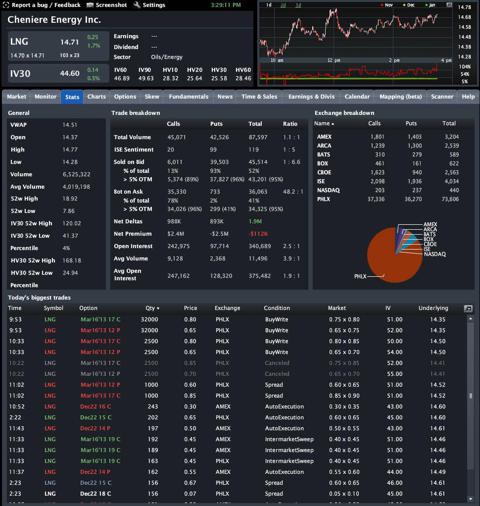 Statistics and Screenshot Provided By LiveVol
Popular ETFs and equity names with bullish/bearish paper:
Bullish Option Flows - ISE & % OTM calls bought on offer
MEMC Electronic (WFR) 98% of the OTM calls bought
MagicJack (NASDAQ:CALL) 78%
EnCana (NYSE:ECA) 76%
Fusion-io (NYSE:FIO) more than 3.4K of 4.6K calls bought on ask
Baker Hugues (BHI) Large December risk reversal in this name
Advanced Micro Devices (NASDAQ:AMD) OTM call buyers on speculation again
Bearish Option Flows - ISE & % OTM puts bought on offer
Nexen (NXY) 93%
Dole Food (NYSE:DOLE) 4.2K OTM puts bought today
Cabot Oil & Gas COG) 73%
Ultra Silver (NYSEARCA:AGQ) 2.3K OTM puts bought
Coinstar (NASDAQ:CSTR) 2.3K puts bought
Speculative Play Friday:
This week's speculative play Friday is a name I'm not a big fan of, but I cannot ignore the options in this name. For the last three days, Vodafone (NASDAQ:VOD) has lit up with calls. This signals the bulls have come running back to the name trying to pick a bottom. On Wednesday, more than 5K options traded, buying the December 25 strike calls as well as the April 27-30 call spread. This was then followed up with a 5K block yesterday as the January 25 calls were bought for .65, laying down another 350K worth of premium. Follow this up today as the December 26 strike calls were again bought 5K times for .15. This stock typically only trades 5K contracts a day, and the last three days have seen volumes more than 3x average. Therefore, for those willing to stomach the risk, VOD could be a great play here. I like the 25-27 call spread, but would look to overwrite and sell another 27 call on further strength to reduce cost. My target on this trade would only cost .20 or less, and could expand to 2.00 if there was a 27 strike pin on January expiration. Please remember, I am not actively trying to put on this position. This trade is nothing more than a trade idea, and please remember, selling naked calls is very risky.
Disclosure: I am long: AGNC, APC, KERX, MTGE, WLL, and I am short: FXE.
Trades today:
Entered and Exited AAPL long, Closed FNSR short, Closed SDS short, FE and CSCO shorts will expire/exercise today
I wrote this article myself, and it expresses my own opinions. I am not receiving compensation for it (other than from Seeking Alpha). I have no business relationship with any company whose stock is mentioned in this article.
Disclaimer: The opinions in this document are for informational and educational purposes only and should not be construed as a recommendation to buy or sell the stocks mentioned or to solicit transactions or clients. Past performance of the companies discussed may not continue and the companies may not achieve the earnings growth as predicted. The information in this document is believed to be accurate, but under no circumstances should a person act upon the information contained within. I do not recommend that anyone act upon any investment information without first consulting an investment professional as to the suitability of such investments for his or her specific situation.