Commodity Chart Of The Day
Daily S&P
(click image to enlarge)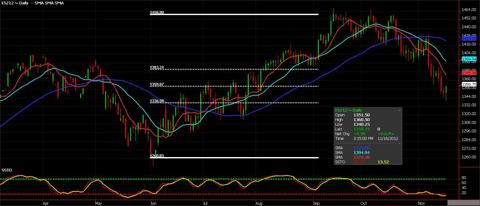 Perhaps a reach, but today's action a bullish engulfing candle and a rejection of lower trade and to end the week, with this candle closing on the highs. This may prove to be the interim bottom I've been calling for in recent sessions. Prices got within five points on their lows of completing a 61.8% Fibonacci retracement. Prices have depreciated 8.5% in the last six weeks and in two short months, moved from overbought to oversold. I'm saying enough is enough, and we see a bounce. My target is a trade back to the 50 day MA, just under 1425 in December.
Traders could opt to gain long exposure, but my favored plays are playing markets that I believe carry a strong correlation to the S&P. For instance, cattle and cotton should gain alongside stocks, while Treasuries should exhibit an inverse relationship. A trade above 1360, which is the 50% Fibonacci level, should get the momentum shifted, and above that level, I see resistance at 1390. For traders that want direct exposure, I would suggest bull call spreads or getting long futures and selling out of the money calls 1:1.
Risk Disclaimer: The opinions contained herein are for general information only and not tailored to any specific investor's needs or investment goals. Any opinions expressed in this article are as of the date indicated. Trading futures, options, and Forex involves substantial risk of loss and is not suitable for all investors. Past performance is not necessarily indicative of future results.
Disclosure: I have no positions in any stocks mentioned, and no plans to initiate any positions within the next 72 hours. I wrote this article myself, and it expresses my own opinions. I am not receiving compensation for it. I have no business relationship with any company whose stock is mentioned in this article.