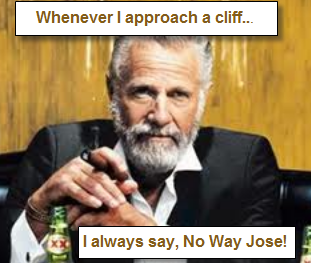 In a WSJ story, the current WH fiscal cliff trial balloon is to replace the "sequester" by kicking the can into 2013, which is something that's been anticipated. Doing so would buy time but also create another date to fret about in the future, which resolves nothing. The absence of leadership is quite stunning as the U.S. adopts the eurozone delay model. So after the meeting and banality, this statement was issued by Mitch McConnell: "We're prepared to put revenue on the table, provided we fix the real problems." I think that stops the "happy talk" dead in its tracks unless McConnell might be willing to redefine everything. Further, Nancy Pelosi stated bluntly: "I was focusing on how we send a message of confidence to consumers, to the markets in the short run, too." As DC goes, watch what they do and ignore the BS.
One fiscal cliff aspect little discussed is its impact on the states should negotiations fail. The Pew Center on the States has issued a report with impact percentages for each state. You can find your state with the download.
It looks like the FHA (Federal Housing Administration) is preparing politicians and taxpayers for a bailout as mortgage losses shrink reserves. Also on Friday, the government fined JPMorgan (NYSE:JPM) and Credit Suisse (NYSE:CS) $416M to settle mortgage-related fraud charges. These are mere wrist slaps, but the U.S. attorney asserts more charges and fines are pending. (Deep thought: I wonder if the U.S. attorney can sue the SEC for breach of oversight duties. Well, of course not, silly!)
Tensions on the Israeli border continue as Egypt's Mursi visits Gaza amid warnings to Israel where troops are mobilizing. As this is written, intense fighting is taking place between the Israelis and Hamas. This ongoing war over the last 60 years is lasting longer than the War of the Roses, and reminds me of a quote from former Prime Minister Golda Meir: "Peace will come when the Arabs love their children more than they hate us."
And in other news, Asian stocks were mostly lower. China's CSI 300 fell to its lowest level since 2009. The eurozone is quiet for the moment, but real troubles remain on the horizon. Whatever the troika decides for Greece and Spain must be approved by Germany and Finance Minister Schauble, who still talks a tough game. In the UK, there are well-founded fears of a triple dip back into recession. Meanwhile in France, Finance Minister Pierre Moscovici said he sees no French financial crisis and takes the greatest umbrage (sacre bleu!) that such an event could exist.
Meanwhile in the U.S., Industrial Production was weak (-.4% vs. .2% expected, and prior revised to .2%). One frankly absurd note was the government attempted to assert this decline was due to Sandy. Yet Sandy hit on October 29, meaning this assertion was based on just two days. This is why people don't trust government reports.
Much in the news was Hostess Brands, a private company producing Twinkies, among other treats, decided to liquidate the company instead of dealing with a strike. This meant layoffs for over 18,000 workers.
As mentioned, equity markets globally were much oversold entering an options expiration day. There were good odds of fireworks and a reversal higher. Any spark could and did unleash the animal spirits. Odd things can happen on options expiration, and perhaps we saw one with a short-term gold bear raid. But stocks ended the day on a late run higher as da boyz in the options pits were hunting down strike prices. Leading the way higher were beaten down utility sectors (NYSEARCA:XLU), small caps (NYSEARCA:IWM) and homebuilders (BATS:ITB). The dollar (NYSEARCA:UUP) ended slightly higher once again, while gold (NYSEARCA:GLD) was weaker. Bonds (NYSEARCA:IEF) and (NYSEARCA:TLT), for example, were mixed. Commodities (NYSEARCA:DBC) spiked, aided primarily by crude oil (NYSEARCA:USO) as the violence in Gaza/Israel expanded.
Volume was much higher which, given market conditions and options expiration, shouldn't surprise. Breadth per the WSJ was positive, reducing current short-term oversold conditions.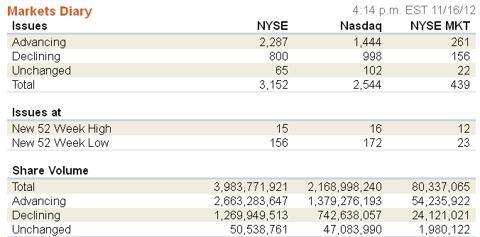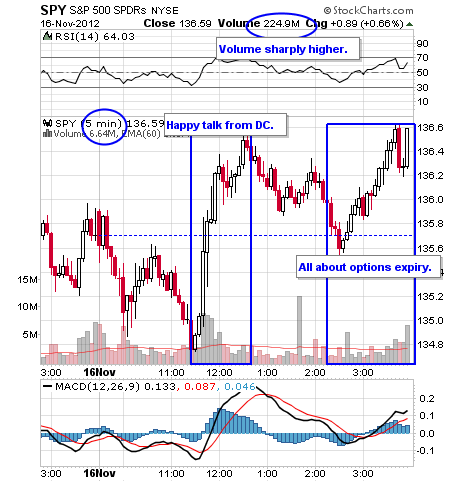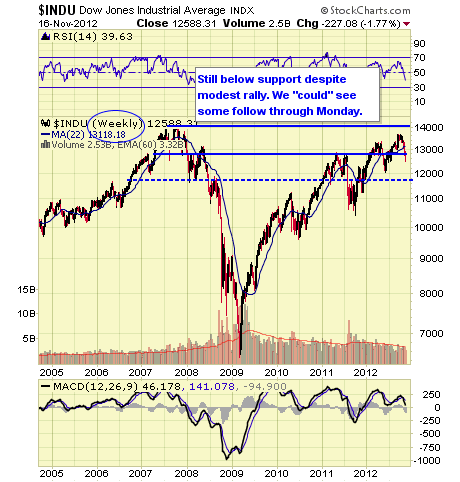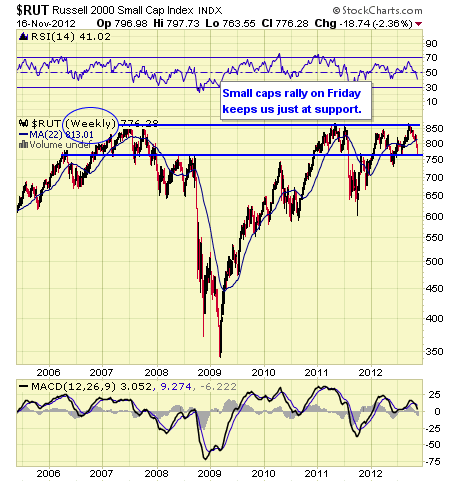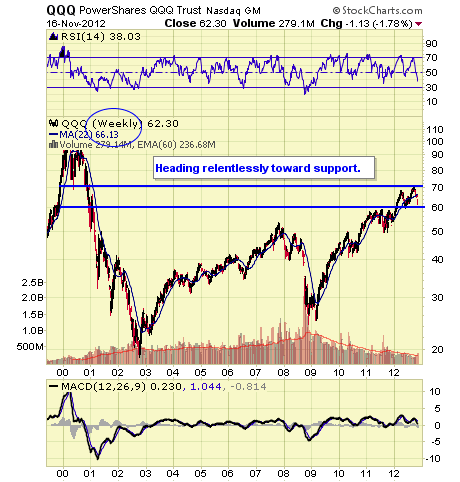 Continue to U.S. Sector, Stocks & Bond ETFs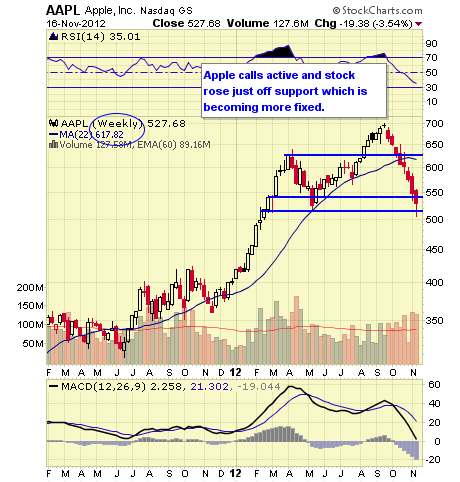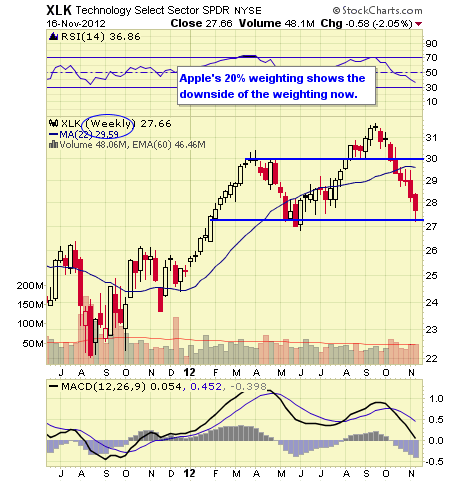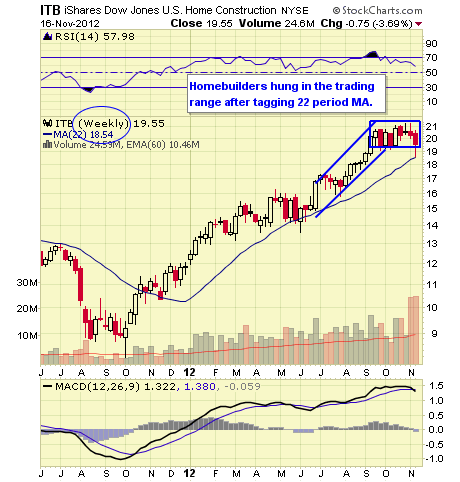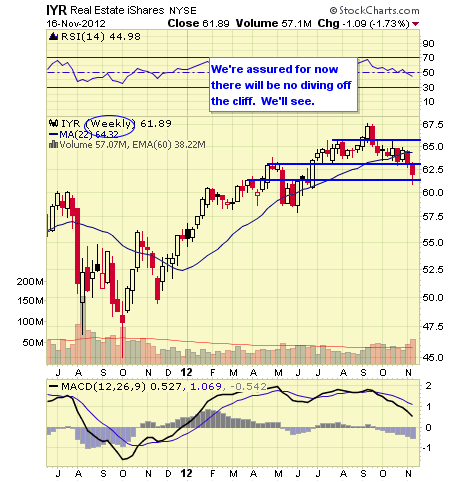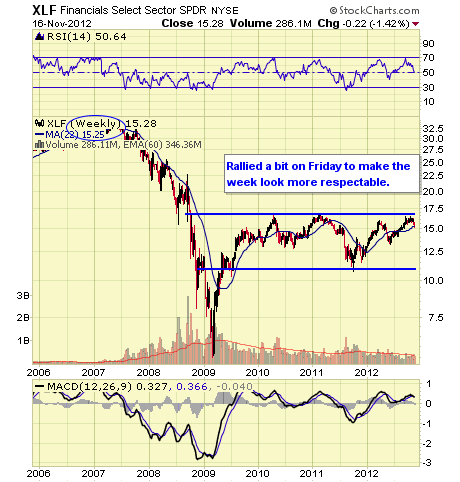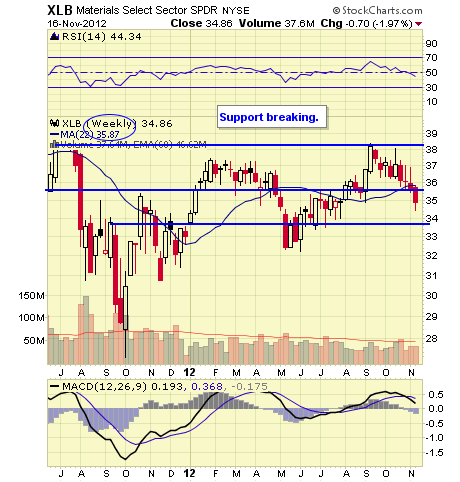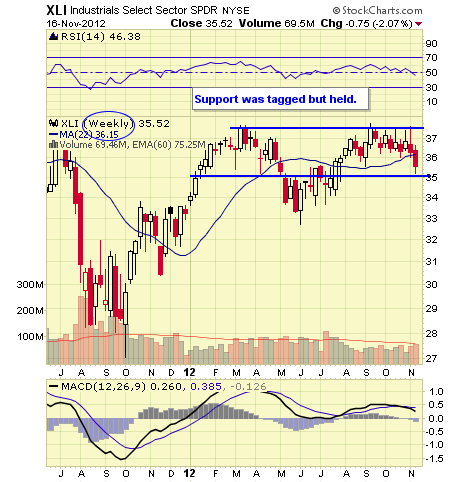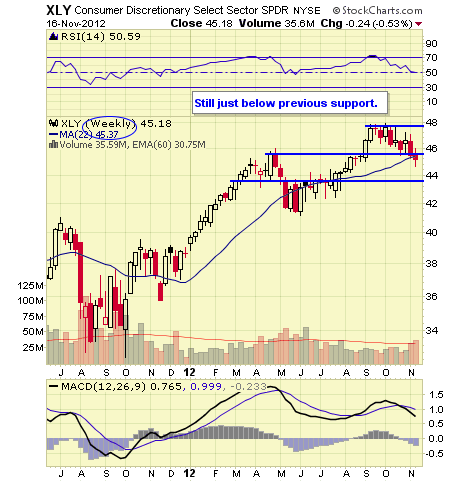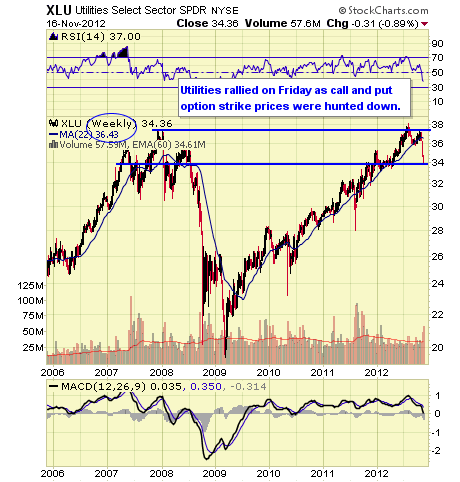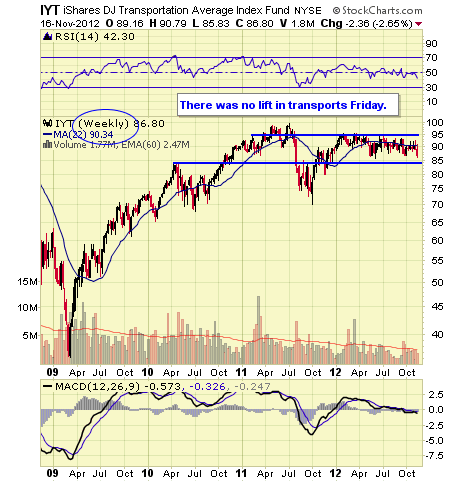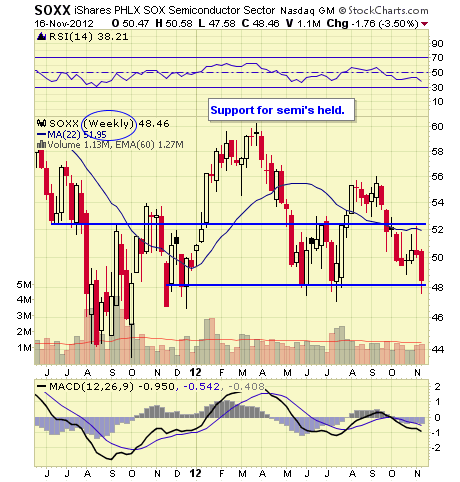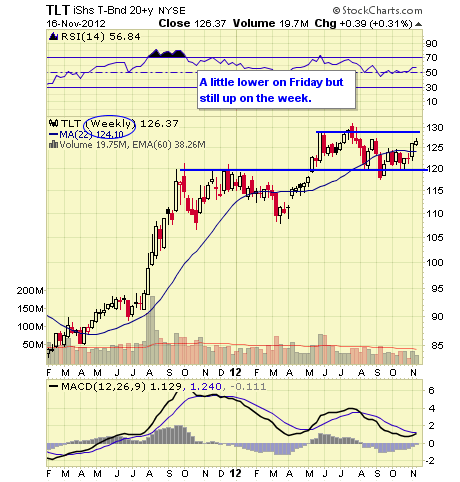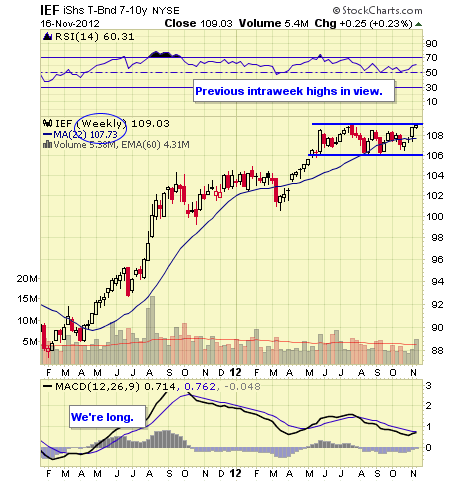 Continue to Currency & Commodity Market ETFs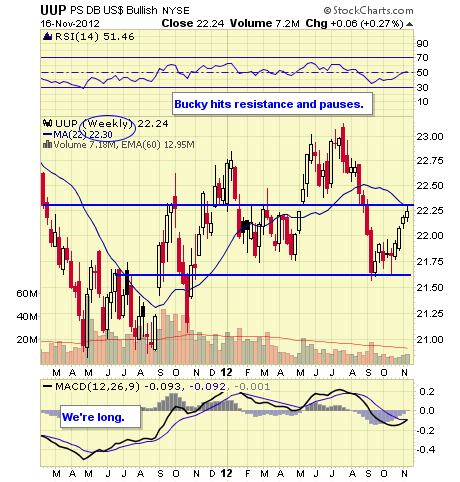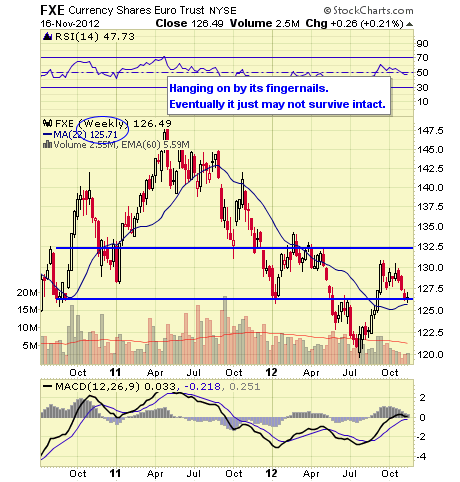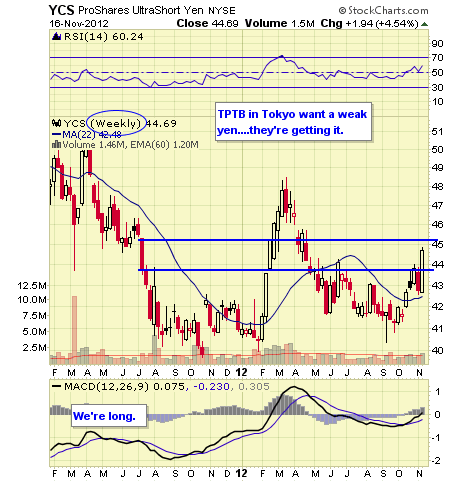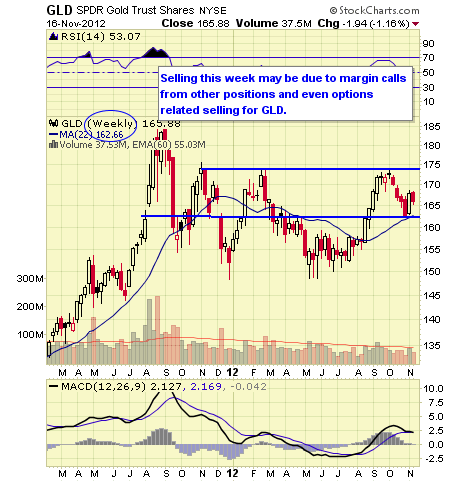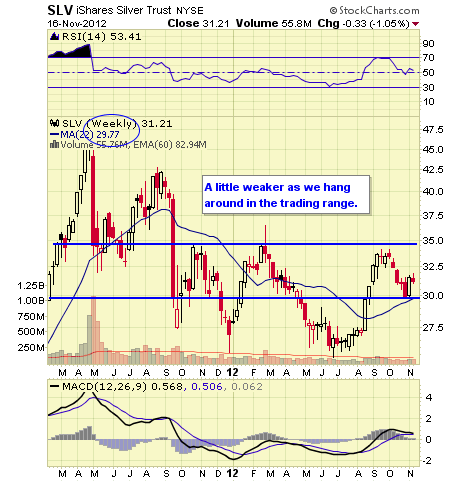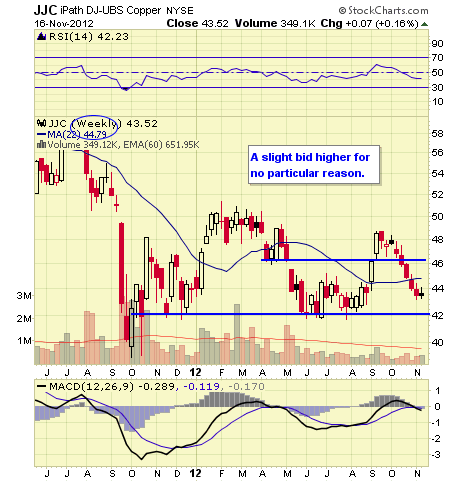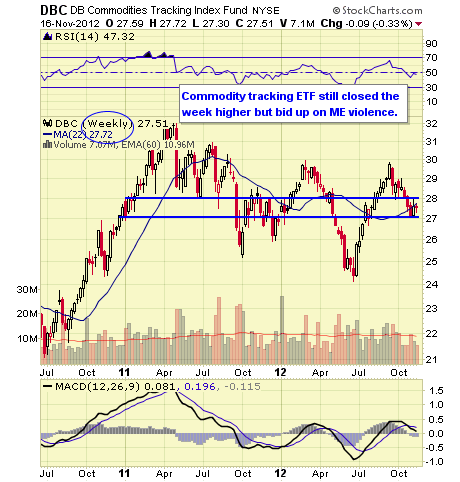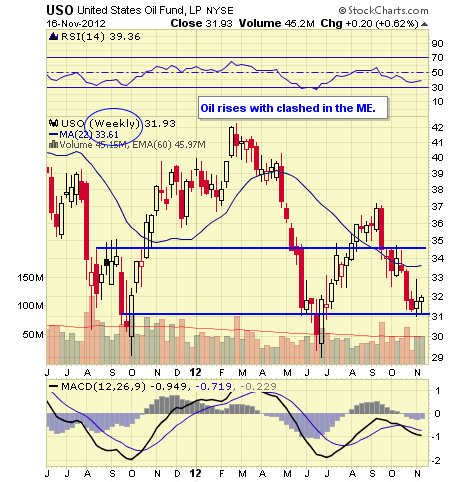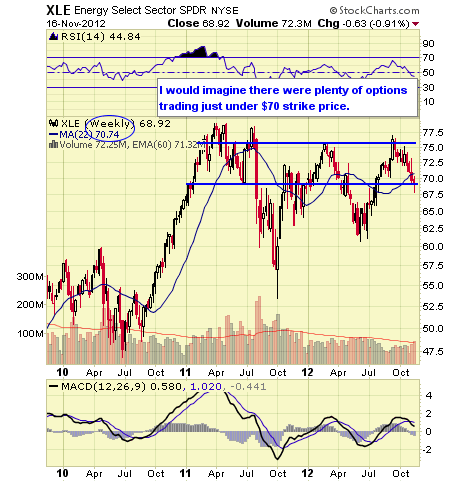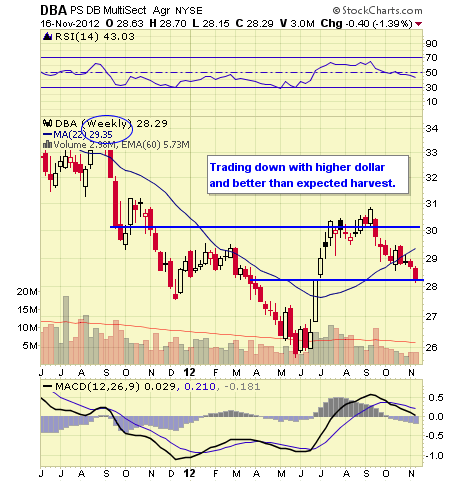 Continue to Overseas Sectors & ETFs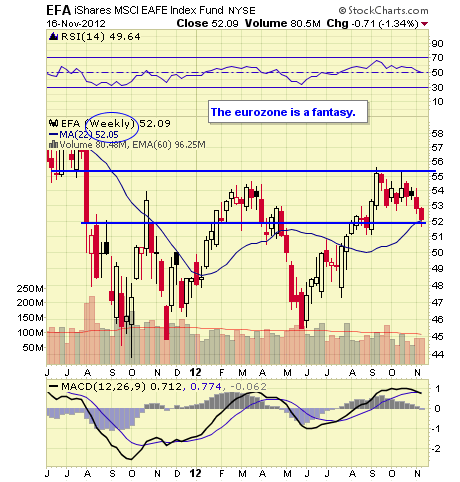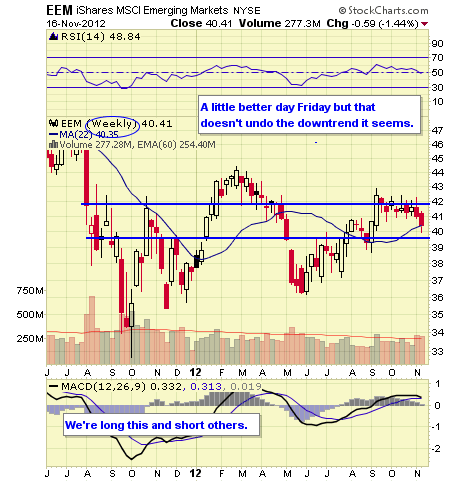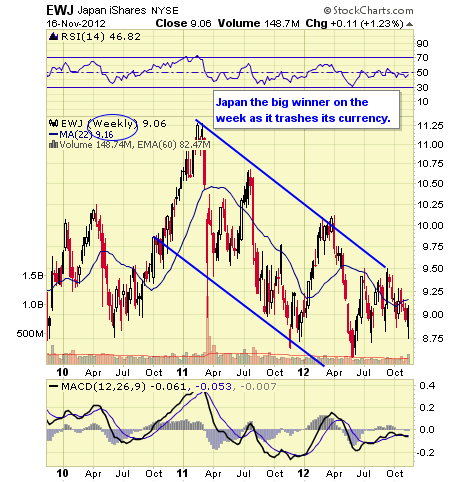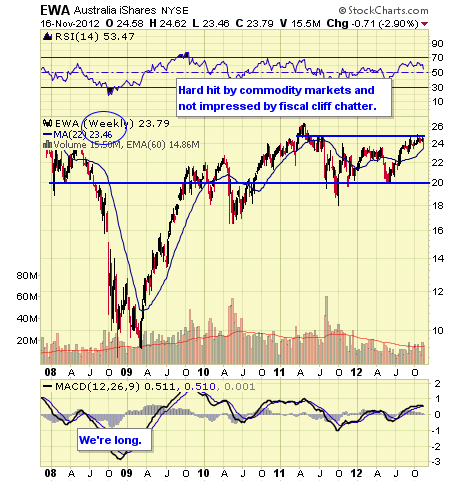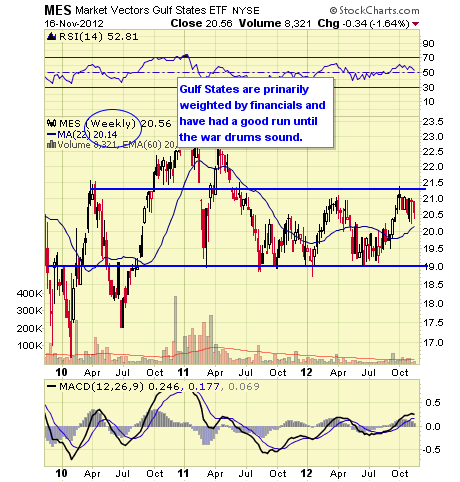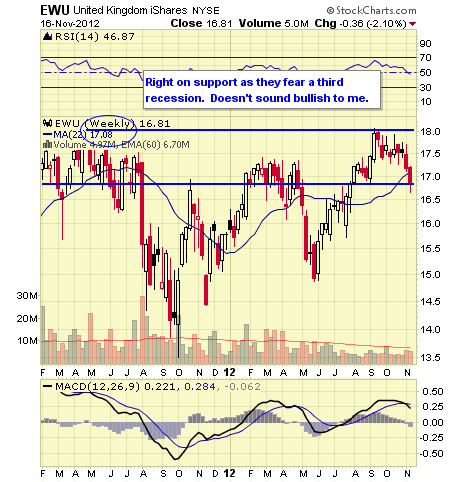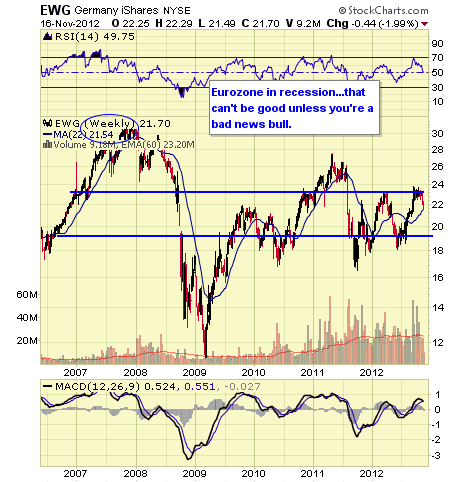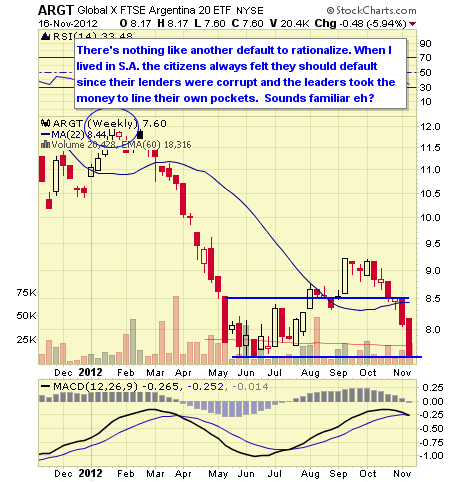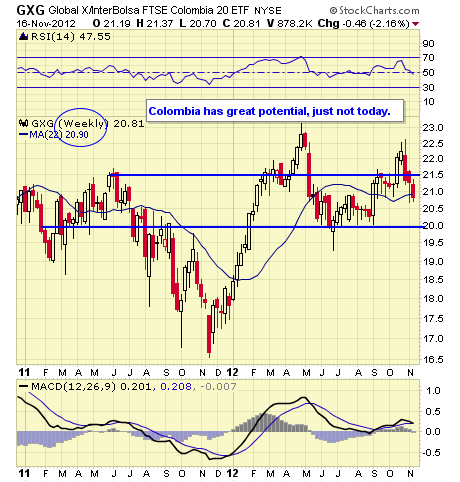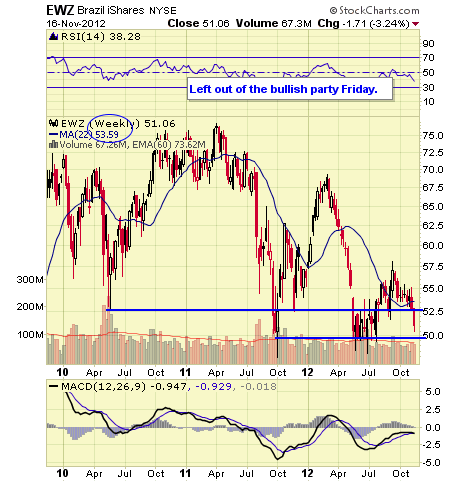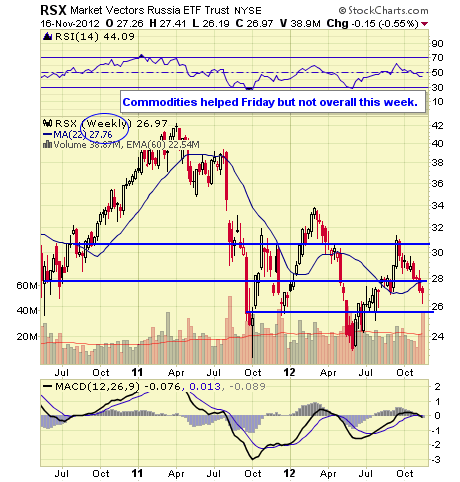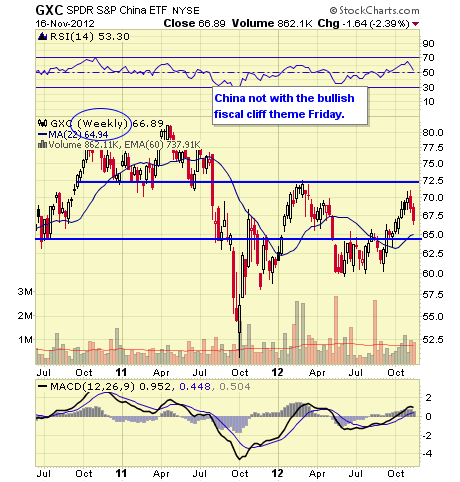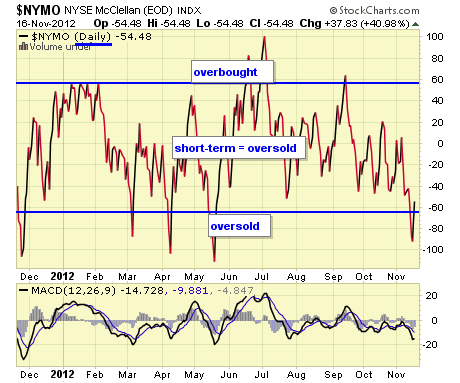 The NYMO is a market breadth indicator that is based on the difference between the number of advancing and declining issues on the NYSE. When readings are +60/-60, markets are extended short term.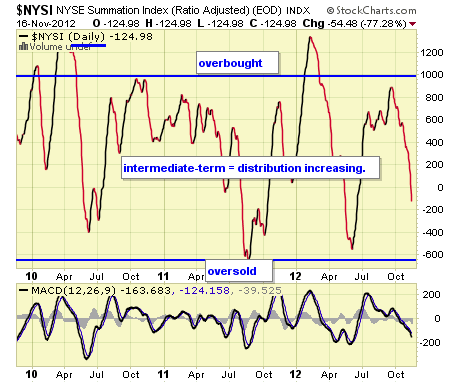 The McClellan Summation Index is a long-term version of the McClellan Oscillator. It is a market breadth indicator, and interpretation is similar to that of the McClellan Oscillator, except that it is more suited to major trends. I believe readings of +1000/-1000 reveal markets as much extended.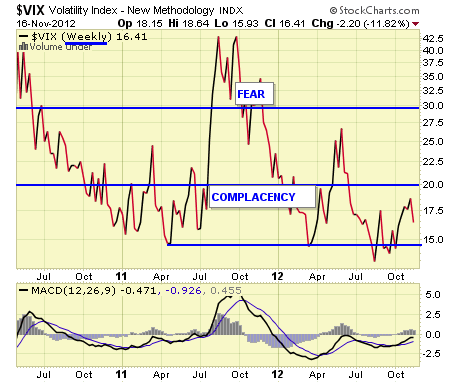 The VIX is a widely used measure of market risk, and is often referred to as the "investor fear gauge." Our own interpretation is highlighted in the chart above. The VIX measures the level of put option activity over a 30-day period. Greater buying of put options (protection) causes the index to rise.
Concluding Remarks
As far as Friday's fiscal cliff is a fixed rally, I'd just say talk is cheap. We rallied only modestly and were ripe for this, given how oversold we were.
There are only three legitimate trading days next week, as the Thanksgiving holiday is upon us.
Disclaimer: The ETF Digest maintains an active ETF trading portfolio and a wide selection of ETFs away from portfolios in an independent listing. Current "trading" positions in active portfolios, if any, are embedded within charts: Lazy & Hedged Lazy Portfolios maintain the follow positions: VT, MGV, BND, BSV, VGT, VWO, VNO, IAU, DJCI, DJP, VMBS, VIG, ILF, EWA, IEV, EWC, EWJ, EWG, & EWU.
The charts and comments are only the author's view of market activity and aren't recommendations to buy or sell any security. Market sectors and related ETFs are selected based on his opinion as to their importance in providing the viewer a comprehensive summary of market conditions for the featured period. Chart annotations aren't predictive of any future market action rather, they only demonstrate the author's opinion as to a range of possibilities going forward.
Disclosure: I have no positions in any stocks mentioned, and no plans to initiate any positions within the next 72 hours. I wrote this article myself, and it expresses my own opinions. I am not receiving compensation for it. I have no business relationship with any company whose stock is mentioned in this article.