"It's the man who waits for his ship to come in who's always missing the boat." - Anonymous
Readers of my columns know I have not been positive on Apple's (NASDAQ:AAPL) short term prospects recently even as I hold a longer term position on the stock in the form of a long term bull put spread. The sentiment has been lousy on this equity for the last two months as the stock has dropped some 35%. However, I think the stock hit an inflection point on Friday and if we did not put in a bottom we are within shouting distance of doing so.
One would have had to watching the stock market closely Friday to see what I think was a capitulation moment on Apple (See chart). The stock blew through its technical support level of around $525 (May lows) that it had already tested several times and pundits were putting as a line in the sand. The stock plunged to under $506 just before noon. Almost as fast as it cratered, the stock bounced hard and was back over its $525 support level less than two hours later and it successfully held on to remain above this support level at the end of the day. To me, this marks a bout of panic selling followed immediately by buyers who viewed anything closed to $500 a share on Apple as a gift. I think we have now washed out most of the weak hands on the stock and I look for better action next week in this equity.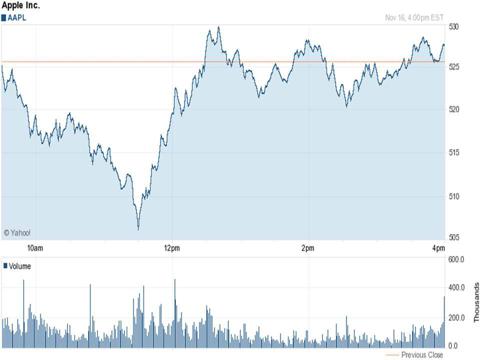 There was also other positive news on the stock Friday that could buoy sentiment on the shares as the news gets absorbed in the market. Among these positives were:
Bottom Line: Apple is selling for less than 8 times forward earnings (subtracting net cash), growing revenues at better than 20% pace, with new markets to conquer and is giving investors a 35% discount to where it was trading just two months ago. Buying now could be the best Christmas present under the tree this year.
Disclosure: I am long AAPL. I wrote this article myself, and it expresses my own opinions. I am not receiving compensation for it (other than from Seeking Alpha). I have no business relationship with any company whose stock is mentioned in this article.