Groupon (NASDAQ:GRPN) announced its quarterly earnings on November 8. As of the time of this writing the stock is down roughly 30% from its pre-earnings release levels. The magnitude of the decline may come as a surprise to those who do not look into the numbers in detail. After all, the company met expectations on non-GAAP earnings, and only missed revenue forecasts by less than 4%.
I have been following coverage of the post-earnings drop in the press and online. To my surprise, in almost all of the articles I have read, including a few here on Seeking Alpha, the price drop of the stock has been attributed to either slowing revenue growth or to the company's struggling international business. While these are contributing factors, I believe the massive drop in share price is due to something else entirely. The real reason is that Groupon's third party revenue declined substantially quarter over quarter.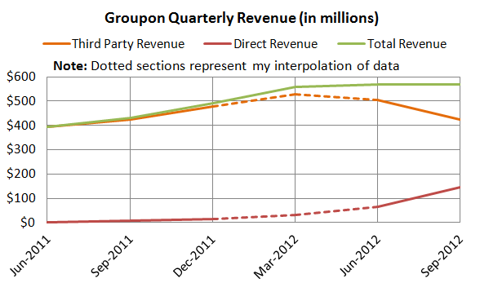 Total third party revenues declined by $79.4M, or 16% from prior quarter. The company does not break out its third party revenues geographically. However, given that total international revenues only fell by $31.2M quarter-on-quarter, it is hard to picture a scenario where at least some of the declines in third party revenues did not come from North America.
"Third Party" Revenue And Its Importance
Groupon divides its revenues in two categories: "third party" and "direct."
Third party revenue is derived from activities in which Groupon acts as an agent for a merchant, and sells their services or products on its platform. When acting as an agent, Groupon does not take title to any products, and has no inventory risk and little working capital requirements. Third party revenues are principally associated with the daily deals business.
Direct revenues on the other hand are associated with selling products that Groupon is ultimately responsible for. In other words, Groupon sells goods that it owns, and will be responsible for defects, damages and returns. Most of the revenues generated from Groupon Goods are in the form of direct revenues.
The gross margin profiles of the two lines of business are vastly different. As an example, Groupon enjoyed an 87% gross margin on its third party business, but earned a mere 12% gross margin on the direct business. This means, holding all else equal, Groupon needs to replace every $1 of lost sales in its third party business (read daily deals) with more than $7 of sales in direct sales to generate the same gross profits.
The Bear Case Strengthens
Perhaps more damaging to the share price than the shrinking gross margins explained above is the ammo that this last quarterly report gives for the bears. For many months now the bears have argued that Groupon's daily deals business model is not sustainable. The main points of their argument are deal fatigue, competition, merchant dissatisfaction, and lack of repeat business for merchants. I am sure they will not hesitate to use last quarter's shrinking daily deals business as proof for their argument. To be honest, Groupon hasn't made it an easy task to counter the bears.
A Note on Cash Balance
Many people suggest that Groupon's $1.2B in cash and with no long-term debt provides a major support for the stock. This is not the case. Most of the cash on Groupon's books is offset by its obligations towards merchant partners and other current liabilities. Groupon's current assets (including cash) only exceed its current liabilities by approximately $300M. Therefore, if you decide to invest in Groupon it should not be because of the safety cushion the cash position provides.
Going Forward
I take the decline in third party revenues seriously. For now, I will be holding on to my small speculative long position on the basis of reasons I outlined in my previous article on Groupon. However, going forward I have to see progress in growing or stabilizing the daily deals business, or meaningful uptake in Groupon's other businesses in order to stay a shareholder.
Disclosure: I am long GRPN. I wrote this article myself, and it expresses my own opinions. I am not receiving compensation for it (other than from Seeking Alpha). I have no business relationship with any company whose stock is mentioned in this article.