Actionable Items:
Highest Positive Spread: Kayne Anderson MLP Investment Co (NYSE:KYN)
Lowest Negative Spread: MFS Special Value Trust (NYSE:MFV)
Focus Stock(s) of the Week: Cohen & Steers Quality Income Realty Funds (NYSE:RQI)
Last Week s Focus Stock: Nuveen Diversified Dividends and Income (NYSE:JDD)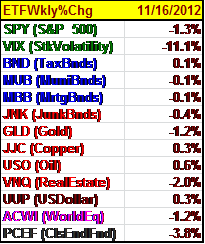 Week of 11/16/12: While "taxes and spending losses" are bipartisan "tentative", the spending cuts will likely be coming from Medicare. The second stages would come from overhauling the tax code and spending cuts-the trickiest tasks. Mr. Obama wants to cut $1.6 trillion in revenues over the 10 years. The losses of families of $250,000-and-above would be material.
The rates on asset classes, before the "tax change", were nominally lower through-out Friday morning quotes. The introduction of "tax change" and spending cuts approved before the day provided a gain for the DJIA at 45.93.
CEF Weekly Review: On average, the 13 closed-end fund (NYSEMKT:CEF) types registered a share price decrease of -3.0% for the week ending 11/16/12. The high-low spread (average percentage price change difference between the highest and lowest fund types) registered this week was a high +4.8% versus last week of +4.7%. On an aggregate unweighted basis, the weekly average price change for the approximately 525 CEFs in the GrowthIncome database was -2.5%.
The PowerShares CEF Income Composite (NYSEARCA:PCEF), an ETF that invests in taxable fixed-income CEFs, declined -3.8% for the week. PCEF is now up 3.8% yield-to-date on price appreciation. Currently, PCEF's trailing twelve months' yield is 8.0% (YTD monthly total return of 11.8%).
CEF Weekly Fund Type Performance: The "ex-distributions" are typically made mid-month. CEFs' averages were down 3.0%; the PCEF was down 3.8% as the distributions were made on Friday.
The losses on aggregate CEFs portfolios started at the positive of SingleStMuniFnds (-0.6%) and NatlMuniBndFnds (-1.7%). (The PrcNAVSprd was positive for munis.) SpecEqFnds (-4.2%), GenEqFnds (-4.1%), and PrefStkFnds (-4.1%) led the losses.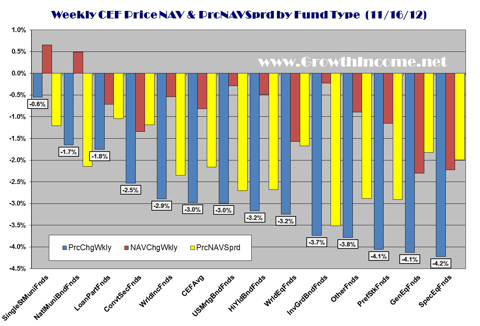 Highest Focus Stock for the Week: Kayne Anderson MLP Investment Co price share price decreased -1.4% with a change of -7.2% for the NAV. This would indicate a positive PrcNAVSprd of 5.8% (prices change relative to NAV change-negative at best). Those that were told that KYN was at relative ranking of 29.6 on the RSI (relative to 100 points) were countering a reversal with "Energy Stock Channel" at 37.3 and "Henry Hub Natural Gas" at 52.7.
Lowest Focus Stock for the Week: MFS Special Value Trust share price plunged 8.5% and it's declined 1.5% from NAV; its PrcNAVSprd declined 7.0%. The distribution paid on November 13th, of $0.058, on a monthly basis, was 10.4%. (The distribution is 5.8% on an annualized basis. While a distribution based on declining NAV was "tacked-on".)
Focus Stock(s) of the Week: Cohen & Steers Quality Income Realty Funds , a real estate investment trust, is not a "15%" distribution gains taxed at "qualified distributions". The yield is 6.8%, however, the income only yield in 2.6%. Your taxable-exempt yield is excluded to the "tune" of 4.2% (6.8%-2.6%), where by you can "capital gain" that down into your "basis" on the sale of stocks.
Last Week Focus Stock: Last week we had Nuveen Global Income Opportunity Fund (JGG). The stock was down 3.2%.
Disclosure:
I am long PCEF, RQI. I wrote this article myself, and it expresses my own opinions. I am not receiving compensation for it. I have no business relationship with any company whose stock is mentioned in this article.