Do you prefer stocks trading at low share prices? If so, one thing to keep in mind is the possibility of "value traps," or stocks that appear to hold value with low share prices but in fact are trading there for a negative reason.
For ideas on how to avoid potential value traps, we started with a universe of stocks with market caps above $300 million trading below $5 a share. We screened for those with significant net institutional purchases over the current quarter, indicating big money managers such as hedge funds expect these names to outperform.
Also, for those investors looking for extra income to add to their portfolio, we further screened for stocks that paid a dividend yield of more than 1%. We were left with a list of 2 names.
Interactive Chart: Press Play to compare changes in analyst ratings over the last two years for the two stocks mentioned below. Analyst ratings sourced from Zacks Investment Research.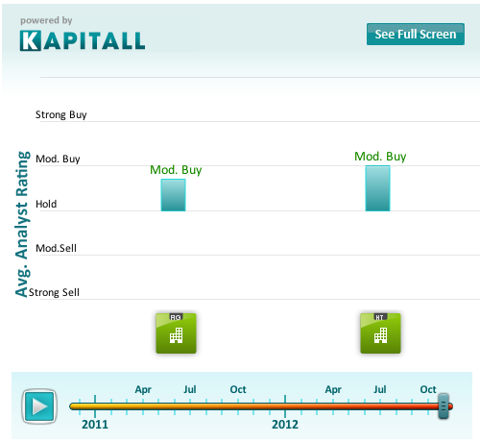 Tool provided by Kapitall.
Do you think these low-priced dividend stocks will outperform like hedge funds expect? Use this list as a starting point for your own analysis.
1. Fortress Investment Group LLC (NYSE:FIG): A public investment firm specializing in investments in debt and equity securities of public and privately held companies. Market cap at $2.21B, most recent closing price at $4.26. Dividend yield at 4.69%. Net institutional purchases in the current quarter at 10.6M shares, which represents about 5.02% of the company's float of 211.22M shares.
2. Hersha Hospitality Trust (NYSE:HT): Engages in the ownership and operation of mid scale limited service hotels in the Eastern United States. Market cap at $849.75M, most recent closing price at $4.28. Dividend yield at 5.61%. Net institutional purchases in the current quarter at 19.7M shares, which represents about 11.11% of the company's float of 177.38M shares.
Institutional data sourced from Fidelity, all other data sourced from Finviz.
Disclosure: I have no positions in any stocks mentioned, and no plans to initiate any positions within the next 72 hours.
Business relationship disclosure: Kapitall is a team of analysts. This article was written by Sabina Bhatia, one of our writers. We did not receive compensation for this article (other than from Seeking Alpha), and we have no business relationship with any company whose stock is mentioned in this article.